Articles
Coca-hungry moth larvae could soon replace toxic sprayed herbicides.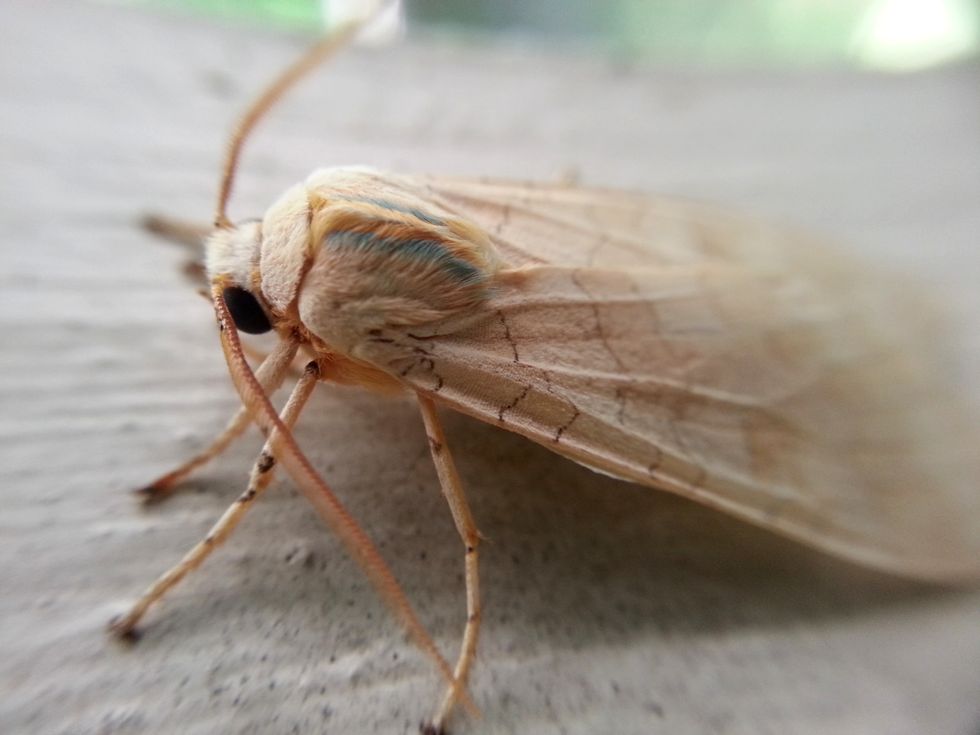 Banded tussock moth. Image by Rhododendrites via Wikimedia Commons
The government of Colombia is trying to recruit cocaine's biggest fan—no, not Rick James—to help them finally clear the country of the illegally grown drug. The favorite food of the Cocaine Tussock Moth larva is, as its name implies, the leaves of the coca plant. Alberto Gomez, head of the Quindio Botanical Garden, (a Colombian preserve with a building shaped like a giant butterfly), has suggested a plan to flood the country with a horde of the hungry little insects as an alternative to spraying pesticides.
<p><a href="http://globalnews.ca/news/1993681/cocaine-eating-butterflies-proposed-to-replace-pesticides-in-colombia/">According to the <em>Associated Press</em></a>, US-backed efforts to beat back the growth of cocaine in the country's remote regions have mostly relied on airborne herbicides that use glyphosate, a chemical that the World Health Organization classifies as carcinogenic. At an event in Bogotá, the nation's capital last week, President Juan Manuel Santos announced an end to the use of the fumigation chemical, citing a recommendation from the country's Health Ministry.</p><p>In Colombia, much of the coca trade is run by rebel groups who protect the crops, making attempts to eradicate the plants with government personnel a dangerous proposition. But per the <em>AP</em>,</p><blockquote><p>The decision to end fumigation program could have a side effect of somewhat easing ongoing peace talks with the country's main rebel group, the Revolutionary Armed Forces of Colombia, which has demanded an end to the spraying as part of any deal.</p></blockquote><p class="shortcode-media shortcode-media-rebelmouse-image"> <img class="rm-shortcode" data-rm-shortcode-id="a32f1144c18cf22faf68258f1bea570b" data-rm-shortcode-name="rebelmouse-image" id="ffc6f" type="lazy-image" data-runner-src="https://assets.rebelmouse.io/eyJhbGciOiJIUzI1NiIsInR5cCI6IkpXVCJ9.eyJpbWFnZSI6Imh0dHBzOi8vYXNzZXRzLnJibC5tcy8xOTg0MDA4My9vcmlnaW4uanBnIiwiZXhwaXJlc19hdCI6MTYzNjY5MjgzOX0.Q41zGkxNjoAJeRni__TwVYVsEvyYS91QZJELYy3oVM0/img.jpg?width=980"/> <small class="image-media media-caption" placeholder="add caption..."></small> <small class="image-media media-photo-credit" placeholder="add photo credit...">Building at the Quindio Botanical Garden. Image by Karolynaroca via Wikimedia Commons</small> </p><p>This is not the first time the country has considered using these moths as a non-toxic means of curbing <em>la cocaina; </em>the plan has been floating around for about a decade, but authorities have been reluctant to take it up out of fear of unknown ecological externalities. In 2005, Ricardo Vargas, director of Colombian environmental organization Andean Action, <a href="http://www.nbcnews.com/id/8156573/#.VVYHoGaXEfF">told <em>NBC</em></a>, "With a plan like this, the chance for ecological mischief is very high and very dangerous."</p><p>Only now, in light of heightened awareness of glyphosate's potential risks, are the moths being reconsidered as an option. And while insects chomping through the Andes' coca supply might, indeed, seem like a safer, or more natural solution than spraying hazardous chemicals, it would be prudent to remember Vargas' warning about "ecological mischief"—there's no telling what a swarm of angry, fiending moths are going to do after all that cocaine wears off.</p>