Articles
The best team in football, the Green Bay Packers are also the only one that's community-owned.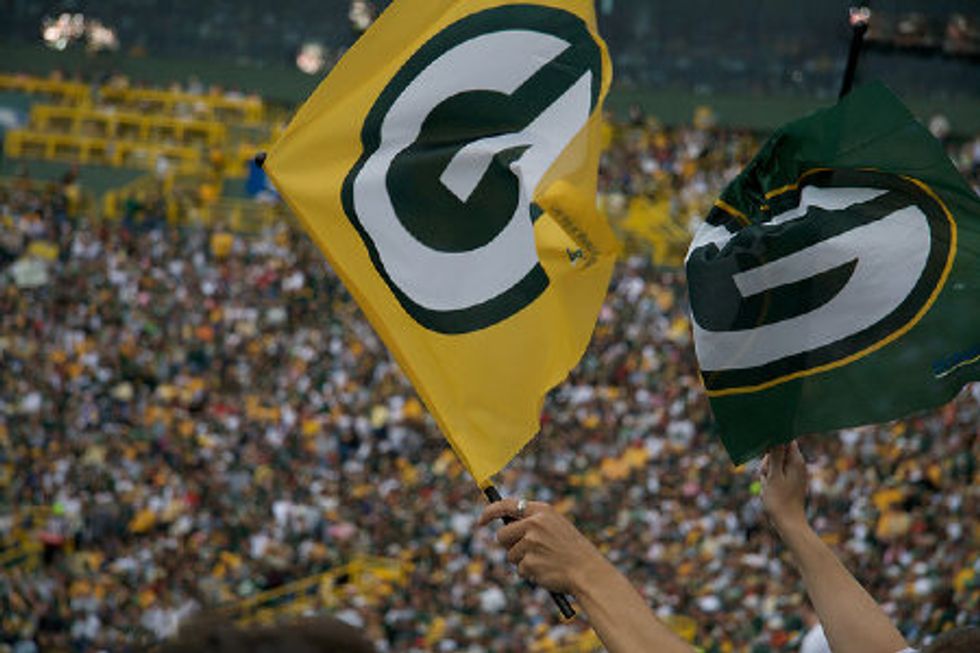 Watching the Green Bay Packers dismantle my beloved Oakland Raiders on Sunday forced me to finally confront the fact that the Pack are going undefeated this season and will repeat as Super Bowl champions—they're miles better than any other team in the game.
That realization, naturally, sparked some intense jealousy. It's not just that they're good this year, it's that they're never not good. The Packers have more championships than any other team. They've won their division five of the last 10 years. They dumped Brett Favre at exactly the right moment, then turned Aaron Rodgers into arguably the best quarterback in the league. They sell out every game, lead the league in merchandise sales, and have been the NFL's golden franchise for as long as I've been watching football without inspiring the widespread hatred of the Yankees or Lakers.
<p> And, of course, there's a lot to envy in the experience of being a Packers fan—especially the fact that anyone with $250 can become an owner of the team.</p><p> This has created a seemingly impossible situation in which the football team in by far the smallest city—Green Bay is home to just 102,000 people—is the <a href="http://www.forbes.com/sites/kurtbadenhausen/2011/09/07/the-nfls-most-valuable-teams/">ninth-most valuable</a> franchise in the league, according to <em>Forbes. </em>The team makes so much money that it is required to pay into the pot designed to redistribute revenue from large-market teams to the smaller ones. In an era in which egomaniacal, power-hungry sports owners like <a href="http://www.washingtoncitypaper.com/articles/40063/the-cranky-redskins-fans-guide-to-dan-snyder">Dan Snyder</a>, <a href="http://sports.espn.go.com/nba/news/story?id=4187729">Donald Sterling</a>, and <a href="http://espn.go.com/nba/story/_/id/7336526/nba-critique-dan-gilbert-letter">Dan Gilbert</a> seem to invent new forms of crazy all the time, the idea of crowdsourced ownership sounds pretty appealing. The Packers' unique structure has earned them accolades from all over, including selection as a <a href="../../../post/goodco-finalist-the-fan-owned-green-bay-packers/">GOOD Company finalist</a>.</p><p> The Packers are the only community-owned franchise in the United States (the NFL bans other teams from using the same model) but they weren't the first in the world. FC Barcelona, the Spanish soccer club and perennial Champions League contender, has been owned by fans since it was founded in 1899. Considering the massive financial and athletic success of those two teams, that no one else has followed their lead—as well as the NFL's continued hostility toward a model that works—borders on the inexplicable.</p><p> The advantages to community ownership stretch far beyond engendering good will from fans. Revenue generated by the Packers or Barcelona is immediately reinvested rather than lining an owner's pocket. When team officials concluded this year that legendary Lambeau Field needed $130 million worth of renovations, they put 250,000 shares of stock <a href="https://packersowner.com/">up for sale</a>. It creates better fans who are literally invested in a way others aren't—when Ronaldinho, arguably the best footballer in the world, played for Barça from 2003 to 2008, the number of paid members increased by 70 percent.</p><p> Furthermore, taking every team public could help avoid nasty labor situations like this year's NFL and NBA lockouts by removing the zero-sum element of financial disputes between owners and players. During the NFL lockout, league commissioner Roger Goodell sent Packers CEO Mark Murphy (who serves at the will of a board of directors) as an emissary to the owners of the other 31 teams, and credits him with helping achieve a deal. Green Bay has a unique position, former commissioner Paul Tagliabue told <em><a href="http://www.businessweek.com/magazine/the-green-bay-packers-have-the-best-owners-in-football-10202011.html">Business Week</a></em>: "moral purity or economic objectivity. Whatever it is, it is useful."</p><p> Ownership of the Barcelona <em>fútbol </em>club is now limited to family members of current stockholders, while the Wisconsin football team's shares are open to anyone who has the funds until the current batch of 250,000 sell out—stocking stuffer, anyone? In neither case does owning stock earn you any significant perks, whether financial or even a ticket to games (Lambeau's season-ticket waiting list runs more than 80,000 names long), which leaves essentially no downside for clubs.</p><p> One British group, MyFootballClub, has taken community ownership even further: Since 2008, all player trades and other key decisions for the Ebbsfleet United soccer team have been made based on a vote of stockholders. While such a model would not work on the highest professional level—professional scouts and managers make better decisions than even the most avid fans, Monday morning quarterbacking be damned—it's refreshing to see that the era of exploring innovative ownership models didn't die after the Packers were founded in 1919. Having 112,000 owners may not be the main reason the Packers or Barça win all the time, but it's certainly helping the cause.</p><p> <em><a href="http://www.flickr.com/photos/paulkehrer/2916313745/sizes/z/in/photostream/">Photo</a> via (<a href="http://creativecommons.org/licenses/by/2.0/deed.en">cc</a>) Flickr user <a href="http://www.flickr.com/photos/paulkehrer/">Paul Kehrer</a></em></p><br/><br/>