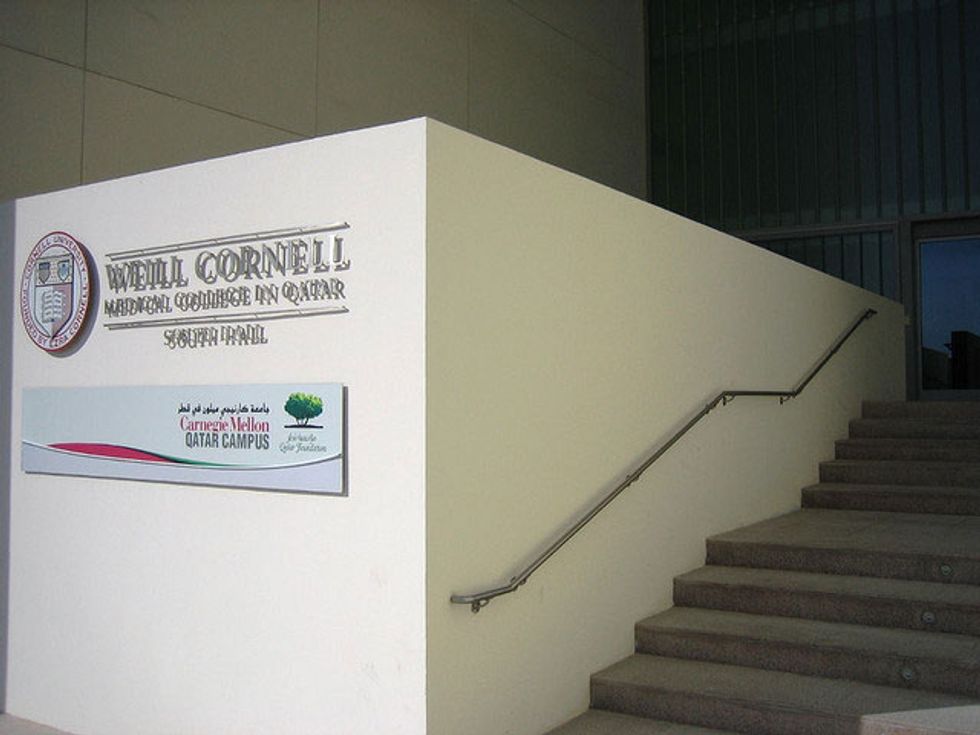 India announced six months ago that it's opening its doors to foreign universities that want to set up
satellite campuses
in the subcontinent. Schools with strong engineering programs, such as Carnegie Mellon, Georgia Tech, and Virginia Tech
are rushing to open new branches
. On Monday,
Yale announced it would open a foreign campus in Singapore
, which focuses on the liberal arts.
According to a piece in the new issue of Newsweek, 38 American universities have outposts in 34 countries, with several having multiple satellite campuses. (NYU, for instance, has schools in Abu Dhabi, Buenos Aires, Shanghai, Singapore, and Tel Aviv.) A recent Economist story noted that British universities are also eyeing expansion. Middlesex University wants to enter India and already has a campus in Dubai.
<p> The new <em>Newsweek</em> piece, written by Queens College professor <a href="http://highereducationquestionmark.com/?page_id=31">Andrew Hacker and Caludia Dreifus</a>, a <em>New York Times</em> journalist, argues that the focus on marking new territory abroad might come at the cost of American students. Michigan State, for instance, had a campus in Dubai, but shuttered it because there weren't enough students that would pay its high tuition—equivalent to that which out-of-state students pay to attend its East Lansing campus.</p><blockquote> <p> Like many state schools, MSU stints on its undergraduates, having a faculty-student ratio twice that of most private colleges—leading to mega-lectures, computerized examinations, and infrequent contact with senior faculty. That $5 million deployed in the sands of Dubai could have brought in 75 additional assistant professors.</p>\n</blockquote><p> Elsewhere, Cornell's Qatar-based medical school graduated its first class of students in 2008. This year, it sent off only 17 people to become doctors. Meanwhile, attempts to set up a Qatar outpost by Georgetown is costing it a reported $500,000 per student, Dreifus and Hacker write.</p><p> The schools might be slightly ahead of their time, as it's hard to deny that there are plenty of students, especially in places like India and China, who desire degrees from American institutions. But, with money running short, especially at a lot of public universities, is this the time to short change their American students by sinking money into foreign ventures? </p><p> <em><a href="http://www.flickr.com/photos/vobios/312281953/">Photo</a> (<a href="http://creativecommons.org/licenses/by/2.0/">cc</a>) via Flickr user<span style="text-decoration: underline;"> </span></em><em><a href="http://www.flickr.com/photos/vobios/">vobios</a></em><em>. </em></p><br/>