Articles
Starbucks removes the text from their logo and puts the focus on the siren, as the next move in their campaign to "unbrand" themselves to consumers.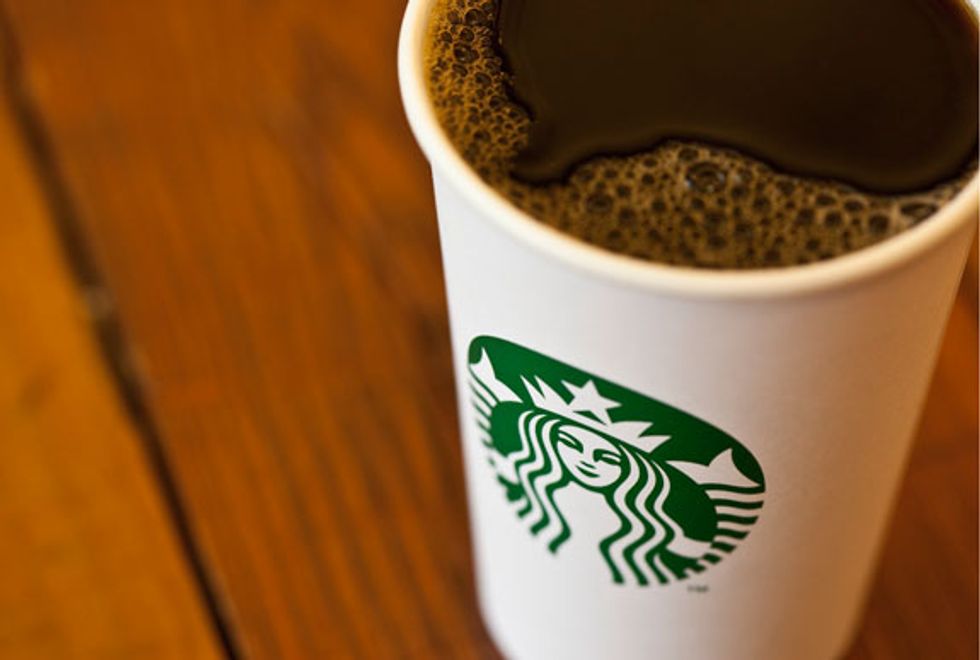 Hold onto your cups! Starbucks revealed a
refreshed version of its logo
today to celebrate its 40th anniversary, notably, with all text denoting this as "Starbucks Coffee" dropped from the image. As CEO Howard Schultz explains in
this video
, the siren has been at the heart of the brand for four decades, so it was time to give her a promotion:
We've given her a small but meaningful update to ensure that the Starbucks brand continues to embrace our heritage in ways that are true to our core values and that also ensure we remain relevant and poised for future growth.
\n</blockquote><p> He also hints at more changes like "other products" and an "evolution" coming this spring.</p><p class="shortcode-media shortcode-media-rebelmouse-image"> <img class="rm-shortcode" data-rm-shortcode-id="e4a8f1d0451bc4c7a5873ea7aca5e983" data-rm-shortcode-name="rebelmouse-image" id="26fe8" type="lazy-image" data-runner-src="https://assets.rebelmouse.io/eyJhbGciOiJIUzI1NiIsInR5cCI6IkpXVCJ9.eyJpbWFnZSI6Imh0dHBzOi8vYXNzZXRzLnJibC5tcy8xOTgzNTcwOS9vcmlnaW4uanBnIiwiZXhwaXJlc19hdCI6MTYwNzMwMDQzN30.1US5WItofRscZRkauBN6VNEClj0Ri4MYB5MndHOpUW0/img.jpg?width=980"/> <small class="image-media media-caption" placeholder="add caption..."></small> <small class="image-media media-photo-credit" placeholder="add photo credit..."></small> </p><p> The move is not too surprising since Starbucks has spent the last two years trying to <a href="http://www.good.is/post/the-reinvention-of-starbucks/">de-emphasize the Starbucks brand</a> from its stores. Instead of the one-Starbucks-fits-all look that appeared in cafes from Denver to Abu Dhabi, recently-revamped interiors feature local artisans, vintage furniture, and reclaimed materials, even new names like 15th Avenue E Coffee and Tea. This made for a more unique, un-chained feel that Starbucks hoped would draw in the loyalty of local customers.</p><p class="shortcode-media shortcode-media-rebelmouse-image"> <img class="rm-shortcode" data-rm-shortcode-id="691430140d308988574fc611ce15f48e" data-rm-shortcode-name="rebelmouse-image" id="d355a" type="lazy-image" data-runner-src="https://assets.rebelmouse.io/eyJhbGciOiJIUzI1NiIsInR5cCI6IkpXVCJ9.eyJpbWFnZSI6Imh0dHBzOi8vYXNzZXRzLnJibC5tcy8xOTkyNjA1My9vcmlnaW4uanBnIiwiZXhwaXJlc19hdCI6MTYxMTI4MTIyOH0.zhFCBGqxO_tTHj_ca9uLXO-Y_RFZfpl1S7gM9qLUUqM/img.jpg?width=980"/> <small class="image-media media-caption" placeholder="add caption..."></small> <small class="image-media media-photo-credit" placeholder="add photo credit..."></small> </p><p> Will the citizen design police who <a href="http://www.good.is/post/new-gap-logo-out-old-gap-logo-back-in/">took down the Gap's new logo</a> be angered by this redesign? It's unlikely, since there's really no significant change besides losing the type. But the decision to put the <a href="http://www.starbucks.com/preview">spotlight on the siren</a>—who used to have nipples, by the way—as a kind of iconic character <em>instead</em> of the words "Starbucks Coffee" is interesting. Are the siren and that shade of green so universal, so recognizable, that you'll just know it's Starbucks? Or are they really trying to make us forget the name—and the hyper-globalized brand, and all the baggage that comes along with it—and just think of them as our friendly corner coffee shops?</p><p> What do you think about the new logo?</p>