Articles
The civil rights organization sent letters requesting an investigation into the industry's hiring practices.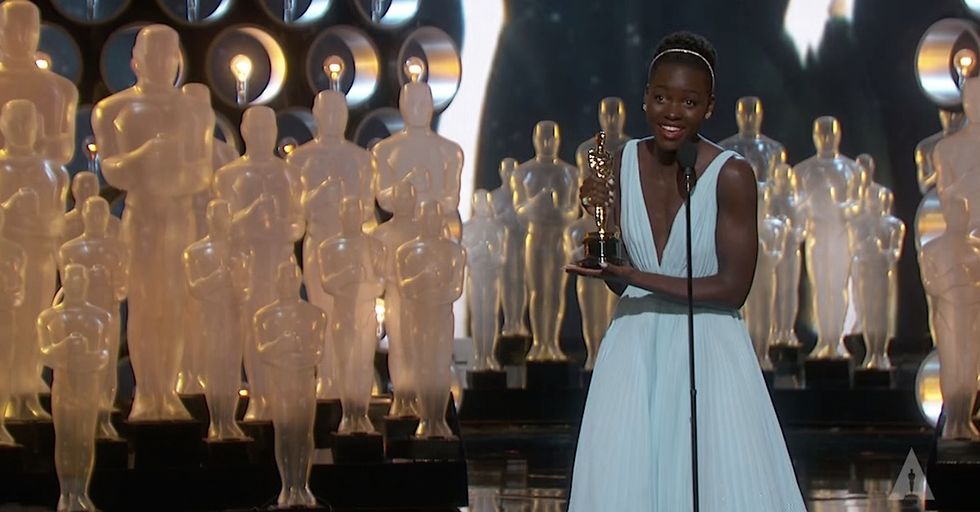 Lupita Nyong'o winning the Oscar for Best Supporting Actress. Image via YouTube screencapture.
Rita Wilson and Geena Davis aren't the only ones at the frontlines of the fight against gender discrimination in Hollywood: the ACLU has joined the ring, with a righteous plea towards government agencies to investigate the sexism embedded within the film and television industries. Yesterday, the civil rights group announced that it had sent letters to the California Department of Fair Employment and Housing, the U.S. Equal Employment Opportunity Commission (EEOC) and the Office of Federal Contract Compliance Programs requesting inquiries into the hiring practices of Hollywood studios.
<p>"Women directors simply aren't getting a fair opportunity to succeed, because of systemic discrimination," said Ariela Migdal, an attorney with the ACLU Women's Rights Project, <a href="https://www.aclusocal.org/pr-film-equality/">in a press release.</a> "It's time for our civil rights enforcement agencies to take action to ensure that women have a level playing field."</p><p>According to the ACLU, almost a third of network shows that aired last year hired no women directors. In the film industry, women only comprised seven percent of the directors who had top-earning films. <a href="https://www.aclusocal.org/filmequality/">The letters</a> sent to these agencies included additional statistical evidence, as well as 50 first-hand testimonies from women in Hollywood, to corroborate the claim that the industry suffers from an extreme gender bias. One anonymous working director quoted in the letters said that the threshold for success is much higher for women than it is for men.</p><p>"You have meetings about potential projects where studio executives say things like 'well, it's hard to have you direct it because it's such a big budget film. You don't have the experience.' Instead of seeing that I've done five feature films," she said. "But a guy can be hired off of one feature film that's low budget. . . . Women are ghettoized into doing these smaller films and then people think that's all we want to do."</p>