Articles
The AeroFarms facility is bringing millions of pounds of leafy greens, and dozens of green jobs, to Newark.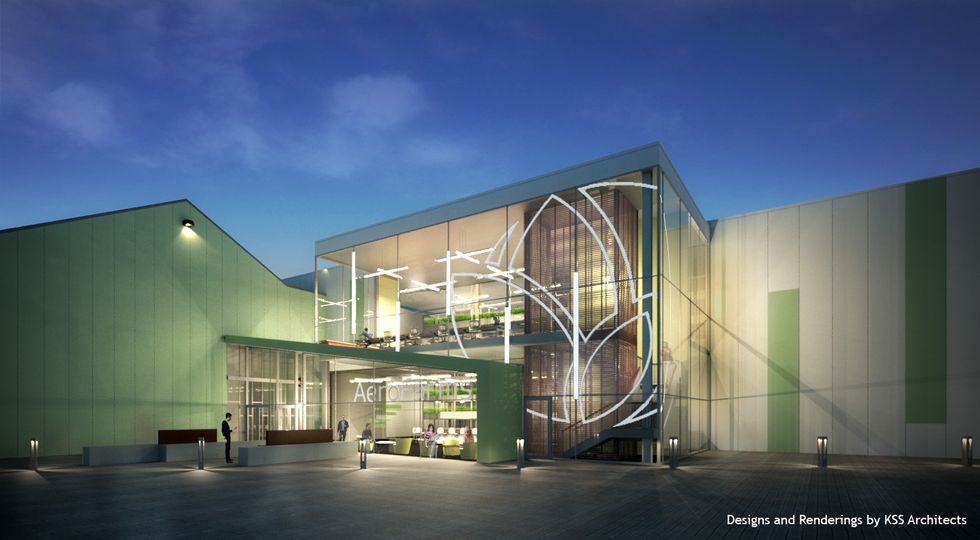 AerFarms anticipated corporate HQ.
The tri-state area may be in the middle of what some in the Yiddish speaking community call a "massive shvitz" (learn the word, it will come in handy), but that isn't stopping Newark mayor Ras J. Baraka from going out and getting down and dirty with nature. Tomorrow Baraka, along with acting governor Guadagno, will break ground for the world's largest indoor vertical farm at the AeroFarms Headquarters at 212 Rome Street.
<p class="shortcode-media shortcode-media-rebelmouse-image"> <img class="rm-shortcode" data-rm-shortcode-id="d80fd670d054d8777e9e181c9e176018" data-rm-shortcode-name="rebelmouse-image" id="41487" type="lazy-image" data-runner-src="https://assets.rebelmouse.io/eyJhbGciOiJIUzI1NiIsInR5cCI6IkpXVCJ9.eyJpbWFnZSI6Imh0dHBzOi8vYXNzZXRzLnJibC5tcy8xOTg0MTg2Mi9vcmlnaW4ucG5nIiwiZXhwaXJlc19hdCI6MTYzNDk5MTY0N30.r9WSZ3tO4YvXfgBKpJgxEKi6zr3vf_0ke2mBhMTaHko/img.png?width=980"/> <small class="image-media media-caption" placeholder="add caption..."></small> <small class="image-media media-photo-credit" placeholder="add photo credit...">The anticipated HQ of AeroFarms will have several growing rooms like the above.</small> </p><p>AeroFarms, a start-up focused on aeroponics and the research of soil-free vertical farming, has been something of a great white hope in the green business <em>and</em> urban eco-warrior communities. The idea that we can grow a leafy farm anywhere, even Newark, captured the imagination of the press when the project was first announced in 2014. Viewed with cautious optimism, and a grain of skepticism, it seemed too good to be true. But starting Thursday, Aerofarms, in partnership with RBH Group, Goldman Sachs, Prudential Financial, NJEDA, and the City, will redevelop a former steel factory into a 69,000 square-foot vertical garden and corporate headquarters for the group. When completed, they hope in late 2015, AeroFarms HQ will have the capacity to grow up to 2 million pounds of baby leafy greens and herbs per year in an environmentally controlled, safe, and sanitary facility, in order to provide healthy foods both to the local community and broader markets. "AeroFarms is a model for successful, sustainable farming offering 75 times more productivity per square foot annually than a traditional field farm," said a spokesperson for the project, "while using no pesticides and consuming over 95 percent less water."</p><p class="shortcode-media shortcode-media-rebelmouse-image"> <img class="rm-shortcode" data-rm-shortcode-id="6983ef67d574ce71aa13be58bbd6a46e" data-rm-shortcode-name="rebelmouse-image" id="d8664" type="lazy-image" data-runner-src="https://assets.rebelmouse.io/eyJhbGciOiJIUzI1NiIsInR5cCI6IkpXVCJ9.eyJpbWFnZSI6Imh0dHBzOi8vYXNzZXRzLnJibC5tcy8xOTg0MTg1OS9vcmlnaW4uanBnIiwiZXhwaXJlc19hdCI6MTYzMjEwODcxMH0.spcOuWMqqaMUDIRzdtsfxx5LYtJlqvPd0nuDYOLgkhw/img.jpg?width=980"/> <small class="image-media media-caption" placeholder="add caption..."></small> <small class="image-media media-photo-credit" placeholder="add photo credit..."></small> </p><p class="shortcode-media shortcode-media-rebelmouse-image"> <img class="rm-shortcode" data-rm-shortcode-id="e62f8196ba0475a27c2a85b657da2006" data-rm-shortcode-name="rebelmouse-image" id="702ac" type="lazy-image" data-runner-src="https://assets.rebelmouse.io/eyJhbGciOiJIUzI1NiIsInR5cCI6IkpXVCJ9.eyJpbWFnZSI6Imh0dHBzOi8vYXNzZXRzLnJibC5tcy8xOTg0MTg2MC9vcmlnaW4uanBnIiwiZXhwaXJlc19hdCI6MTYwNzY2NzcwNX0.6cZ9pT2WsP-97vQGdLLtrMQNwv8dWDkKNB8fnWVAajw/img.jpg?width=980"/> <small class="image-media media-caption" placeholder="add caption..."></small> <small class="image-media media-photo-credit" placeholder="add photo credit...">AerFarms system rendering.</small> </p><p>The anticipated $30 million facility is expected to create over 78 jobs—no small feat in a community with an unemployment rate that is twice the national average. AeroFarms, further helping the community get back to work, has also partnered with the Ironbound Community Corporation to create a recruiting and job-training program targeting local residents. With the state taking a pioneering role in the green revolution, perhaps it's time the world let up on some of those famous New Jersey wasteland jokes?</p>