Articles
By creating special pollination stations across the city, residents hope to boost their sagging local bee population.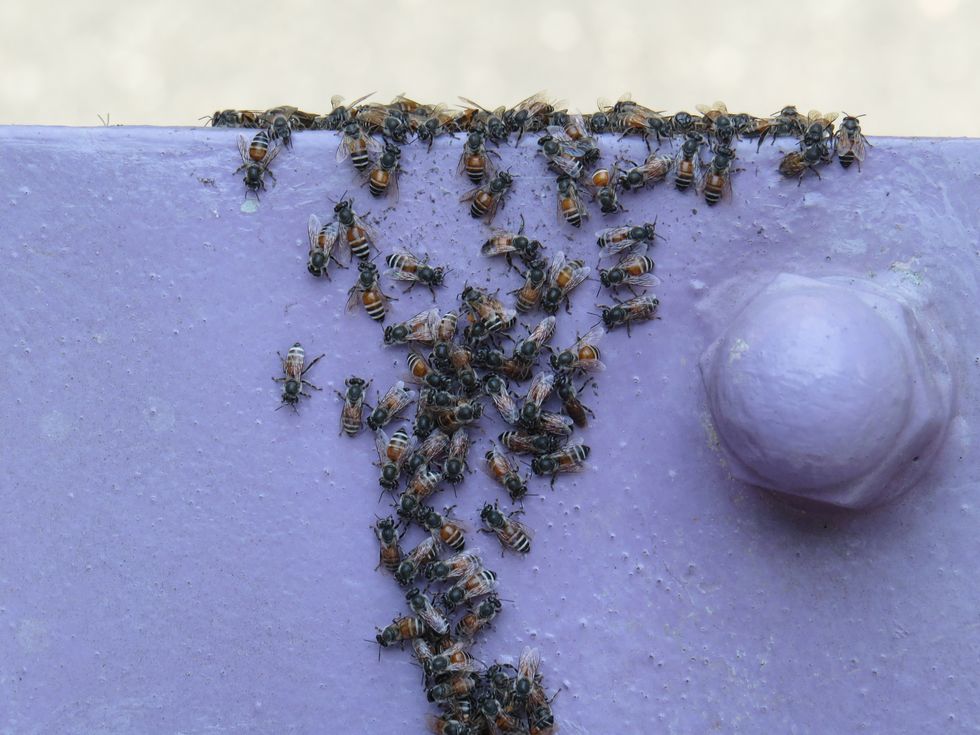 image via flickr user kathy
Bees have it rough. We shoo them away from our picnics, vilify them in our horror movies, and shudder at the prospect that they may someday inspect our luggage. To make matters worse, nature's perfect pollinators are in the midst of a massive population collapse, on which scientists have plenty of theories (but little else) to explain why bees are (*ahem*) dropping like flies.
<p>It's against this hard-knock bee backdrop that Oslo, Norway is stepping up in a big, if somewhat unusual, way: By building the <a href="http://www.afp.com/en/news/oslo-creates-worlds-first-highway-protect-endangered-bees">world's first bee highway</a>. </p><p>Unlike conventional highways (you know, for people) made of asphalt, the bee road will consist of numerous foliage stations positioned throughout the city, which—when visited in sequence—create a route through Oslo's urban jungle. The stations, <a href="http://www.afp.com/en/news/oslo-creates-worlds-first-highway-protect-endangered-bees">reports</a> the <em>AFP, </em>consist of "sunflowers, marigolds and other nectar-bearing flowers," which provide the bees sustenance and pollination fodder as they migrate across the city. The whole city is reportedly involved, with individuals, schools, and businesses alike contributing their own stations, and submitting them to an <a href="http://www.pollinatorpassasjen.no/intro">interactive map</a>, which plots the growing bee route as it threads its way through town. </p><p class="shortcode-media shortcode-media-rebelmouse-image"> <img class="rm-shortcode" data-rm-shortcode-id="bb50e71fd5e10287da7bec71501804a0" data-rm-shortcode-name="rebelmouse-image" id="8a027" type="lazy-image" data-runner-src="https://assets.rebelmouse.io/eyJhbGciOiJIUzI1NiIsInR5cCI6IkpXVCJ9.eyJpbWFnZSI6Imh0dHBzOi8vYXNzZXRzLnJibC5tcy8xOTg0MTUxOS9vcmlnaW4uanBnIiwiZXhwaXJlc19hdCI6MTYwMjQ0MTMyM30.EIcc8FNtr-GE8qDEwGEeAasmRTrg5FVV_bvkFGOqalQ/img.jpg?width=980"/> <small class="image-media media-caption" placeholder="add caption..."></small> <small class="image-media media-photo-credit" placeholder="add photo credit...">image via pollinator passasjen // screen capture</small> </p><p>Agnes Lyche Melvaer, who heads BiBy, the environmental group behind the initiative, <a href="http://www.afp.com/en/news/oslo-creates-worlds-first-highway-protect-endangered-bees">explains</a> to the <em>AFP</em>: </p><div><blockquote><p>"We are constantly reshaping our environment to meet our needs, forgetting that other species also live in it. To correct that we need to return places to them to live and feed."</p></blockquote><p>She expresses hope that, should the project prove successful in Oslo, other communities might create their own urban paths for local endangered bees, as well. </p><p>While this may be the first example of a bee-specific highway, it isn't the first time conservationists have suggested the creation of specialized routes for at-risk pollinating populations. This past spring, the White House "Polinator Health Task Force" (yes, that's a thing) proposed a 1,500 mile long "<a href="http://magazine.good.is/articles/monarch-butterfly-corridor-migration-pollination">Butterfly Corridor</a>" to help protect monarch butterflies as their migratory path takes them across the United States. </p><p style="text-align: right;">[<em>via <a href="http://www.smithsonianmag.com/smart-news/norway-has-highway-bees-180955703/?no-ist">smithsonianmag</a></em>]</p></div>