Articles
Turning the classic children's game into a city-wide, record-breaking happening.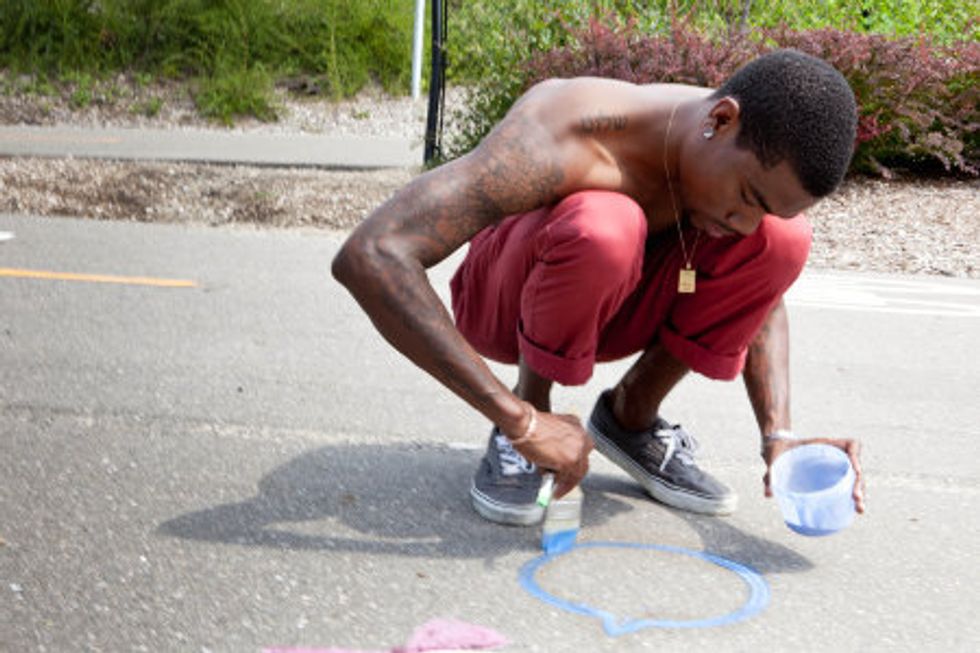 What if the schedule of city-life had recess built into it, just like elementary school? A team of social innovators in Detroit is asking that question with their upcoming project Hopscotch Detroit, a social free-for-all that puts a schoolyard spin on community engagement—and even intends to break a world record, using nearly a ton of chalk, stencils, and city's sidewalks.
Hopscotch Detroit is a joint venture of social design startup Wedge Detroit and community-building initiative Imagine Detroit Together. Since June, the two organizations have conspired to bring a 4.2-mile-long urban hopscotch course to life. Equal parts ode to the classic childhood game and imaginative community event, Hopscotch Detroit's allure is its simplicity: temporarily transforming a street, or a city, into a unified, vibrant playground.
<p class="shortcode-media shortcode-media-rebelmouse-image"> <img class="rm-shortcode" data-rm-shortcode-id="9b6c66388296b8eb3cdc23fd7cd823f3" data-rm-shortcode-name="rebelmouse-image" id="b14b2" type="lazy-image" data-runner-src="https://assets.rebelmouse.io/eyJhbGciOiJIUzI1NiIsInR5cCI6IkpXVCJ9.eyJpbWFnZSI6Imh0dHBzOi8vYXNzZXRzLnJibC5tcy8xOTgxOTc3Ni9vcmlnaW4uanBnIiwiZXhwaXJlc19hdCI6MTYyNTEwNDg5MX0.Kqdpp37vbgFl9sxMNV6f3zhAuufXZjmk9J8swzt3jlc/img.jpg?width=980"/> <small class="image-media media-caption" placeholder="add caption..."></small> <small class="image-media media-photo-credit" placeholder="add photo credit..."></small> </p><p> "Hopscotch will cause collisions among people, neighborhoods, artists, businesses, organizations, the design community, and ideas that normally don't sit side-by-side," says Hopscotch Detroit organizer Ajooni Sethi. "The game transcends generations, cultures, and neighborhoods, bringing together a whole mix of folks. That's how you get a 60-year old man from downtown Detroit and a five-year old from Osborn"—a neighborhood on the edge of town—"to share an experience."</p><p> Hopscotch Detroit will draw its first chalk square on September 19 as part of the <a href="http://www.detroitdesignfestival.com/">Detroit Design Festival</a> and plans to debut the completed course on September 22. The course will begin in Downtown Detroit and end in Midtown. Each day of the festival, 30 volunteers will chalk up an additional mile, armed with hand-cut stencils, paint brushes, sponges, paint mixers, knee pads, and non-toxic chalk paint—a combination of flour, corn starch, sugar, water, and tempera paint that should hold up for about three rainfalls.</p><p> The completed course will be a space for residents of all ages to add their own flair to the classic game. "Once we draw the course, invite as many people as we can, and lay out the chalk, we open it up for anyone to use, imagine, and play," Sethi says. "The space can be a stage for a play, hopscotch relays, a giant game of Candyland—whatever Detroit wishes to make it."</p><p class="shortcode-media shortcode-media-rebelmouse-image"> <img class="rm-shortcode" data-rm-shortcode-id="124381b7fc9a3dc0d9de273c9f1d88ae" data-rm-shortcode-name="rebelmouse-image" id="da0fe" type="lazy-image" data-runner-src="https://assets.rebelmouse.io/eyJhbGciOiJIUzI1NiIsInR5cCI6IkpXVCJ9.eyJpbWFnZSI6Imh0dHBzOi8vYXNzZXRzLnJibC5tcy8xOTgxOTc3Ny9vcmlnaW4uanBnIiwiZXhwaXJlc19hdCI6MTYyNjgwMDI3Nn0.MnphUnLNsT2b9XkU6Cr1F5Xl0RJuns5peVwiZnDY1mw/img.jpg?width=980"/> <small class="image-media media-caption" placeholder="add caption..."></small> <small class="image-media media-photo-credit" placeholder="add photo credit..."></small> </p><p> The team will distribute chalk sticks from Detroit-based office supply company, <a href="http://chalkfly.com/">Chalk Fly</a> to anyone interested in adding their mark to the project, and several local artists will contribute chalk murals to adorn the course. The record that Hopscotch Detroit plans to shatter, the title of World's Longest Hopscotch Course, will be immortalized on <a href="http://recordsetter.com/">Recordsetter</a>, a site that logs everything from the world's longest high five to the largest cardboard fort. </p><p class="shortcode-media shortcode-media-rebelmouse-image"> <img class="rm-shortcode" data-rm-shortcode-id="912c61fba31eba8617d54295f4b6d147" data-rm-shortcode-name="rebelmouse-image" id="a2968" type="lazy-image" data-runner-src="https://assets.rebelmouse.io/eyJhbGciOiJIUzI1NiIsInR5cCI6IkpXVCJ9.eyJpbWFnZSI6Imh0dHBzOi8vYXNzZXRzLnJibC5tcy8xOTgxOTc3OC9vcmlnaW4uanBnIiwiZXhwaXJlc19hdCI6MTYzMzU0MzkwOX0.bkONpRMOR2jx0M7DTolhvdjDuUAbgDFLgiMoiXq3dxg/img.jpg?width=980"/> <small class="image-media media-caption" placeholder="add caption..."></small> <small class="image-media media-photo-credit" placeholder="add photo credit..."></small> </p><p> Following September 22, the Hopscotch team plans to continue creating and inspiring similar conceptual grassroots projects that foster collaboration in the city. They've held test runs in several Detroit communities including Bagley, Cody Rouge, Belle Isle, Eastern Market, North End, Downtown, and Midtown, and plan to chalk up many more neighborhoods.</p><p> "Positive, exciting, and inspiring things are brewing and alive in Detroit," Sethi says. "We all share common ground. Sometimes we just need to draw on it to realize the fact." The event is completely free with chalk included, but the team is still raising funds and recruiting volunteers. Those interested can send an email to hopscotch[at]wedgedetroit[dot]com.</p><br/>