Articles
A team in Cyprus is crowdsourcing data on the lost items to build 3D models of the ruined artifacts.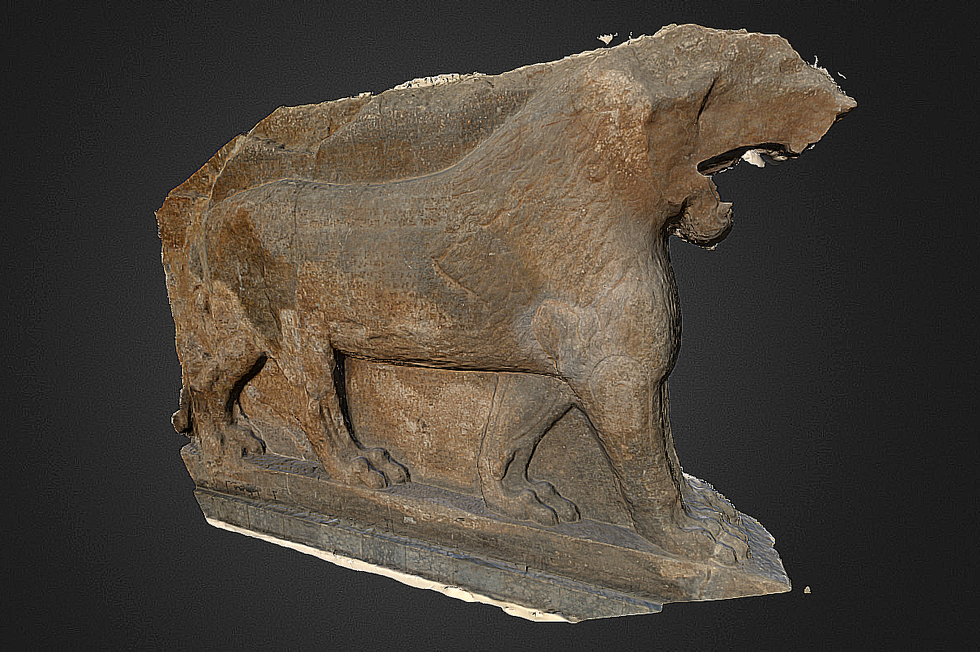 A 3D reconstruction of The Lion of Mosul.
Researchers from the Cyprus University of Technology are hoping they can digitally reconstruct Iraq's Mosul Museum, which was ransacked by fighters for Da'esh (more commonly known as ISIS). Spearheaded by volunteers from the Initial Training Network for Digital Cultural Heritage, Project Mosul will crowdsource photos, images, and data for the artifacts and objects that were destroyed and process it all to create three-dimensional models of what was lost.
<p>"This project is a direct response to the senseless destruction of cultural heritage by extremists, not only ISIS, but to any group who uses heritage as leverage or political power," they write in a description of a project. "Instead, we want to bring heritage back to life through digital tools, giving the public access to any destroyed heritage, starting with the Mosul Museum."</p><p>Although many of the artifacts in the Mosul Museum were <a href="http://www.ibtimes.co.uk/ancient-statues-destroyed-by-isis-mosul-were-fake-say-officials-1492010">replications</a>, they represented an important catalog of regional cultural heritage dating back 1,000 years. Among the wrecked goods were statues of a <a href="http://en.wikipedia.org/wiki/Lamassu">lamassu</a> (The Winged Bull) and the God of Rozhan. Western outcry over the ransacking provoked accusations of <a href="http://www.elliottcolla.com/blog/2015/3/5/on-the-iconoclasm-of-isis">selective outrage</a>—Iraqi lives don't seem to be as important to many people outside of Iraq as do objects of "cultural heritage." It's important to remember that while the loss of these objects is unfortunate, to be sure, the tragedy pales in comparison to the sheer volume of human loss and misery Iraqis suffer everyday at the hands of ISIS and in the wake of the U.S. war.</p><p>Still, there is an academic imperative to at least help preserve the artifacts. Project Mosul has already provided one example of its work, digitally reconstructing <a href="https://sketchfab.com/models/55ea0aed9bfd462593f006ea8c4aade0?utm_source=oembed&amp;utm_medium=embed&amp;utm_campaign=55ea0aed9bfd462593f006ea8c4aade0">The Lion of Mosul</a>. This 3D model could be used to potentially restore the original object or to print a physical model using 3D printing technology. </p>