Articles
For the finest dining in Cardiff, go directly to jail.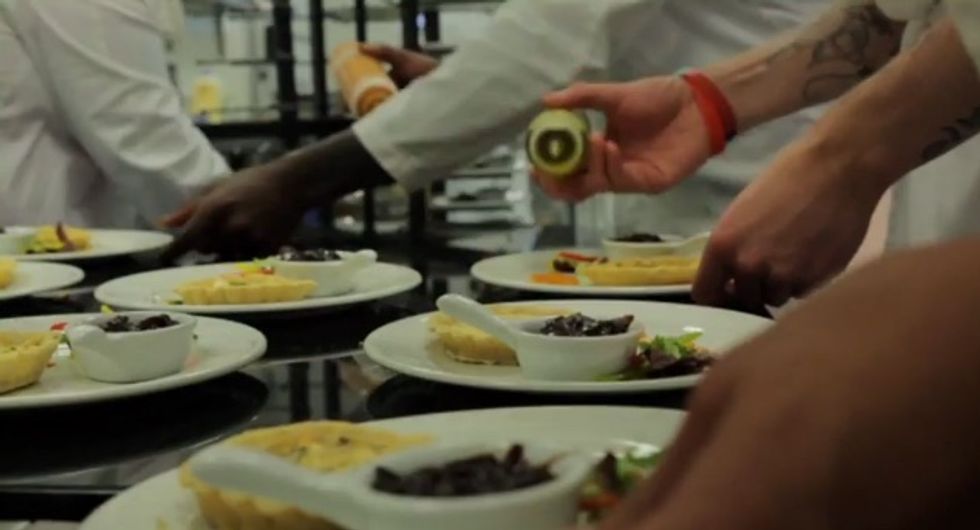 image via youtube screen capture
Fans of Orange Is the New Black likely remember cringing during a particularly awkward episode of the breakout Netflix prison series, in which inmates of the fictional Litchfield penitentiary engage in a mock job fair, in order to prepare themselves for life after incarceration. It's an episode played both for laughs, and ultimately, poignancy, as we come to understand just how out of sync the penal system's idea of vocational training is with both the world outside the prison's walls, and the characters within. The episode is, of course, fiction, but not necessarily that far removed from the reality seen by show creator Piper Kerman, a former inmate herself.
<p>A select group of prisoners in Europe, however, have reason to be proud of their vocational training. The Clink – a cheekily named high end restaurant staffed entirely by inmates currently serving time – was recently <a href="http://consumerist.com/2015/01/22/welsh-citys-diners-name-prison-eatery-the-best-restaurant-in-town/">voted the best restaurant</a> in the UK city of Cardiff, beating out nearly 1,000 other local eateries. We've <a href="http://magazine.good.is/articles/the-clink-prison-fine-dining">written about The Clink before</a>, but now it seems they've gone from being both an innovative dining experience, and experiment in prison reform, to become the top dog in a crowded industry known for being insanely competative.</p><p>This month, users of travel site Tripadvisor <a href="http://www.tripadvisor.com/Restaurants-g186460-Cardiff_Southern_Wales_Wales.html">named the restaurant</a> their number one top choice for eating in the Welsh capital, peppering its <a href="http://www.tripadvisor.com/Restaurant_Review-g186460-d3507369-Reviews-The_Clink-Cardiff_Southern_Wales_Wales.html">profile page</a> with glowing reviews which praise The Clink for both its exceptional food, and impeccable service. One diner goes so far as to claim the inmate's service is "<em><a href="http://www.tripadvisor.com/ShowUserReviews-g186460-d3507369-r248946350-The_Clink-Cardiff_Southern_Wales_Wales.html#CHECK_RATES_CONT">better than we have had in some starred restaurants.</a></em>" High praise, considering The Clink took top honors from a field of 946 professionaly run restaurants, none of the others of which are associated with the penal system. </p><p>On <a href="http://theclinkrestaurant.com/">its website</a>, The Clink describes its goal as to:</p><blockquote><p>reduce reoffending rates of ex-offenders by training and placing graduates into employment upon their release, with the support of Her Majesty's Prison Service.</p><p>We offer a genuine opportunity for prisoners to change their lives, giving them true-to-life work experience and nationally recognized NVQ City &amp; Guilds food preparation, food service and cleaning qualifications.</p></blockquote><p>According to the <em><a href="http://www.southwales-eveningpost.co.uk/Prison-restaurant-run-criminals-named-best/story-25907654-detail/story.html">South Wales Evening Post</a>, </em>The Clink serves nearly 100 customers for both breakfast and lunch, and pays its staff of 30 inmate employees £14 an hour. In addition to the Cardiff location, <a href="http://theclinkrestaurant.com/the-charity/">The Clink Charity</a>, the umbrella organization behind this prison innovation, operates two other prisoner-run restaurants in the UK cities of High Down, and Brixton, with a fourth opening this spring in Styal. </p><p>Here's a glimpse of what eating, and working, at The Clink is like:</p><p><iframe allowfullscreen="" frameborder="0" height="315" src="//www.youtube.com/embed/pxK6PKziPUw" width="560"></iframe></p>