Articles
New Delhi's school on wheels is bringing education opportunities to India's slums.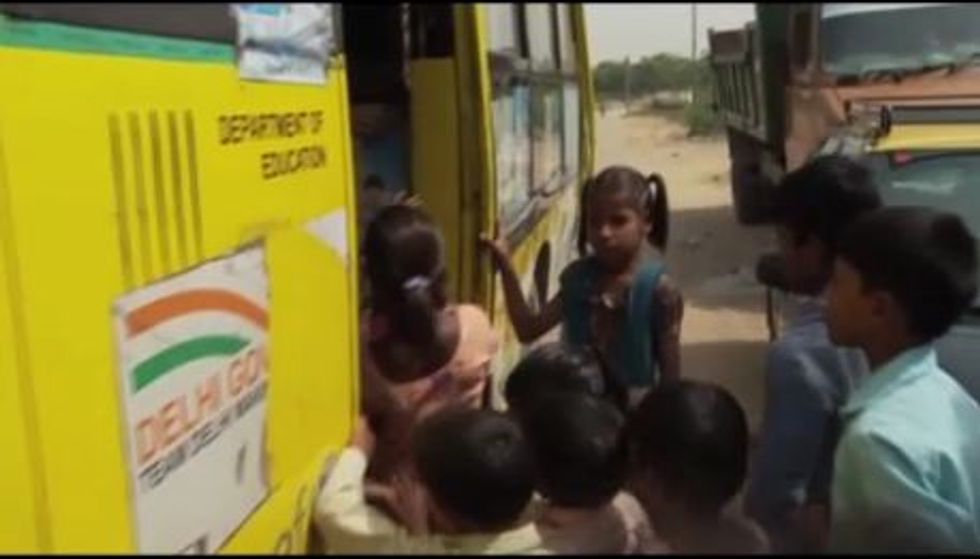 If students can't get to school, school must come to them. That's the idea behind a UNICEF-sponsored project in the Indian capital of New Delhi that's converting old school buses into mobile classrooms. These retrofitted schools on wheels drive to the city's slums to pick up around 40 children at a time for two hours of lessons.
One of the teachers, Maushmi Baruah, told GulfNews.com that the program first identifies a slum and then takes "a survey as to how many kids are not going to schools." Organizers then organize a meeting for parents and get the kids, who range in age from 6 to 14, excited by "showing a documentary or a cartoon in our bus."
<p> The teachers give each child a diagnostic test to see what they know and divide them into levels. During the sessions, students get lessons in English, Hindi, math, and science. The buses come equipped with maps, alphabet charts, and an LCD screen for video. To break up the academics, the kids also get 15 minutes each day for art, sports or health checkups. </p><p> Once the students and their families are invested, the teachers begin a conversation about transitioning to a government-run school. The teachers help with this process, as many of the parents want their kids to work and don't understand how the education system operates.</p><p> One of the students, Nishi, told <a href="http://www.guardian.co.uk/global-development/video/2011/sep/30/india-mobile-school-video"><em>The Guardian</em></a> that she knows people say that kids like her are "an illiterate group and that we don't know anything." But, says Nishi, "we are not." A sign of the program's success, she's looking forward to transitioning to a traditional school, and her parents support the decision.</p><br/>