Articles
Brought to you by IBM. The COO of an online education site talks about how marketing crosses into his domain as his users and services grow.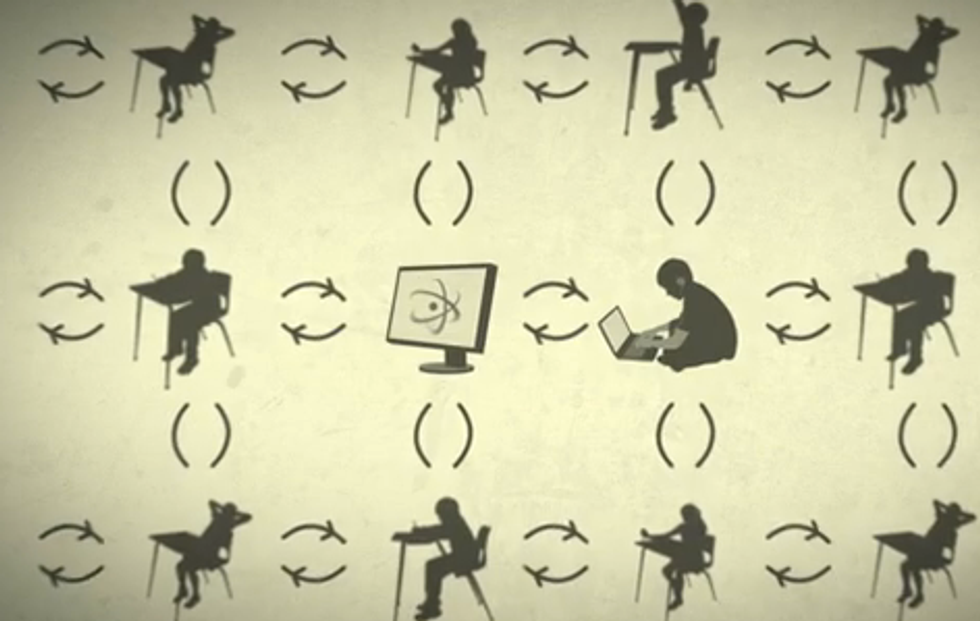 In this four-part series, we interview industry leaders about how technology and business are evolving the way companies use marketing and social media. This post is brought to you by our partner, IBM.
Knewton is an educational platform dedicated to a more innovative approach to online learning. On a mission to share knowledge on an international level, Knewton's unique Adaptive Learning Platform tailors lessons to each individual learner. To hear more about how Knewton markets its business model and connects with its global audience, we caught up with CEO David Liu. After earning an MBA from Columbia Business School, Liu served as a Senior Vice President at AOL. And did we mention he's been awarded a patent for web-based content personalization, too? Liu shares with GOOD how aspects of marketing often cross into his domain as Knewton continues to grow and expand.
<p> <em><strong>GOOD</strong>: What's your perspective on the evolving role of marketing and a CMO?</em></p><p> <strong>Liu</strong>: What's interesting about the work a CMO does is how many aspects there are, whether it's acquisition marketing by generating leads around a product or brand marketing by continuing to deliver a consistent brand message. Customer relationship management can be part of marketing as well.</p><p> The CMO also plays an incredible role in understanding pricing for your products and the value of proposition for your products. That not only gets you fair pricing, but you can also understand the competitive set you're against. A lot of that's being handled by a CEO, or in Knewton's case I'm handling a lot of that. </p><p> In technology [fields] in general, the role of the CMO isn't typically customary. If you look at a lot of tech companies out there—Google is good example—it didn't even have a person in that role until recently.</p><p> <em><strong>GOOD</strong>: What changes/innovations has Knewton had to make in this vein?</em></p><p> <strong>Liu</strong>: The world has moved much more to a "permission marketing" approach, which is knowing the customer is saying, "Earn the fact that I should even spend any time or attention with you."</p><p> A lot of the functions Knewton focuses on are around driving organic interests and traffic. To that end, we have a digital marketing group that's highly skilled and focused on creating content marketing so users, influencers and partners alike can understand our product, the value we bring and how to work with us. We also use a lot of advanced digital and online lead generation type of techniques to target potential partners and users to be able to get the right people in those discussions.</p><p> We're not yet mature enough to worry about our brand in terms of logos and imaging. There are a lot of other functions around marketing that we're not necessarily spending an equal amount of effort on as some of the other things we're doing. One day I can definitely see that we'll need that CMO, but that's not today.</p><p> <em><strong>GOOD</strong>:Have you noticed other members of the C-Suite calling upon the CMO in new ways or more often?</em></p><p> <strong>Liu</strong>: It depends on the type of company and the space they're in. There are very successful tech companies that do without a CMO for quite a long time because their product is naturally viral and they don't need traditional marketing techniques.</p><p> As companies mature and begin to care about their brand, then they actually have to pay for some advertising to accomplish different types of goals. That's when strategic discussions in a lot of companies center around CMOs, and they should. They're dealing with a lot of heady subjects around pricing, advertising, brand, acquisition marketing—things that drive the business side of company.</p><p> <em><strong>GOOD</strong>: What is your vision for strengthening the culture of Knewton?</em></p><p> <strong>Liu</strong>: When you give people a lot of information set in the right context and they understand what the goals are, they do great things. We're big believers in giving people a lot of personal autonomy and responsibility in each and every role that exists here at Knewton. Everyone here is working on something that is driving our main objectives around fixing education.</p><p> <em><strong>GOOD</strong>: What lessons have you learned through this process of change?</em></p><p> <strong>Liu</strong>: Not to be afraid to fail. To try new things, be willing to make mistakes and learn very quickly from those mistakes. If we stop failing, then were not moving fast enough.</p><p> <em>Image via <a href="http://www.knewton.com">Knewton</a></em></p><br/>