Articles
Yesterday, L.A. voters (or a small percentage of them) decided whether the city should tax pot to fund parks, among other things. Here's a recap.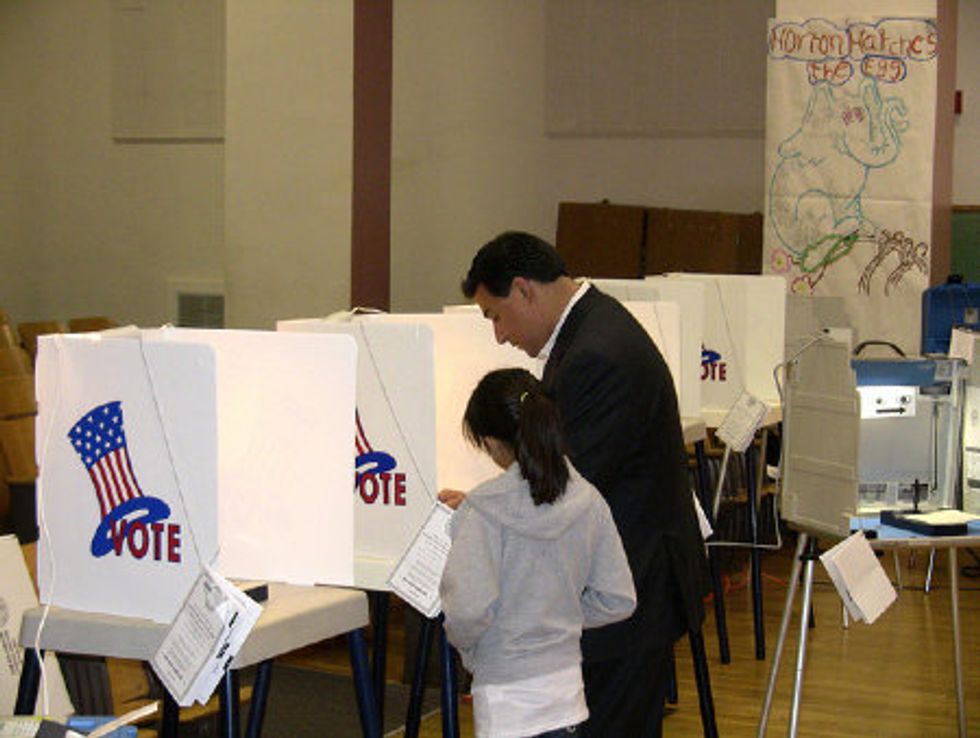 It was no victory for voter turnout efforts, that's for sure.
Even with some big budget decisions on the ballot that should have had Los Angeles residents up in arms about how their money is being spent, most Angelenos passed up a trip to the polls during yesterday's election. Only 190,642 ballots were cast in the city of L.A., according to the official election results. That's a little below 12 percent of registered voters.
<p> The good news was for supporters of the nine measures on the ballot, all but one of which passed. The alphabet soup of initiatives ranged from making our water and power agency more transparent to taxing medicinal marijuana clinics. Here's a breakdown of a few things that changed—and a few that didn't—after yesterday's election.</p><p> <b>Our libraries get more money</b>: A somewhat-controversial Measure L won with 63 percent of the vote and will bring emergency funding from property taxes to local libraries. Some worried it would set bad precedent for budgeting and will take funds away from public safety. A statement from Jeff Brown, chairman of the board for the Library Foundation of Los Angeles, expressed his group's relief at avoiding <a href="http://echopark.patch.com/articles/measure-l-could-help-keep-library-doors-open-on-sunday">facility closures</a>. "Angelenos restored critical service, hours, and resources to some of the most treasured institutions in our great City: our neighborhood libraries."</p><p> <b>Oil procured in L.A. won't be taxed extra</b>: Measure O stood for oil (or Texas tea, for those in the business). And any of it that surfaces in the city of Los Angeles won't be subject to an extra tax of $1.44 per barrel after all. The only <a href="http://blogs.laweekly.com/informer/2011/03/measure_o_oil_tax_election_res.php">measure that was defeated</a> (and barely), Measure O was campaigned against heavily by petroleum companies, who tried to convince voters that the tax would raise gas prices (it wouldn't). This means the city misses out on extra income that could have come from local oil wells.</p><p> <strong>We'll finally understand our water bills</strong>: Two <a href="http://www.dailybreeze.com/news/ci_17570913">big reform measures</a> were approved for the Department of Water and Power, one which will install a ratepayer advocate for the utility agency, and one that will require its budget to be approved earlier in the year. The biggest deal for any of us who enjoy showers and electricity is that we'll have someone who can answer questions about all those fees we pay to DWP and where they're actually going. Let's hope they start by making it easier to know how we can support alternative energy sources.</p><p> <b>Weed sales could support greenspace</b>: Charter Amendment M will allow the city to make some money on the medicinal marijuana industry, getting $50 for each $1,000 of sales. Right now some dispensaries pay no taxes to the city, but since this is a gray (or greenish-gray) area, the legality of the measure is in question (a <a href="http://www.theatlantic.com/politics/archive/2011/03/why-cant-oakland-tax-marijuana/71954/">similar measure in Oakland</a> was blocked). If they work it out, the new revenue will go to public facilities like open space and libraries. I, for one, can't wait to see the first Pot-to-Parks playground.</p><p> <b>Bell gets a brand-new government</b>: Down in Bell, the center of a <a href="http://publicceo.com/index.php/local-governments/151-local-governments-publicceo-exclusive/1843-the-story-of-how-the-bell-scandal-broke-an-account-from-la-times-reporter-jeff-gottlieb">government scandal</a> that made the tiny Los Angeles County city international news, voters were more active, eager to oust their corrupt city councilmembers. They voted to <a href="http://www.latimes.com/news/local/la-me-bell-elections-20110308,0,3630943.story">recall four councilmembers and replace them with five of 17 potential candidates</a>.</p><p> <b>Los Angeles gets the same-old, same-old</b>: All six incumbent city councilmembers for the city of Los Angeles were <a href="http://www.laobserved.com/archive/2011/03/cancel_the_revolution_in.php">victorious</a>, even under a new law that requires candidates to nab 50 percent of the vote or participate in a runoff election in May. One of the most hotly-contested races was that of Council District 4, where incumbent Tom LaBonge faced stiff opposition from both<em> <a href="http://articles.latimes.com/2011/feb/27/opinion/la-ed-council-20110227">Los Angeles Times</a></em><a href="http://articles.latimes.com/2011/feb/27/opinion/la-ed-council-20110227">-backed</a> Tomas O'Grady and the <a href="http://la.streetsblog.org/2011/03/09/what-to-make-of-last-nights-election-results/#more-61309">bike community-backed</a> Stephen Box, who aided the grassroots movement around L.A.'s <a href="http://www.good.is/post/what-l-a-s-new-bike-plan-means-for-cyclists-and-the-city/">new bike plan</a>.</p><p> <em>Top image: Councilmember Jose Huizar (who won his district) casts his vote at Sheridan Street Elementary, <a href="http://www.flickr.com/photos/headingtonmedia/5509983822/">photo</a> (<a href="http://creativecommons.org/licenses/by/2.0/deed.en">cc</a>) by <a href="http://www.flickr.com/photos/headingtonmedia/">Headington Media Group</a></em></p><br/>