Articles
Will super-fast super-construction become the new normal for skyscraper building?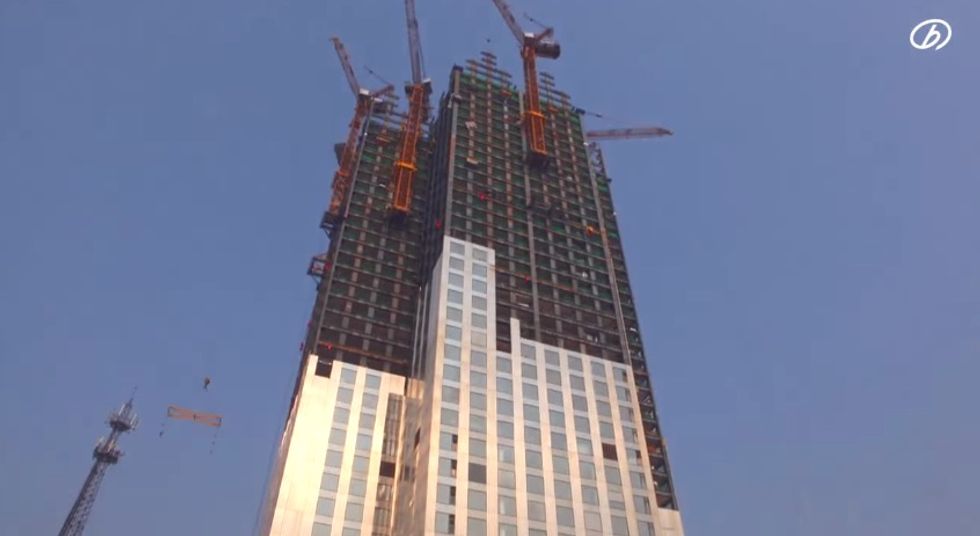 image via youtube screen capture
That we can build skyscrapers at all is pretty impressive in and of itself. But even the most jaded among us—those who can't be bothered to care about our ability to create towers of glass and steel that push the very boundaries of engineering—should be in awe of Broad Sustainable Building, a Chinese construction firm that specializes in building big and building fast. How fast? Their latest skyscraper, built in Changshan, the capital of China's Hunan province, tops off at a respectable 57 stories, and reportedly took just 19 days of construction to complete.
<p>Not months. Not weeks. Days. </p><p>To put that in perspective, it was nearly five years into construction before One World Trade Center reached approximately the same height, and several more years before that building was finally completed. </p><p>To achieve their otherwise unfathomable speeds, Broad Sustainable Building uses modular, prefabricated parts that can be <a href="http://www.constructionweekonline.com/article-19148-chinas-90-day-worlds-tallest-behind-schedule/">fit together and secured</a> in far less time than it would take ordinary construction methods. That's how workers were able to complete an astonishing three floors worth of construction per day on their latest project. This time lapse video (starting at 1:55) shows the hour-by-hour progress as the skyscraper takes shape:</p><p><span class="rm-shortcode" data-rm-shortcode-id="28af8012f2472ecdbf4127a9c32dd100" style="display:block;position:relative;padding-top:56.25%;"><iframe frameborder="0" height="auto" type="lazy-iframe" scrolling="no" data-runner-src="https://www.youtube.com/embed/veNf-bz99cI?rel=0" style="position:absolute;top:0;left:0;width:100%;height:100%;" width="100%"></iframe></span></p><p>As <em>City Metric</em> <a href="http://www.citymetric.com/skylines/chinese-company-built-57-storey-tower-19-days-830">explains</a>, the building is home to: </p><blockquote><p>800 apartments, office space for 4,500 people, 19 large atriums to be used as public squares, and a ramp system in addition <em>[sic]</em> elevators, so residents can walk or ride bikes to and from their homes and offices. The building's ventilation system will also pump out pollution-free air.</p></blockquote><p>Since 2012, Broad Sustainable Building has been making plans to construct "<a href="http://en.wikipedia.org/wiki/Sky_City_(Changsha)">Sky City,</a>" a 200- story skyscraper that would surpass Dubai's <a href="http://en.wikipedia.org/wiki/Burj_Khalifa">Burj Khalifa</a> as the world's tallest. While construction has yet to get underway, pending licensing and regulatory permissions, the company claims it will be able to build the mega-structure in just 90 days, plus 120 days of prefabrication, bringing the total to a whiplash-inducing 210 days. </p><p>Broad Sustainable Building's website <a href="http://en.broad.com/bsb.html">describes plans</a> to develop "50 franchisees from China and 100 overseas" in order to capture 20 percent of the global construction market. So, don't be surprised if someday soon new skyscrapers start popping up in your city on a monthly, if not weekly, basis. </p>