Articles
Fresh off the Global Work Party, our good friends at 350.org are at it again, creating art you can see from space.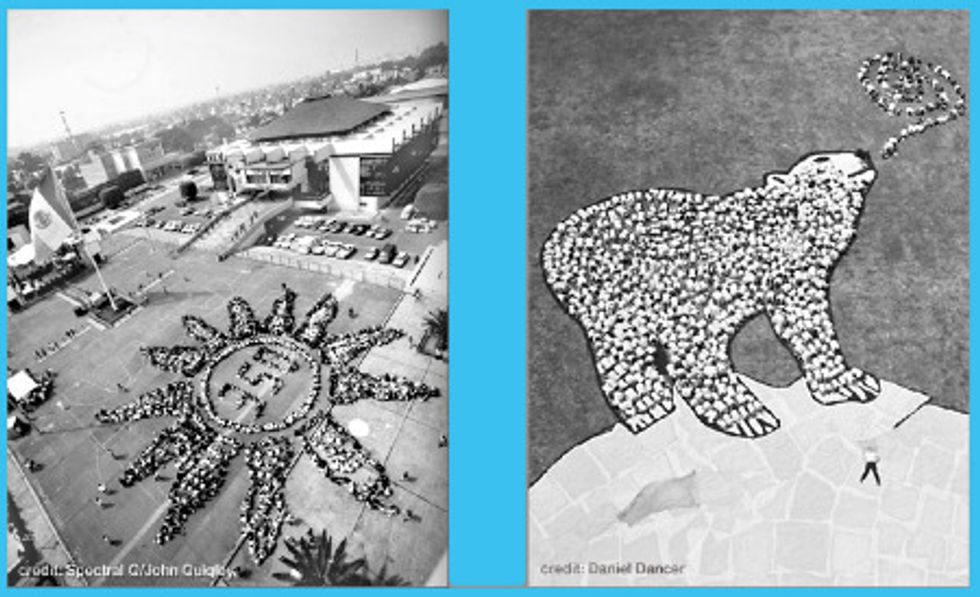 Our good friends at
350.org
are at it again. Barely a month after their wildly successful
10/10/10 Global Work Party
, the group is organizing the world's "first planetary art show for the climate."
350 EARTH
will be a week long exhibition of truly massive public art pieces, each involving thousands of climate concerned citizens and visible from outer space.
The organizers explain:
<blockquote> <p> This November 20-28, 350 EARTH will launch the world's first ever global climate art project. In over a dozen places across the globe, citizens and artists will create massive public art installations to show how climate change is already impacting our world as well as offer visions of how we can solve the crisis. Each art installation will be large enough to be seen from space and documented by satellites generously provided by DigitalGlobe.</p> <p> 350 EARTH will be the first-ever global scale group show on the front line of climate change—our polluted cities, endangered forests, melting glaciers, and sinking coastlines. <a href="http://earth.350.org/get-involved">People around the world are invited to take part by attending signature events</a>, submitting their own art, and spreading the word about the project.</p> <p> 350 EARTH will take place on the eve of the next United Nations climate meetings in Cancun, Mexico where delegates will work to create an international climate treaty. Our politicians have all the facts, figures, and graphs they need to solve the climate crisis. What they lack is the will. 350 EARTH will demonstrate the massive public support for bold climate action and the role that art can play in inspiring humanity to take on our greatest challenge: protecting the planet on which we live.</p>\n</blockquote><p> Or, as Thom Yorke of Radiohead—an outspoken supporter of urgent climate action—<a href="http://www.radiohead.com/deadairspace/index.php?a=585">more succinctly describes</a>:</p><blockquote> <p> the plan is to make images visible from the skies<br/> to remind those in Cancun that we are running out of time<br/> we can't keep putting this off.<br/><br/></p>\n</blockquote><p> Los Angelenos, take note! One of the flagship events of 350 E<strong>ART</strong>H will be in <a href="http://earth.350.org/locations/los-angeles/">your fine city this Sunday</a>:</p><blockquote> "Earth Art" will get its launch in Los Angeles with an event at 9:30 AM on Sunday morning at the LA Cornfields Historic State Park. Join hundreds of people to form the image of a giant eagle representing clean, renewable, energy independence. <p> <strong>WHAT</strong>: E<strong>ART</strong>H project aerial art in Los Angeles, California, USA.<br/><strong>WHEN</strong>: SUNDAY, Nov. 21. Arrive at 9:30 AM.<br/><strong>WHERE</strong>: Project will take place in LA Cornfields Historic State Park 1245 N Spring St, Los Angeles, CA<br/><br/></p> <p> <a href="http://www.facebook.com/event.php?eid=115844698478020"><strong>Click here to RSVP to the event on Facebook. </strong></a></p>\n</blockquote><p> New Yorkers, don't feel too left out. 350 E<strong>ART</strong>H has partnered with the <a href="http://www.nyc.gov/html/coolroofs/html/home/home.shtml">NYC CoolRoofs</a> program and Brooklyn-based artist Molly Dilworth's large-scale painting, <span style="font-style: italic;">Paintings for Satellites/561 Grand</span>—a graphic representation of the New York and New Jersey coastline after a seven meter rise in sea levels, which is already up on the rooftop—will be photographed by satellite on Saturday November 20.</p><p> Here in the United States, other works are underway in <a href="http://earth.350.org/locations/austin/">Austin</a>, where the city's largest CSA and a local sculptor have planted a winter garden in the shape of the number 350. And in <a href="http://earth.350.org/locations/santa-fe/">Santa Fe</a>, on Saturday, where "thousands of residents dependent on the Santa Fe River for water will fill the dry riverbed with blue materials to create a 'flash flood' of people depicting where the Santa Fe should be flowing."</p><p> Now, will the American media actually pay attention to this story? Before the 10/10/10 events, McKibben "<a href="http://www.good.is/post/bill-mckibben-i-dare-the-media-to-cover-this/">dared the media</a>" to cover that massive distributed set of actions, far larger by any reasonable metric than the Tea Party rallies that cable news droned on about for weeks on end. Perhaps 20 massive public art pieces viewed from outer space will grab their attention?</p><p> At very least, we promise to have a slide show of these works as soon as they're available.</p>