Articles
Economic growth isn't enough to overcome poverty.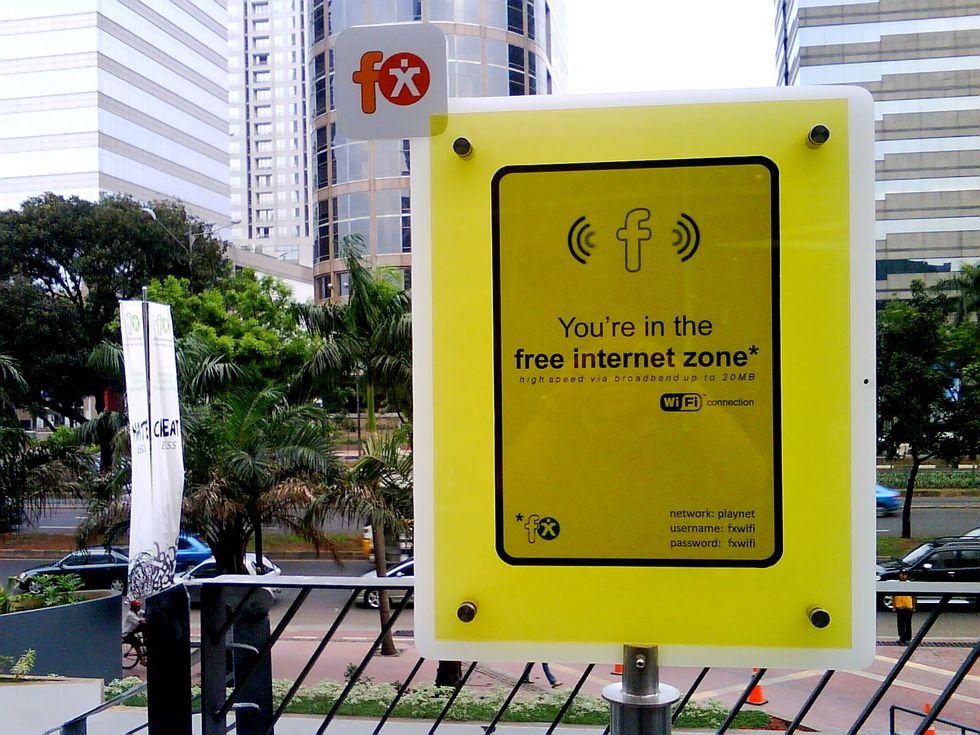 Free WiFi in Jakarta. Photo from Flickr user Charles Wiriawan.
Indonesia has lately experienced an unprecedented burst of fiscal optimism from international investors, with many hailing it as Southeast Asia's next economic powerhouse. But just two weeks ago, Indonesia's Central Statistics Agency revealed the nation's smallest decline in poverty in over a decade, leaving nearly 28 million people living below Indonesia's "basic needs" poverty line.
<p>The <a href="http://thejakartaglobe.beritasatu.com/business/indonesian-poverty-falls-slightly-revamp-program-urged/"><span class="s1">gap between Indonesia's rich and poor</span></a> is wider than in any other developing country, climbing a staggering 60 percent over the last ten years. According to <a href="http://thejakartaglobe.beritasatu.com/business/indonesian-poverty-falls-slightly-revamp-program-urged/">economist Enny Sri Hartati</a> from Indonesia's Institute for Development of Economics and Finance, the poor need "more access to financing, they need help with their small business, access to seeds, and a more supportive commerce system."</p><p>Though Indonesia is home to 50 million small businesses, only five percent have a website—despite the fact that in recent years, internet access in the country has experienced massive growth. Indonesia's Ministry of Communications and Information Technology <a href="http://thejakartaglobe.beritasatu.com/news/indonesias-internet-pioneers-show-potential-for-business/">is working to secure</a> high-speed internet connections for the entire population by 2020. This year alone, 94 million Indonesian consumers are <a href="http://kolabo.co.id/en/kolabo-melayani-usaha-kecil-dan-menengah-indonesia-di-internet-2/">expected to spend</a> $3.56 billion online, presenting internet-savvy entrepreneurs with a unique competitive edge.</p><p>Indonesia's Minister of Research and Technology, Dr. Gusti Muhammad Hatta, has made small business innovation—especially online—a national priority. Minister Hatta believes small businesses generate opportunities for the impoverished in ways that corporations simply can't. But he says it's going to take a lot of effort to empower those in poverty. "We need all the help we can get, from the brightest people we have," <a href="http://www.forbes.com/sites/donaldfrazier/2012/05/14/indonesian-minister-we-need-four-million-entrepreneurs/">he's said</a>. </p><p>Heeding Hatta's call, <a href="http://newsroom.cisco.com/release/1360270/Cisco-Launches-the-First-Online-Marketplace-in-ASEAN-for-Small-Medium-Sized-Businesses-in-Indonesia?utm_medium=rss">a</a> <a href="https://www.mercycorps.org/articles/indonesia/new-initiative-helps-small-businesses-grow-online">number</a> <a href="https://www.techinasia.com/follow-trend-sale-online-jejualan/">of</a> <a href="https://p.ota.to/work/getting-business-online/">start-ups</a> in Indonesia have raced to assist small businesses looking to go digital. Kolabo is a leader in the field, debuting in 2014 with support from eBay as part of a social innovation program called The Opportunity Project. Kolabo has worked with more than 200 small businesses in Indonesia, helping clients from a variety of <a href="http://www.ebayinc.com/social-innovation/the-opportunity-project">socioeconomic circumstances</a> launch their first websites and access digital marketing services.</p><p>According to the <a href="http://www.undp.org/content/undp/en/home/ourwork/povertyreduction/overview.html">United Nations Development Programme</a>, which laid out the eight Millennium Development Goals for 2015, "economic growth will not reduce poverty, improve equality, and produce jobs unless it is inclusive." So giving fellow business owners a hand in this global economy looks to be a good strategy beyond Indonesia's borders, too. </p>