Articles
Wisconsin governor Scott Walker is the latest politician advocating cuts to public institutions while pushing controversial multi-million dollar stadium deals.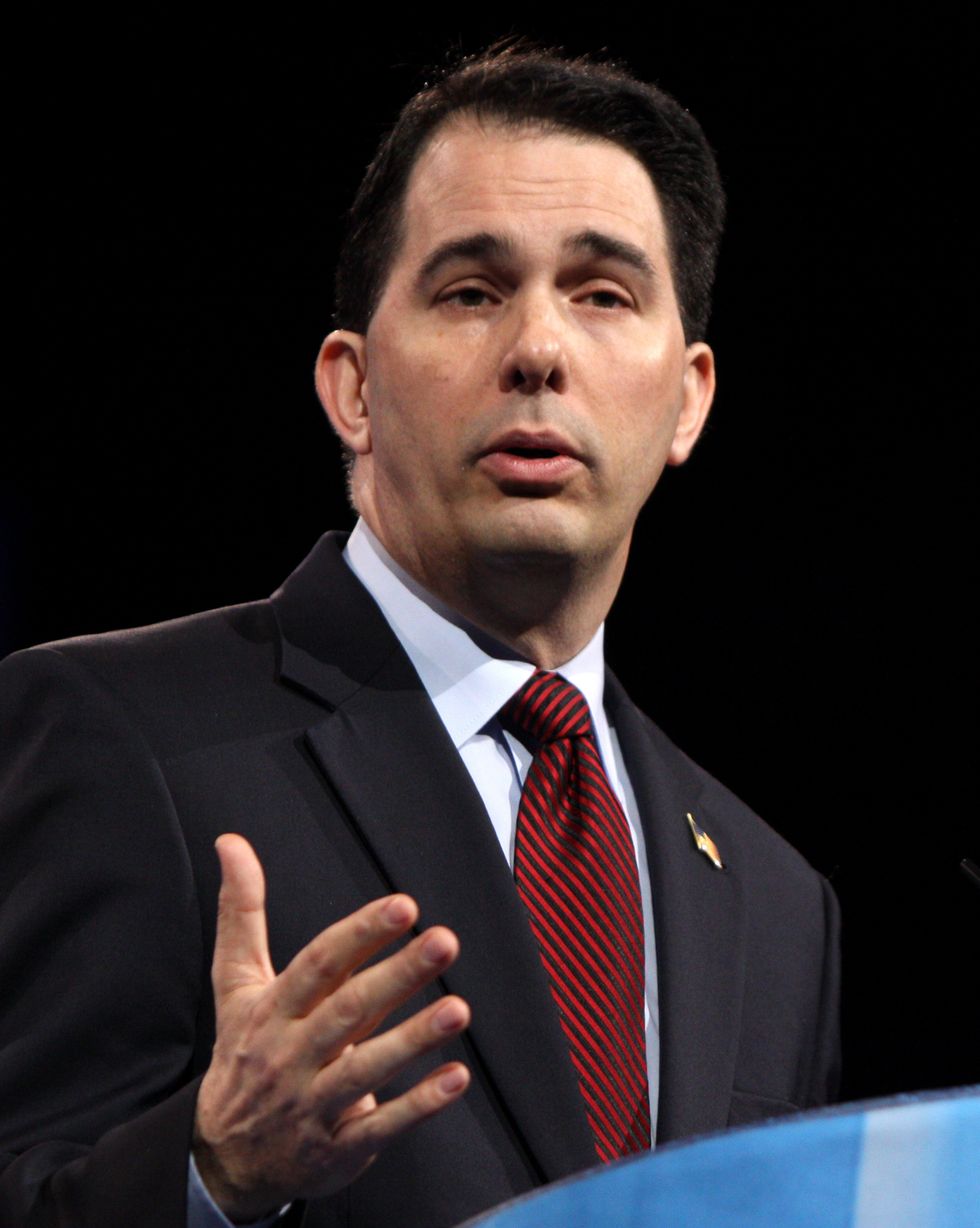 Photo via Wikimedia Commons
Scott Walker, Wisconsin's governor (R), will present a budget tonight that aims to cut $300 million from the state's public universities over the next two years. If approved, this would be the deepest cut in Wisconsin's state university history, and students, professors, and state lawmakers are already voicing their disapproval of the proposed budget, according to the Wisconsin State Journal.
<p>During a <a href="http://www.rightwisconsin.com/dailytakes/Walker-Talks-Bucks-Arena-Presidential-Buzz-and-More-290083091.html">local radio station interview</a> last week, Walker said that his previous budget cuts to higher education forced the university to create positive efficiencies, and challenged: "Maybe it's time for faculty and staff to start thinking about teaching more classes and doing more work."</p><p>At the same time, however, Walker is calling for a new basketball stadium in Milwaukee for the Bucks, which would come with an estimated $500 million price tag. Under his <a href="http://espn.go.com/nba/story/_/id/12243185/gov-scott-walker-says-milwaukee-bucks-arena-deal-likely-include-city-county">plan</a>, the state would fund the building of the arena by taking out $200 million in bonds, and the remainder of the expenses will come from county and city contributions as well as private funding promised by the Bucks' owner. Walker believes that income tax revenue from the Bucks players, employees, and visiting teams will repay the debt from the state bonds, the <a href="http://www.jsonline.com/news/statepolitics/walker-jock-tax-will-cover-220-million-for-new-bucks-arena-b99433734z1-289935421.html"><em>Milwaukee Journal Sentinel </em>reported</a>.</p><p>Many university students and workers are outraged that the Governor would propose increasing sports funding while telling universities to shoulder cuts by developing "efficiencies."</p><p>"It shows a fair amount of ignorance about what happens at a university," Eleni Schirmer, with the Teaching Assistants Association and the co-president of UW graduate student workers' union, <a href="http://thinkprogress.org/election/2015/02/02/3616140/scott-walker-university-students/">told ThinkProgress</a>. "He's not telling the Bucks: 'You should become an actually interesting team so people will watch your games.'"</p><p>The situation in Wisconsin is not unique, as many politicians on the city and state level prioritize building new athletic stadiums for arguably unsuccessful teams over funding for state universities and other public institutions. In San Diego, serious debate is underway over building a new football stadium for the Chargers, whose contract in the city expires in 2020, with <a href="http://www.10news.com/sports/poll-san-diegans-weigh-in-on-chargers-stadium-plan-02012015">public opinion very divided</a> over the willingness to pay in order to keep the team in San Diego. <a href="http://www.utsandiego.com/news/2015/jan/31/no-stadium-business-case-chargers-public-help/?#article-copy">A recent business column in the <em>U-T San Diego</em></a> effectively explains that new stadiums are usually money-losing initiatives because their actual revenue doesn't reach their expected revenue, or it isn't enough to cover the cost of building the stadium. While some estimates indicate the new stadium at the Qualcomm site would boost the Charger's local revenue by either $15 or $50 million a year, it falls short of covering the $80 million a year needed to pay for the stadium's $1 billion total cost.</p><p>At the same time, however, the University of California system, which has a campus in San Diego, has been forced to increase tuition by 60 percent since 2008. This has occurred to offset the $1 billion cuts a year from the state since the recession, <a href="http://www.washingtonpost.com/blogs/wonkblog/wp/2014/11/21/the-university-of-california-just-jacked-up-its-tuition-why-your-state-could-be-next/">the <em>Washington Post </em>reported</a>.</p>