Articles
The basics behind a nuclear meltdown, and answers to other earthquake, tsunami, and nuclear disaster FAQs.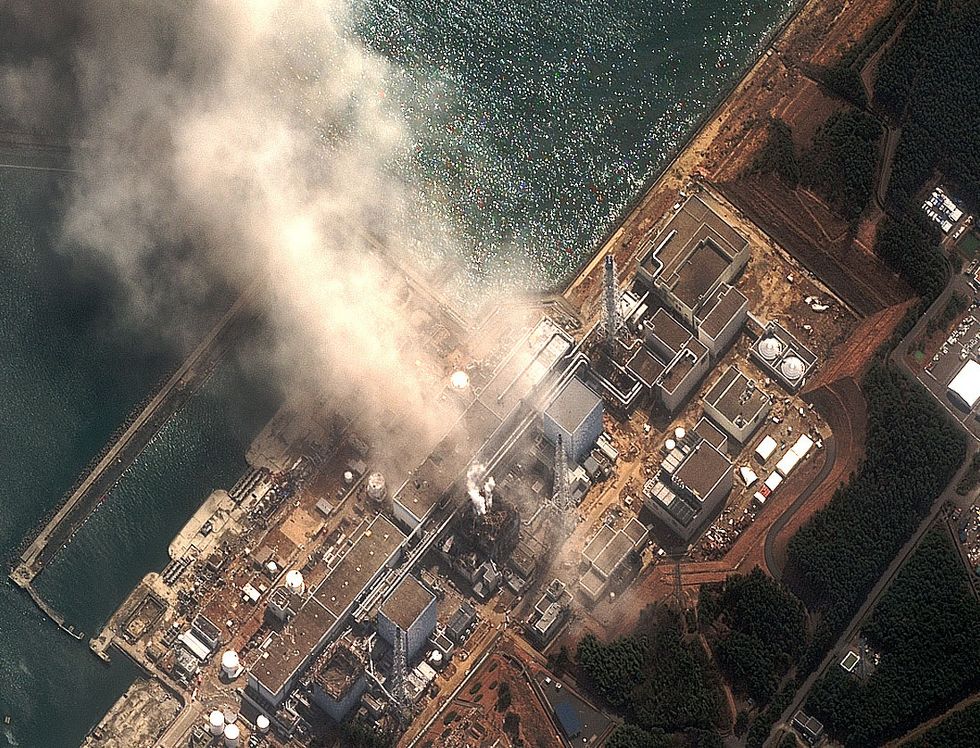 Updated
: The New York Times has an incredibly
illustrative infographic
about how a meltdown occurs, and how a reactor shuts down. It's a must see.
Original post: As the situation at the Fukushima district nuclear power plants in Japan has escalated from issue to emergency, a lot of people have been asking for a basic explanation of what exactly a meltdown is. This Reuters video—specific to the Fukushima plant—was the best, most clear and simple description that I could find.
<p> <object data="http://www.reuters.com/resources_v2/flash/video_embed.swf?videoId=195592755" height="259" id="rcomVideo_195592755" type="application/x-shockwave-flash" width="460"> <param name="movie" value="http://www.reuters.com/resources_v2/flash/video_embed.swf?videoId=195592755"/>\n<param name="allowFullScreen" value="true"/>\n<param name="allowScriptAccess" value="always"/>\n<param name="wmode" value="transparent"/>\n<embed allowfullscreen="true" allowscriptaccess="always" height="259" src="http://www.reuters.com/resources_v2/flash/video_embed.swf?videoId=195592755" type="application/x-shockwave-flash" width="460" wmode="transparent"/></object></p> <p> (A quick reminder that we're <a href="http://www.good.is/post/earthquake-and-tsunami-in-japan-how-to-help/">constantly updating our list</a> of ways to help and support the rescue and relief efforts in Japan.)</p><p> No doubt, you have more questions about the tragic situation unfolding in Japan. I've personally found this Union of Concerned Scientists "Fact Sheet" (<a href="http://www.ucsusa.org/assets/documents/nuclear_power/explaining-japan-nuclear-reactor-disaster.pdf">PDF</a>) to be invaluable. It gives some background on nuclear accidents and crises, and breaks down the terminology used to describe them. In fact, the UCS's entire <a href="http://allthingsnuclear.org/tagged/Japan_nuclear">"All Things Nuclear" page</a> is a resource worth bookmarking as you follow along and try to make sense of what's really happening in Japan.</p><p> Treehugger's Michael Graham Richard also tackles some "Frequently Asked Questions"—Can Japan's nuclear power plants explode like a nuclear bomb?; Is a repeat of what happened at Chernobyl likely? What kind of radiation exposure can be expected, and what are the potential health effects?—in his <a href="http://www.treehugger.com/files/2011/03/mini-faq-japan-nuclear-power-plants-crisis-nukes.php">very helpful post</a>.</p><p> Speaking more generally of earthquakes, Kiera Butler at <em>Mother Jones<a href="http://motherjones.com/blue-marble/2011/03/what-would-happen-if-89-quake-hit-us"> </a></em><a href="http://motherjones.com/blue-marble/2011/03/what-would-happen-if-89-quake-hit-us">talked to Morgan Moschetti</a>, a research geophysicist at the United States Geological Survey, to get answers to a whole bunch of other basic earthquake questions that you might be afraid to ask.</p><p> Back to the nuclear emergency, to better understand how a dire situation can turn into a full-blown disaster, the obvious case study is Chernobyl. This <a href="http://en.rian.ru/infographics/20100513/159004637.html">interactive slideshow</a> by RIA Novosti is probably the best and most comprehensive explanation I've ever come across. (Thanks, <a href="http://www.annfriedman.com/">Ann</a>!)</p><p> <i>Image: Fukushima Dai-ichi after March 14 explosion in reactor No. 3., from Digital Globe (<a href="http://www.digitalglobe.com/downloads/DG_Analysis_Japan_Daiichi_Reactor_March2011.pdf">PDF</a>).</i></p><br/>