Articles
China's scientists have genetically modified cows to produce "human" milk. Why?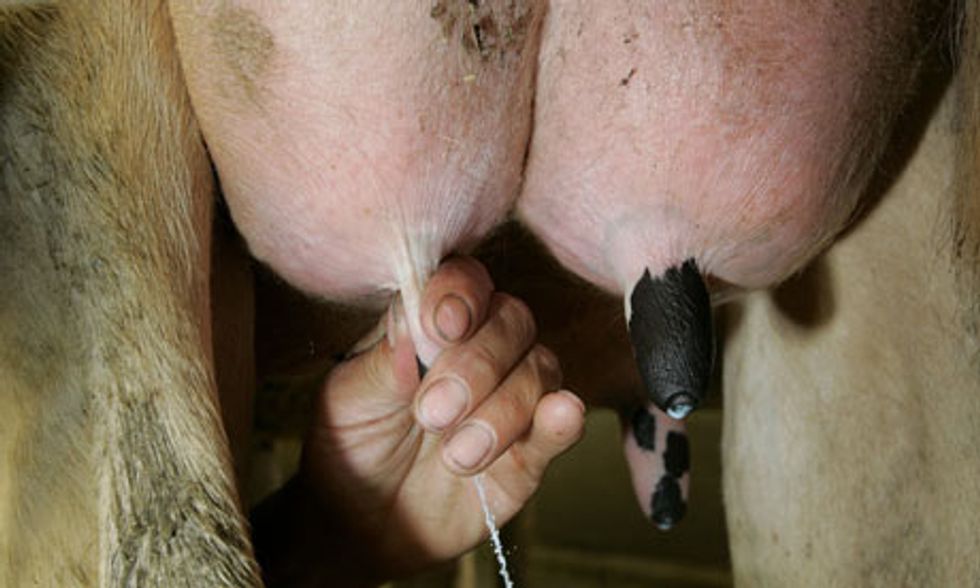 Earlier this month, China held an exhibition to showcase major technical achievements during its 11th Five-Year Plan (2006-2010). Among the wonders on display were photos of a herd of 200 cows that have been genetically modified to produce "human" milk.
Precise details of the bioengineering employed to adjust the composition of the milk these 200 cows produce are not available, nor is it clear exactly how closely the GM cow milk will resemble its human analog. According to the announcement in the state-run news outlet, China Daily, Li Ning, director of the State Key Laboratories for AgroBiotechnology at China Agricultural University, confirmed that the genetically modified herd's milk "contains the characteristics of human milk."
<p> Li added that the cow-human milk "tastes stronger than normal milk" and explained that:</p><blockquote> <p> In ancient China, only the emperor and the empress could drink human milk throughout their lives, which was believed to be the height of opulence. Why not make that kind of milk more available for ordinary people?</p>\n</blockquote><p> Interestingly, <a href="http://unu.edu/unupress/food/8F174e/8F174E04.htm">human milk has low protein density compared with cow's milk</a>, and many of its health benefits are to be found in so-called "non-nutritional factors" such as anti-microbials, anti-inflammatory substances, hormones, and digestive enzymes. Li is vague on the specifics, but promises that China's genetically modified cows will allow scientists to mass-produce ingredients "that can help improve the immune systems and the central nervous systems of children." "Within 10 years," he added, "people will be able to pick up these human-milk-like products at the supermarket."</p><p> The ingenuity involved in shifting the nutrient profile of milk produced by mammals is pretty remarkable—it can now only be a matter of time before we bypass the Nestlé factory altogether and squeeze chocolate-<a href="http://www.sixwise.com/newsletters/08/01/09/yumberry-the-super-high-antioxidant-subtropical-fruit-from-china-that-will-make-america-say-yum.htm">yumberry</a> flavor cow's milk with brain-boosting Omega 3 direct from our pet goat's udders.</p><p> However, this development should be understood in the light of China's <a href="http://news.bbc.co.uk/2/hi/asia-pacific/7720404.stm">recent scares over melamine-tainted baby milk.</a> The national scandal that followed the sickening of nearly 300,000 infants fed the tainted milk powder prompted an ongoing discussion about the country's <a href="http://blogs.reuters.com/global/2008/10/01/china-baby-milk-scandal-highlights-decline-in-breastfeeding/">declining breast-feeding rates</a>, which, in turn, has been blamed on everything from aggressive marketing by formula producers, migrant working patterns, and the rise of body image concerns.</p><p> Still, in a country where up to <a href="http://en.wikipedia.org/wiki/Lactose_intolerance">90 percent of adults are lactose intolerant</a>, genetically modifying cows to produce human breast milk seems like an unnecessarily complicated solution to a problem that could instead be <a href="http://blogs.reuters.com/global/2008/10/01/china-baby-milk-scandal-highlights-decline-in-breastfeeding/">tackled through greater support for and awareness of the benefits of breast-feeding itself</a>, not to mention rigorous enforcement of <a href="http://www.time.com/time/world/article/0,8599,1882711,00.html">China's new food safety laws</a>.</p><br/>