For People Who Give a Damn.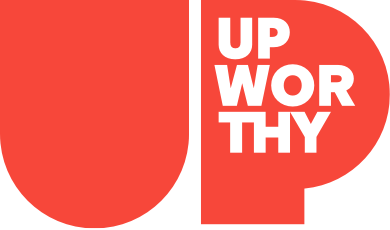 Stories Worth Sharing.
Sign up for the Good newsletter:
(c) GOOD Inc. All Rights Reserved.
PS. You are doing great. Keep it up :<)
This website uses cookies in order to enhance your experience. Please review our Privacy Policy to learn how we may use cookies and how you can change your browser settings to disable cookies. By continuing to use this website without changing your settings, you consent to our use of cookies.
THE DAILY GOOD
Start your day with
Rolling Jubilee is Occupy Wall Street's action that aims to buy distressed debt, like medical bills and student loans, in order to forgive it.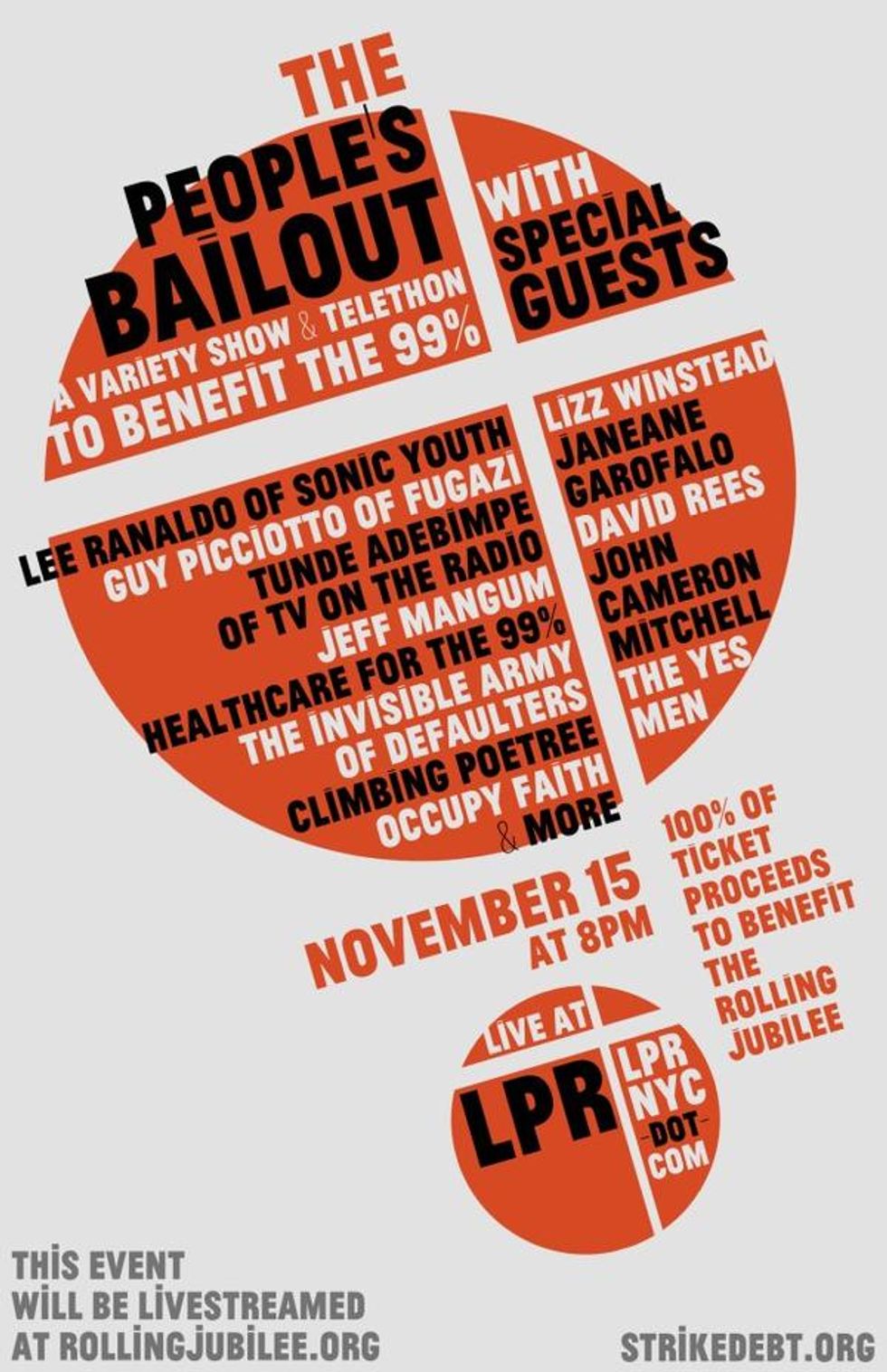 Occupy Wall Street has been back in the news over the last couple of weeks, primarily because of their outstanding efforts dealing with the aftermath of Hurricane Sandy on the East Coast and now in Haiti, with Occupy Haiti. But another way they're making headlines is with a new initiative called the Rolling Jubilee, an action that aims to buy distressed debt, like medical bills and student loans, in order to forgive it. Their team has consulted the IRS, attorneys and "moles in the debt-brokerage world" to find the best way to buy debt in communities that have been struggling during the recession. The idea is that these efforts will free people of their financial burdens.

They've done a test run, spending $500 which ended up buying $14,000 in distressed debt, essentially erasing what was owed. In order to maximize their efforts they're planning a telethon and variety show to benefit the 99% with heavy hitters like Janeane Garofalo, The Yes Men, Neutral Milk Hotel, Lee Ranaldo of Sonic Youth, Tunde Adebimpe of TV on the Radio and others taking the stage New York's Le Poisson Rouge on November 15.

The video below outlines the idea more clearly, and their website states:
Articles
Wouldn't it be great if we could all understand the banking system?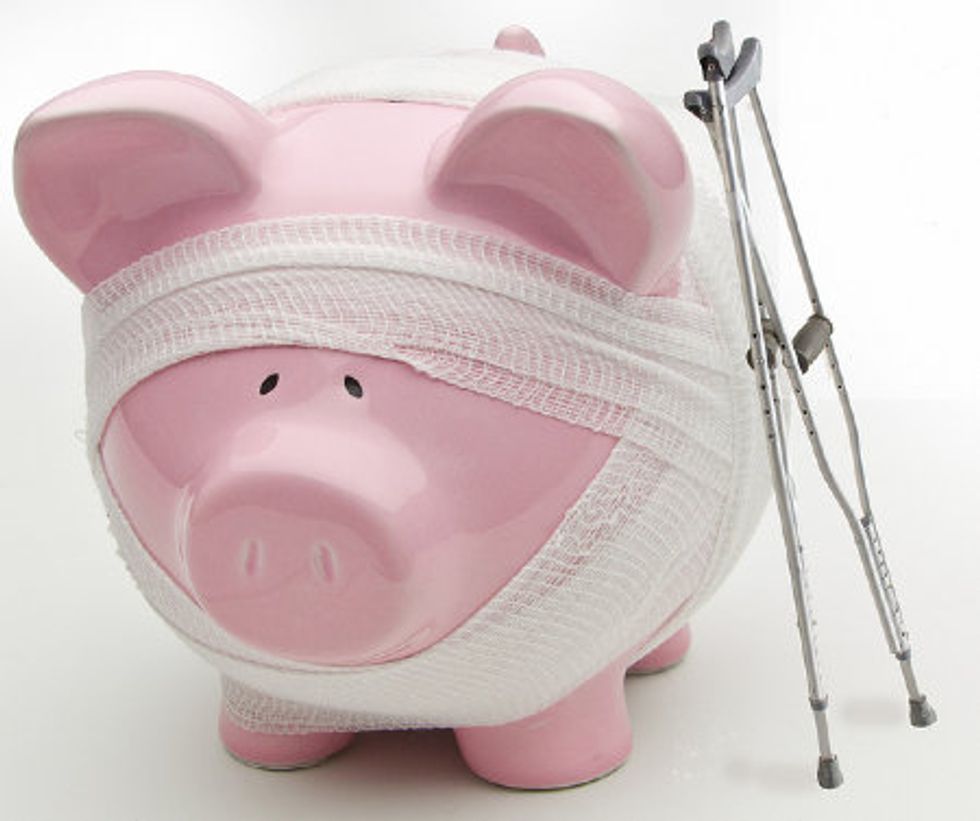 The Alternative Banking Group, the Occupy folks with real Wall Street experience who adopted the task of describing and advocating real financial change, may be up to something that could help the rest of us better understand the changes they want and why they want them. A story in the Financial Times alluded to their contact with a similar group in London (registration required). That group, Occupy Economics, has published a handbook explaining relevant English economic topics in layman's terms. But the U.S. might get one, too:
Articles
Exhibit marks the first year anniversary of Occupy Wall Street by exploring architecture's role in the movement.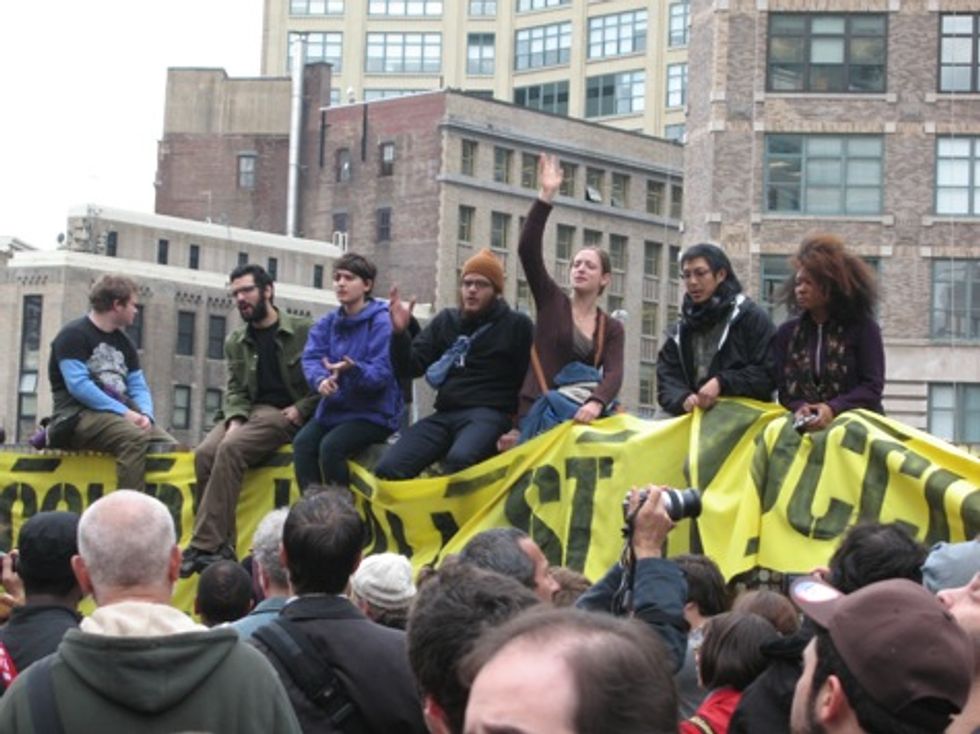 Anniversaries help us remember something they may have otherwise forgotten—something significant happened almost exactly a year ago in New York, at Zuccotti Park. Our current show "Beyond Zuccotti Park," at the Center for Architecture through September 22 marks the first anniversary of Occupy Wall Street.
Articles
A new report reveals Millennials want social change, but don't believe the election can make it happen.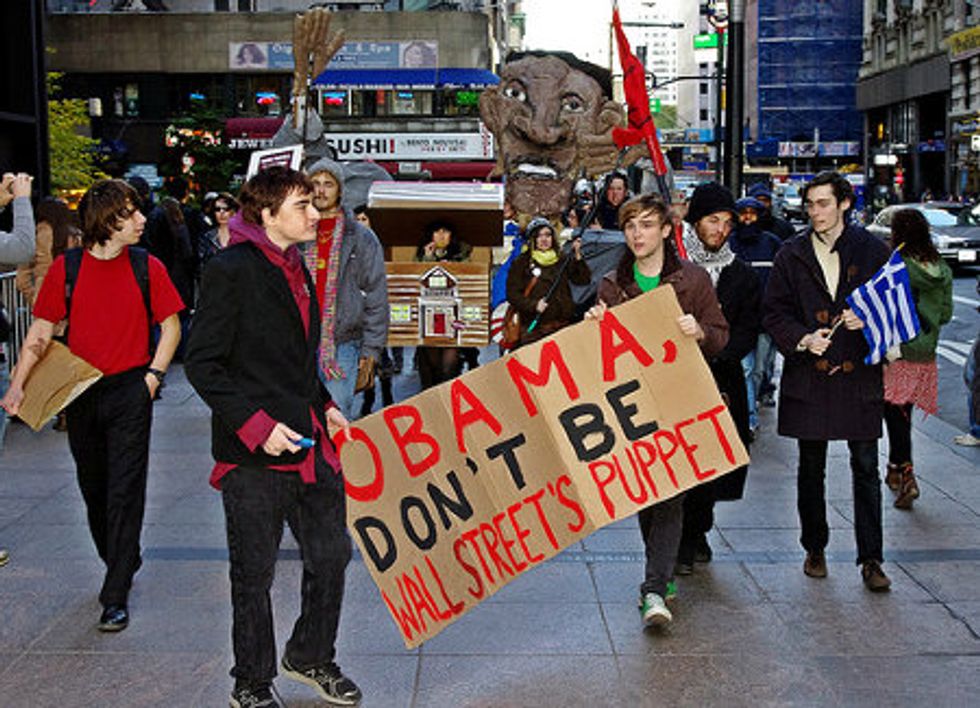 A
new report
from the Applied Research Center concludes that young progressive activists care about racial justice, class divides, and gender issues. They're worried about widespread ignorance, complacency, and the danger of unchecked capitalism. They also don't have much faith in Obama—or much use for the upcoming election.
The report was compiled using information from several focus groups of progressive activists in Portland, Oakland, Atlanta, Baltimore, and New York. The ARC chose participants (about half of them white, half people of color) with "experience as a paid employee, volunteer, or small donor of a social justice or community organization," or who had participated in the Occupy movement.
Articles
Americans are the happiest they've been about their tax rates in quite a while.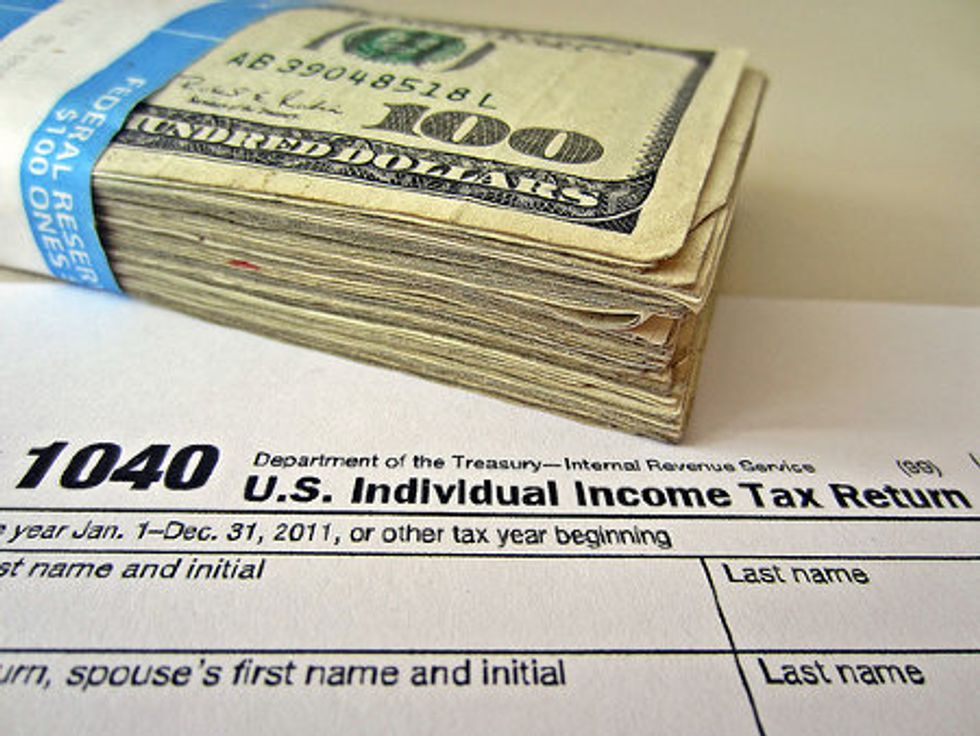 Americans are the happiest they've been about their tax rates in quite a while. Just in time for Tax Day, a
new Gallup poll
shows 47 percent of Americans think their tax rate is "about right." Asked separately about this year's income tax, nearly six in 10 Americans considered their payment "fair." The percentage of Americans who think their taxes are too high is 46 percent, the lowest rate in the past decade. Low-income Americans, probably because of tough economic times, are the most dissatisfied with their rates—significantly more than they were in 2009.
Unsurprisingly, Americans' satisfaction with their taxes spiked in the early aughts, right after President Bush passed the first round of federal tax cuts. But why do fewer people than last year think their taxes are too high? It may very well be the shift in a national conversation—from a Tea Party obsession with spending to a focus on the wealth gap ushered in by Occupy Wall Street. It could be that people are feeling the effects of spending cuts in their daily lives, from struggling schools to transportation fare hikes (although a good number of Americans have no idea where their taxes go). Either way, Republicans set on cutting taxes even more should pay close attention to these numbers: The poor, not the rich, are dissatisfied with their tax rates. The wealthy can admit they're doing just fine.
Articles
THE DAILY GOOD
Start your day with
THE DAILY GOOD
Start your day with something GOOD.