Articles
Myon is the fully automated robotic lead of My Square Lady, an operatic examination of what makes a person a person.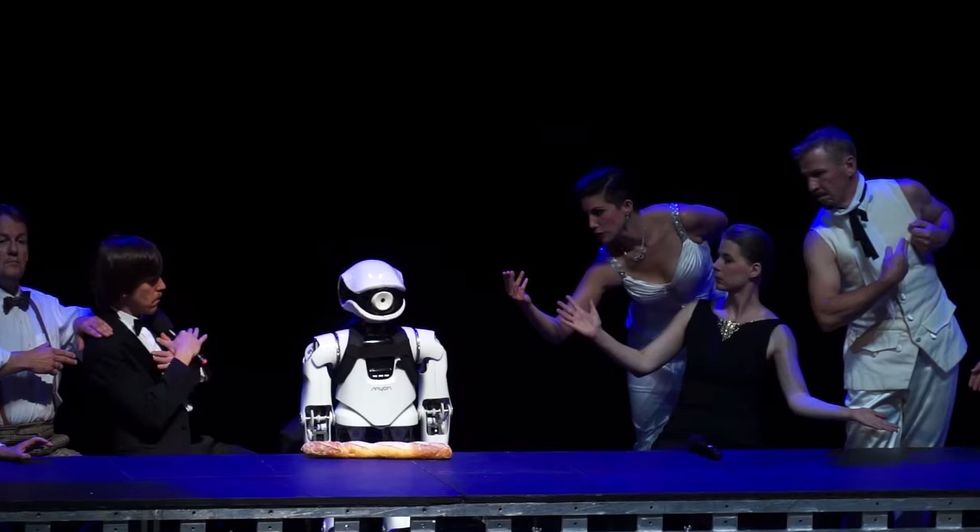 image via youtube screen capture
Opera, perhaps more than any other form of classical art, has a reputation for melodrama. Featuring big, booming voices singing about life, death, and love, opera tends to go right for the gut, playing on our emotions to create a sense that what happens on stage is more than just a collection of actors and singers, but rather a microcosm of our world, distilled down to its essence and projected right back back into our face. However, like most things that have been around for several hundred years, opera has constantly needed to evolve, and reinvent itself in order to speak to the concerns of each subsequent generation of theatergoers. Berlin's Komische Oper is one such example of how some are using this centuries-old art form to examine the rapidly changing world in which we currently live.
<p>It would be inaccurate to call Myon, the star of Komische Oper's cheekily-named <a href="http://english.komische-oper-berlin.de/schedule/my-square-lady/"><em>My Square Lady</em></a>, a "leading man." It would, in fact, be inaccurate to call him a "man," at all. Myon is a fully automated robot who leads the cast of <em>My Square Lady </em>through an operatic exploration into the nature of humanity. Like its namesake, <em>My Fair Lady</em>, and <em>Pygmalion</em> before that, <em>My Square Lady</em> offers a look at how we understand transformations, and questions what it means to be a feeling, thinking being.</p><p><span class="rm-shortcode" data-rm-shortcode-id="86e543749de376214a82c55630565c7c" style="display:block;position:relative;padding-top:56.25%;"><iframe frameborder="0" height="auto" type="lazy-iframe" scrolling="no" data-runner-src="https://www.youtube.com/embed/jWBN9627mSg?rel=0" style="position:absolute;top:0;left:0;width:100%;height:100%;" width="100%"></iframe></span></p><p>From the opera's <a href="http://english.komische-oper-berlin.de/schedule/my-square-lady/">official description</a>: </p><blockquote><p>"Myon's task is to explore opera, as a "power plant of emotion" in all its facets, and in the process learn what it means to feel human emotions, express them, and prompt them in others. Whether Myon makes it as a human being - or even an opera star - will be demonstrated at the end of the season, on stage at the Komische Oper."</p></blockquote><p>To accomplish this, Komische Oper partnered with the British/German <a href="http://www.gobsquad.com/projects/my-square-lady">Gob Squad</a> arts collective, and the Neurorobotics Research Laboratory at Berlin's Beuth University of Applied Sciences, to train a robotic star capable of performing entirely independent of any external operators. All told, it took everyone involved around two years to prepare Myon for his debut role. Myon "acts," <a href="http://www.engadget.com/2015/06/29/robot-sings-opera/?ncid=rss_truncated">explains</a> <em>engadget,</em> based solely on programmed responses to visual and auditory cues. While onstage he is engaging with the rest of the cast entirely under his own power, with no third-party controllers pushing buttons on his behalf in the opera house's wings. He may be a robot, but—to quote Pinocchio—there are no strings on him.</p><p><a href="http://www.neurorobotik.de/robots/myon_en.php">Per</a> the Neurorobotics Research Laboratory: </p><blockquote><p>"Myon is a modular humanoid, which can be disassembled and reassembled during runtime. The body parts are fully autonomous in a threefold sense: they all possess their own energy supply, processing power, and a neural network topology which allows for stand-alone operation of single limbs."</p></blockquote><p>This isn't the first time robots have been <a href="http://www.japansociety.org/event/seinendan-theater-company-osaka-university-robot-theater-project-sayonara-i-worker">put </a><a href="http://www.japansociety.org/event/seinendan-theater-company-osaka-university-robot-theater-project-sayonara-i-worker">onstage</a> to help audiences reflect on our own humanity. And while Myon himself may not have the requisite emotional depth to cut it in the opera biz, as his costar <a href="http://motherboard.vice.com/read/how-do-you-teach-a-robot-feelings-make-it-sing-opera?utm_source=mbtwitter">confessed to <i>Vice</i></a>, it's likely not the last we'll see of operatic robotics, either. Because as our understanding of robotics grows, allowing us to create machines that begin to significantly resemble their human creators, so does our need to explore just what it is that makes them, them, and more importantly, us, us. </p><p>Where better to look for answers to these types of deep, profound, and, yes, melodramatic questions than at the opera? </p><p style="text-align: right;">[<em>via <a href="http://phys.org/news/2015-07-autonomous-robot-myon-berlin-opera.html">phys.org</a></em>]</p>