Articles
Celebs walk the "green carpet" at an environmental pre-Oscars event. But do they actually raise awareness?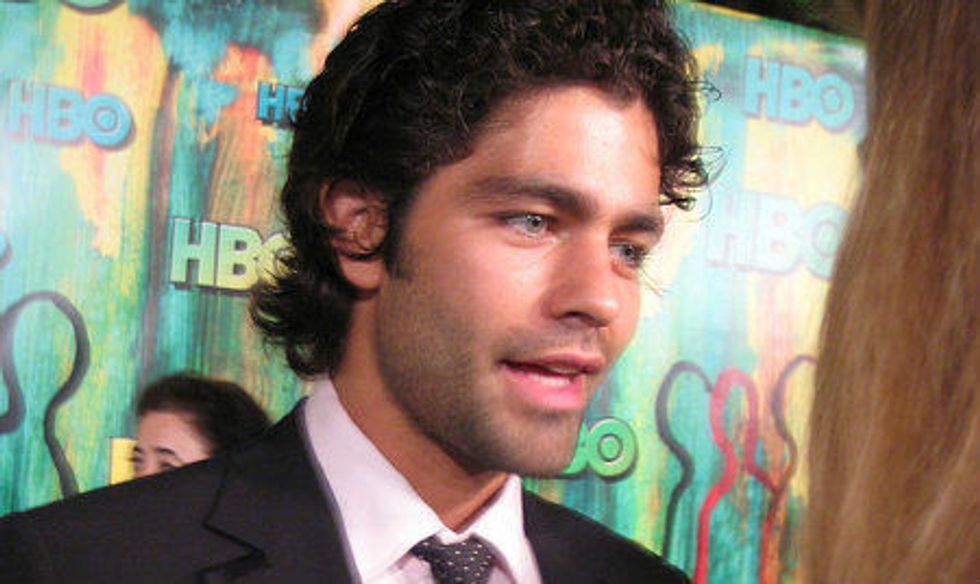 Socialite and fashion model Jaimie Hilfiger gets her heart broken, like, all the time. "When I drive through the street I see people, literally, just throw out pieces of plastic from a gum wrapper, or even larger than a gum wrapper," she told me on Wednesday in a parking lot off Hollywood Boulevard. "I'm like, how could you, literally, throw a big piece of plastic outside the window? That really breaks my heart."
Hilfiger, niece of Tommy, wasn't the only one on the scene getting emotional about the earth. As media outlets from around the world focused their gaze on Hollywood in anticipation of the Oscar's tonight, an unexpected group sidled up to get a taste of the limelight on Wednesday: environmentalists. The host was Santa Monica-based climate-change organization Global Green, the go-to environmental charity for actors moonlighting as activists (Leonardo DiCaprio's on the board). The event? The annual "green pre-Oscar party."
<p> Just above my head, spotlights glared. Heat lamps were cranked to the max to protect beautiful people from the February chill. Models, swathed in eco-prom dresses, treaded gingerly on the "green carpet," a long strip of fake grass unfurled next to the Avalon nightclub.</p><p> It's Oscar season! With a dash of eco.</p><p class="shortcode-media shortcode-media-rebelmouse-image"> <img class="rm-shortcode" data-rm-shortcode-id="29786ae5f1f4c80f748ea7deba5e5e65" data-rm-shortcode-name="rebelmouse-image" id="30a0e" type="lazy-image" data-runner-src="https://assets.rebelmouse.io/eyJhbGciOiJIUzI1NiIsInR5cCI6IkpXVCJ9.eyJpbWFnZSI6Imh0dHBzOi8vYXNzZXRzLnJibC5tcy8xOTg2OTY1Mi9vcmlnaW4ucG5nIiwiZXhwaXJlc19hdCI6MTY1NDQ5Mzg3N30._KWQE6U2DKfpCrjBbnzcLPEoHV3avB2rqDtp9k7ND1M/img.png?width=980"/> <small class="image-media media-caption" placeholder="add caption..."></small> <small class="image-media media-photo-credit" placeholder="add photo credit..."></small> </p><br/><em>Emmy Rossum on the red carpet at an event in December</em><p> Turns out, the intersection of celebrity and sustainability was strange—but also kind of fun. As I gazed into the bright green eyes of Serinda Swan, an actress on A&amp;E's <em>Breakout Kings, </em>she confided in me about a hippie childhood (hence the name) spent playing in dirt in Vancouver forests. A few moments later, I eavesdropped on <em>Shameless </em>star Emmy Rossum<em>, </em>who was shamelessly describing her sustainable pineapple-fiber dress to a reporter as "pineapple-ey." I was still considering what pinapple-ey meant when I almost bumped into <em>Twilight</em> and <em>Lost</em> star Maggie Grace. I nodded silently as Grace told me about her "weekday vegetarianism," her favorite vegan recipes, and her insatiable biking habit.</p><p> It's not easy being green, and Grace acknowledged that, despite her best efforts, all the air travel her work requires probably cancels out her bike rides and vegan dinners. The moment of honest self-reflection qualified as nuanced at an event where environment policy wasn't exactly discussed—if it wasn't already, the phrase "going green" is now forever dead to me—and at least two guests strutted around in fur and feathers. </p><p> Despite the glimmers of hypocrisy, Global Green's communications and donor relations director, Ruben Aronin, says getting celebrities on board pays off with the public more than you would think. In 2003, Global Green worked with Leo and Harrison (Ford, that is) to get car companies to supply fuel-efficient vehicles to bring celebrities to awards ceremonies. The only company that responded was Toyota, which offered up "that first boxy Prius," says Aronin. "The idea of taking celebrities to the Oscars in something that wasn't a gas-guzzling limo really caught fire and helped to popularize and make cool hybrid vehicles," he adds. The idea has now spread to Chevy, which sponsored Wednesday's green-carpet event and chauffeured guests to the party in its electronic model, the Volt.</p><p> It's no secret that the <a href="http://www.good.is/post/toyota-sells-2-millionth-prius-americans-still-buy-trucks/">Prius</a> has transitioned from hippie alternative to status symbol, and celebrities at the event talked a lot about the need to glitz up green more often. <em>Entourage </em>star Adrian Grenier was eager to promote <a href="http://www.shft.com/">SHFT</a>, the "sustainable lifestyle platform" he launched in 2010 with film producer Peter Glatzer. The venture is half online media company, half store for luxury products with a sustainable bent. "We want to inspire people to naturally strive to shift and change in the way they do business, in their lifestyles," Grenier told me. "Not necessarily as a prescriptive thing, but as an inspiration. It's almost seamless. It's subconscious. They want it."</p><p> The strategy of the eco-celebrity is to supplant one kind of luxury consumption with another, and a bit of Hollywood glamour goes a long way toward getting more people jazzed about addressing climate change. Then again, it also runs the risk of becoming fodder for conservatives decrying environmentalism as too elitist, too coastal. Earlier this week, Fox News launched one of its trademark outraged attacks against the film adaptation of the Dr. Seuss classic <em>The Lorax</em>, which warns against deforestation<em>. </em>Talk show host Lou Dobbs called the film an attempt by Hollywood "to indoctrinate our children" by "demonizing the so-called 1 percent and espousing the virtue of green energy policies." Dobbs's guest, right-wing radio host Matt Patrick, warned, "We're creating occu-toddlers."</p><p> Global Green's Aronin acknowledges that star-studded events run the risk of lending credence to the "liberal Hollywood elite" myth. "But we really work hard to create a mainstream message that's accessible," he says. Some of the organization's less sexy dealings include an initiative to green the rust belt, starting with Youngstown, Ohio. Other projects aim to redevelop New Orleans and lobby for clean energy legislation.</p><p> "The glitz of a Hollywood event allows us the ability to do more of that work and to hopefully engage an audience of the light greens," says Aronin, eco-speak for "people who may be predisposed [to an environmental message] but aren't hearing it as much or with the same frequency."</p><p> It's a clever bait-and-switch. Invite Americans in for one of their favorite pastimes: looking at stars and cars. By the time they realize the automobiles are electric and the gowns pineapple-ey, it's too late.</p><p> <em><a href="http://www.flickr.com/photos/watchwithkristin/2880030306/">Top image</a> via <a href="http://creativecommons.org/licenses/by-sa/2.0/">(cc)</a> Flickr user <a href="http://www.flickr.com/photos/watchwithkristin/">watchwithkristin</a>; </em><em><a href="http://www.flickr.com/photos/minglemediatv/6493680209/">Bottom image</a> via <a href="http://creativecommons.org/licenses/by-sa/2.0/">(cc)</a> Flickr user <a href="http://www.flickr.com/photos/minglemediatv/">MingleMediaTVNetwork</a></em></p><br/><br/>