via Chicago Police Department
Anjanette Young has won her brave fight to expose the Chicago Police Department (CPD) for their humiliating treatment of her nearly two years ago. The innocent social worker was the victim of a botched raid and forced to stand naked and handcuffed in front of a group of male police officers for 13 minutes.

The CPD refused to release the body cam footage to Young as well as CBS 2, a local news affiliate, so she took the fight all the way to the federal government by filing a Freedom of Information Act request to expose the police's shocking conduct.
The request was granted and Young recently received the footage after a court ordered the CPD to turn it over.
The video shows that on February 21, 2019, police officers came to her front door at 7 pm and bashed it open with a battering ram. She had just finished her shift at the hospital and was undressed in her bedroom.
"It was so traumatic to hear the thing that was hitting the door," Young told CBS 2. "And it happened so fast, I didn't have time to put on clothes." In the video, she's shocked and confused in her living room as the police handcuff her in the nude.
"It's one of those moments where I felt I could have died that night," she told CBS. "Like if I would have made one wrong move, it felt like they would have shot me. I truly believe they would have shot me."
While her hands were bound behind her back, an officer draped a short coat over her shoulders, but the front of her body was still exposed. Two minutes later, they put a blanket around her.

"They just threw something over me, and my hands are behind me and I'm handcuffed," Young said. "So there's no way for me to secure the blanket around me."
"Tell me what's going on," she cried in the video. "You've got the wrong house, you've got the wrong house, you've got the wrong house," Young repeated. Throughout the raid, she told the police they have the wrong house 43 times.
Thirteen minutes into the raid a female officer arrived and walked Young into her room, removed her handcuffs, and allowed her to get dressed, before restraining her again.
After nearly 20 minutes, the police removed her handcuffs and admitted they had the wrong house.
"I do apologize for bothering you tonight," the sergeant said. "I assure you that the city will be in contact with you tomorrow." "Is there anything I can do right now?"
"Just leave and let me move on, this is so crazy," Young said.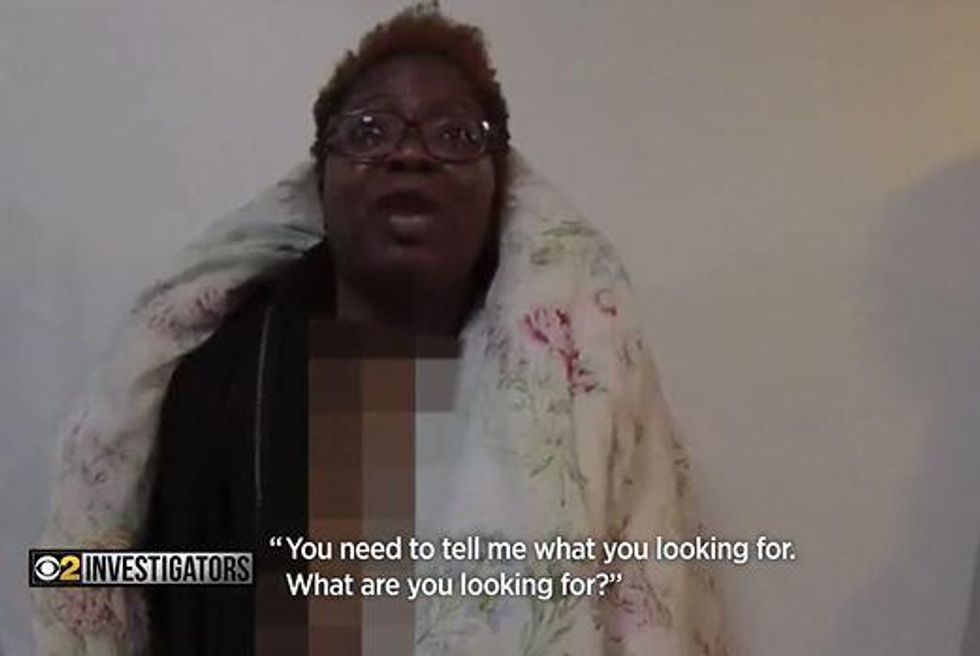 via Chiacgo Police Department
Young's attorney, Keenan Saulter, wonders whether she would have been treated the same way if she was white.

"If this had been a young woman in Lincoln Park by herself in her home naked, a young white woman — let's just be frank – if the reaction would have been the same? I don't think it would have been," Saulter told CBS.
"I think [officers] would have saw that woman, rightfully so, as someone who was vulnerable, someone who deserved protection, someone who deserved to have their dignity maintained," she continued. "They viewed Ms. Young as less than human."
According to a report by CBS 2, the raid was botched because a 23-year-old informant gave police the wrong address. The officers were looking for a felon who allegedly had a gun and ammunition.
Police can be heard admitting the mistake in the video.
"It wasn't initially approved or some crap," an officer is heard saying. "What does that mean?" a second asks.
"I have no idea," the first officer answered, "I mean, they told him it was approved, then I guess that person messed up on their end."
Young has filed a federal civil rights lawsuit against the CPD, alleging that the raid traumatized her and violated her Fourth Amendment rights against unreasonable searches and seizures.
Regardless if she wins the lawsuit, Young should be commended for having the strength to fight for the public release of a humiliating video to take a stand for police accountability.