Articles
Trump may not think these guys are heroes. But this man does.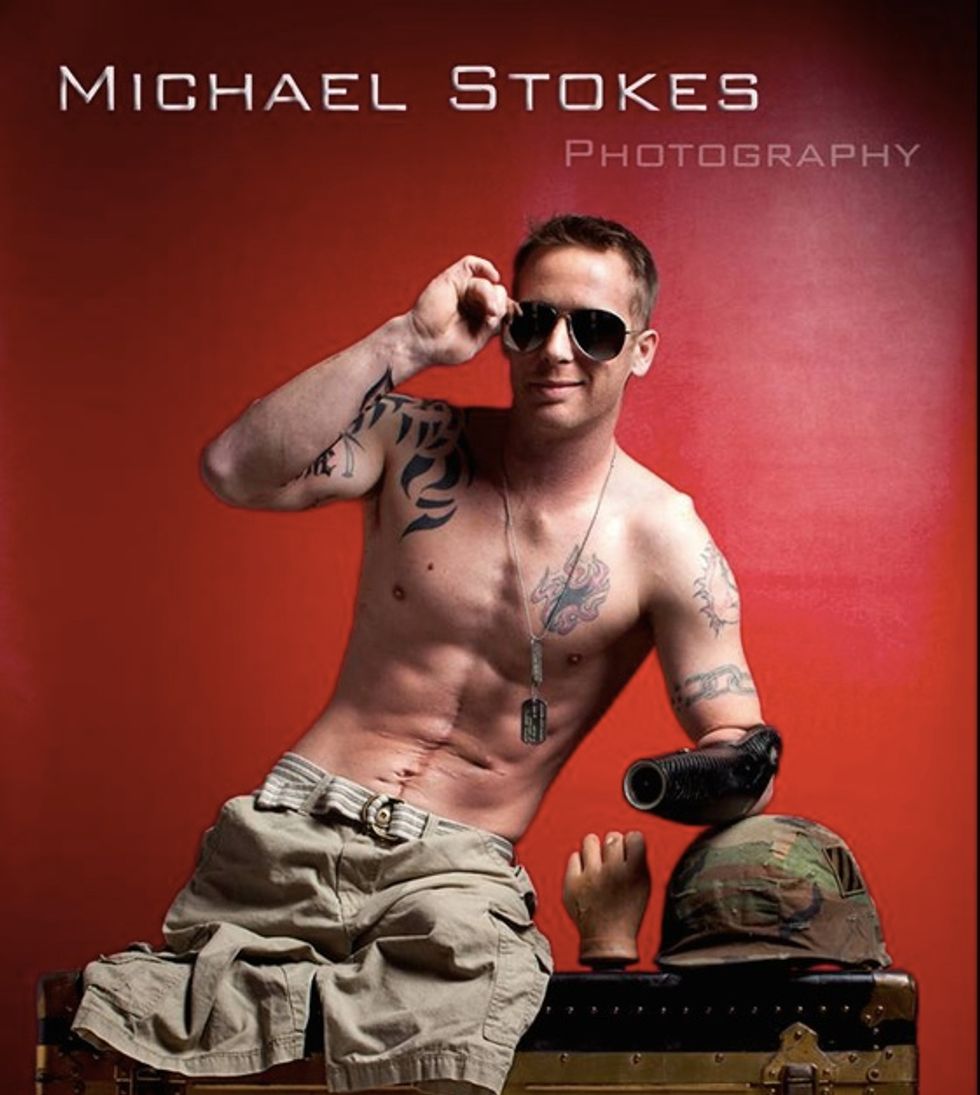 Image via Facebook embed
If there's one thing extremists from the left and the right can agree on (unless your name is Donald Trump), it's this: veterans have a hard time in this country. From PTSD, to elevated suicide rates, to vast unemployment, the challenges they face are staggering. That's why Michael Stokes, fitness photographer, decided he wanted to radically change our image of vets. In a recent photo series, which may become a book, Stokes photographed members of the U.S. Army, Navy, and Marine Corps simply being human.
<p>It's a gorgeous selection of photos (see above, below, <a href="https://www.facebook.com/MichaelStokesPhotography?fref=photo">and here</a>), showcasing veterans' strengths, not their weaknesses. Many of these veterans have lost limbs or undergone painful surgeries. And while they might be missing an arm, or a leg, or a foot, they look strong, empowered, and invested. That's not to deny that the demographic doesn't suffer from some disproportionate and severe inequities—but that it's sometimes important to emphasize resilience, instead of just perpetual tragedy.</p><p>Take a look at these photos, or learn more from the photographer's <a href="https://www.kickstarter.com/projects/michaelstokes/publish-two-large-scale-photo-books-by-michael-sto">kickstarter</a>. Stokes has raised over $280,000 for his books, which he promises will provide not only stunning photographs, but real profiles and bio of each soldier. According to the Kickstarter, "Each veteran will have a bio page and details related to his or her injuries. The vast majority of these veterans have lost one or multiple limbs from IED attacks."</p><p>These may be devastating injuries, but Stokes seeks to remind us that all is not lost.</p><div id="fb-root">(Via <a href="http://www.huffingtonpost.com/entry/veteran-amputees-michael-stokes-always-loyal_55a917c0e4b0896514d10fc3">The Huffington Post</a>)</div> <script>(function(d, s, id) { var js, fjs = d.getElementsByTagName(s)[0]; if (d.getElementById(id)) return; js = d.createElement(s); js.id = id; js.src = "//connect.facebook.net/en_US/sdk.js#xfbml=1&version=v2.3"; fjs.parentNode.insertBefore(js, fjs);}(document, 'script', 'facebook-jssdk'));</script><div class="fb-post" data-href="https://www.facebook.com/MichaelStokesPhotography/posts/967616113297245:0" data-width="500"><div class="fb-xfbml-parse-ignore"><blockquote cite="https://www.facebook.com/MichaelStokesPhotography/posts/967616113297245:0"><p>Another of Earl. Go show him your love at Earl Granville - Adaptive Athlete US Army</p>Posted by <a href="https://www.facebook.com/MichaelStokesPhotography">Michael Stokes Photography</a> on <a href="https://www.facebook.com/MichaelStokesPhotography/posts/967616113297245:0">Monday, June 29, 2015</a>\n</blockquote></div></div> <script>(function(d, s, id) { var js, fjs = d.getElementsByTagName(s)[0]; if (d.getElementById(id)) return; js = d.createElement(s); js.id = id; js.src = "//connect.facebook.net/en_US/sdk.js#xfbml=1&version=v2.3"; fjs.parentNode.insertBefore(js, fjs);}(document, 'script', 'facebook-jssdk'));</script><div class="fb-post" data-href="https://www.facebook.com/MichaelStokesPhotography/posts/975190985873091:0" data-width="500"><div class="fb-xfbml-parse-ignore"><blockquote cite="https://www.facebook.com/MichaelStokesPhotography/posts/975190985873091:0"><p>Of course Sgt. Bryan Anderson will be in Always Loyal.The Kickstarter continues, less than 2 weeks until it...</p>Posted by <a href="https://www.facebook.com/MichaelStokesPhotography">Michael Stokes Photography</a> on <a href="https://www.facebook.com/MichaelStokesPhotography/posts/975190985873091:0">Tuesday, July 14, 2015</a>\n</blockquote></div></div> <script>(function(d, s, id) { var js, fjs = d.getElementsByTagName(s)[0]; if (d.getElementById(id)) return; js = d.createElement(s); js.id = id; js.src = "//connect.facebook.net/en_US/sdk.js#xfbml=1&version=v2.3"; fjs.parentNode.insertBefore(js, fjs);}(document, 'script', 'facebook-jssdk'));</script><div class="fb-post" data-href="https://www.facebook.com/MichaelStokesPhotography/posts/975148079210715:0" data-width="500"><div class="fb-xfbml-parse-ignore"><blockquote cite="https://www.facebook.com/MichaelStokesPhotography/posts/975148079210715:0"><p>Last week I had the pleasure of photographing my first female war veteran. Not only did the shoot go well, I have made...</p>Posted by <a href="https://www.facebook.com/MichaelStokesPhotography">Michael Stokes Photography</a> on <a href="https://www.facebook.com/MichaelStokesPhotography/posts/975148079210715:0">Tuesday, July 14, 2015</a>\n</blockquote></div></div> <script>(function(d, s, id) { var js, fjs = d.getElementsByTagName(s)[0]; if (d.getElementById(id)) return; js = d.createElement(s); js.id = id; js.src = "//connect.facebook.net/en_US/sdk.js#xfbml=1&version=v2.3"; fjs.parentNode.insertBefore(js, fjs);}(document, 'script', 'facebook-jssdk'));</script><div class="fb-post" data-href="https://www.facebook.com/MichaelStokesPhotography/posts/971267869598736:0" data-width="500"><div class="fb-xfbml-parse-ignore"><blockquote cite="https://www.facebook.com/MichaelStokesPhotography/posts/971267869598736:0"><p>Last day to support Michael Egan make the top 10 for the Men's Health Cover competition. Michael is currently a semi-finalist. Please vote here: http://ultimateguy.menshealth.com/entry/702/</p>Posted by <a href="https://www.facebook.com/MichaelStokesPhotography">Michael Stokes Photography</a> on <a href="https://www.facebook.com/MichaelStokesPhotography/posts/971267869598736:0">Monday, July 6, 2015</a>\n</blockquote></div></div>