Articles
If only all geopolitical conflicts could be handled by droids kicking soccer balls at each other.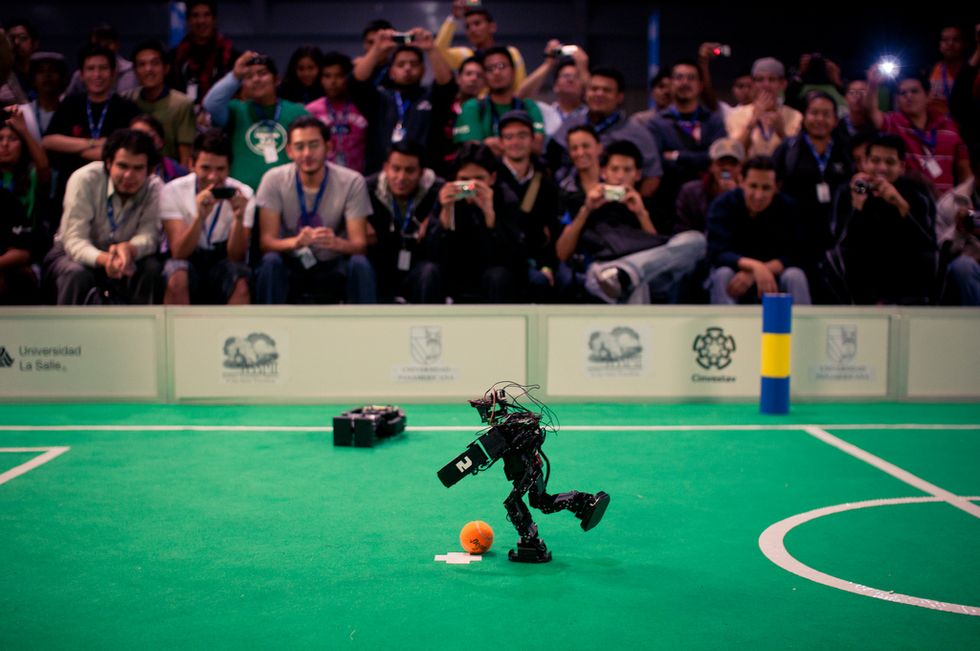 image via (cc) flickr user eneas
If you've been following the news lately, you've probably heard a little something about the recent nuclear agreement between the United States and Iran—an agreement critics fear will clear a path for Iranian atomic weapons, and which advocates argue is a necessary diplomatic step to help direct both nations away from a violent confrontation. But while pundits and politicians around the world have spent the last several days debating the merits of the nuclear diplomacy, Iranian and U.S. representatives were busy duking it out in a very different type of arena: The robotic soccer field.
<p>The <a href="http://www.robocup2015.org/">RoboCup</a> was founded in 1997 as a global venue for playful robotic competition, but with a serious undercurrent of highly advanced A.I. and mechanical experimentation. Since then it has blossomed into a major event, featuring <a href="http://www.robocup2015.org/show/article/1.html">multiple leagues and tracks</a> for different types and sizes of robotic athletes, all working toward the <a href="http://www.robocup.org/about-robocup/objective/">stated goal</a> that: "By the middle of the 21st century, a team of fully autonomous humanoid robot soccer players shall win a soccer game, complying with the official rules of FIFA, against the winner of the most recent World Cup."</p><p>It is that goal of a cooperative robotic contest which brought together a <a href="http://www.theguardian.com/technology/2015/jul/22/iran-america-robocup-soccer-final">reported</a> 175 teams from nearly 50 countries, all vying for the top prize at <a href="http://www.robocup2015.org">this year's competition</a>, held in the Chinese city of Hefei on July 17th to the 23rd. </p><p><span class="rm-shortcode" data-rm-shortcode-id="1735c4c07a4d6c5200f51cfe1181b34f" style="display:block;position:relative;padding-top:56.25%;"><iframe frameborder="0" height="auto" type="lazy-iframe" scrolling="no" data-runner-src="https://www.youtube.com/embed/GuXLvrBrO3s?rel=0" style="position:absolute;top:0;left:0;width:100%;height:100%;" width="100%"></iframe></span></p><p>Of all the different types of mechanical soccer taking place at the RoboCup, though, it is the "adult-size" league, featuring robots required to stand at least four feet tall, that is the competition's crowning event. These are the machines which might someday compete against a flesh and blood crew of World Cup winners. Accordingly, the stakes here are high, not only for the sake of team bragging rights, but because a victory could very well advance the field of robotics as a whole. </p><p>This year's adult-size finals boiled down to the U.S. and Iranian teams, each represented by a single bot. Iran's robot, created by the Baset Pazhuh Tehran firm and <a href="https://fling.seas.upenn.edu/~robocup/wiki/index.php">THORwin</a>, as well as the American bot, designed by a team from the University of Pennsylvania, were each required to dribble a soccer ball past a series of stationary obstacles, before taking their shot on goal, all autonomously, without any mid-field programming from operators on the sidelines. </p><p>In the end it was the Americans who took home the gold, winning the championship shootout 5-4, and setting the stage for a U.S.-Iranian rivalry at future RoboCups to come. And while any mention of friction between Americans and Iranians is likely to call to mind shades of the ongoing atomic tensions between both nations, this robo-soccer rivalry is, in actuality, geopolitics in its best incarnation: Two countries competing against each other, not for national supremacy, but to achieve a shared technological goal that could someday serve the betterment of us all. </p><p style="text-align: right;">[<em>via <a href="http://www.digitaljournal.com/news/world/us-team-beats-iranians-in-robocup-football-final/article/439036">digital journal</a>, <a href="http://www.theguardian.com/technology/2015/jul/22/iran-america-robocup-soccer-final">the guardian</a></em>]</p>