Articles
Don't worry, she only made the joke because she's kind of inexperienced.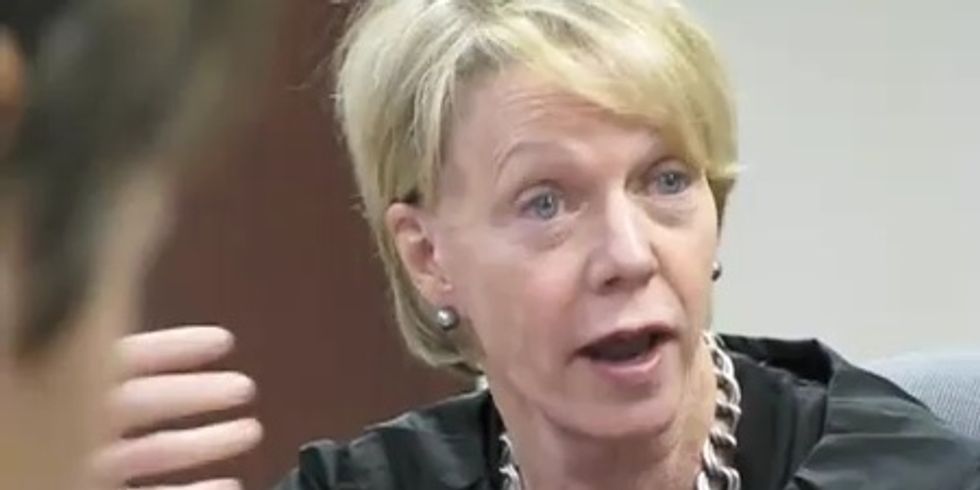 Less than two weeks into her job as New York City Schools Chancellor, Cathie Black found herself in hot water when she suggested at a meeting that the solution to the city's notoriously overcrowded schools was birth control. Now the heat is being turned up on Black's lack of education expertise—she spent her entire career in media and publishing—due to both her comments and Mayor Michael Bloomberg's refusal to let her explain her remarks.
Last Thursday, Black made her now infamous, "couldn't we just have some birth control for a while? It could really help us out a lot," wisecrack. Unfortunately for Black, New York parents aren't laughing. Overcrowding, particularly in lower Manhattan where massive development has led to a doubling of the school-age population in the last five years, means the community needs actual solutions.

"Those kinds of comments show a lack of understanding of what parents are going through," Community Board Chair Julie Menin told the New York Post. "The parents I spoke with after the meeting were very concerned about the comments she made because we're grappling with real issues."

When a reporter at yesterday's district press conference to announce a $10 million increase in student tutoring funding asked Black if she was sorry for the comments, Bloomberg immediately stepped to the mic to respond on her behalf.




<p> "Should she have made the joke? In retrospect, probably not," he said. Bloomberg then went on to accuse critics of the remark of taking things "out of context and maybe, I think, a little bit too seriously."</p><p> Bloomberg finished by saying that school overcrowding is a sign of the district's success, asking, "Wouldn't it be terrible if we had empty classroom seats?"</p><p> Black had answered all other questions at the press conference on her own, and, <a href="http://newyork.cbslocal.com/2011/01/18/mayor-deflects-birth-control-question-directed-at-black/">according to reporters present</a>, appeared ready to explain herself before Bloomberg took over.</p><p> <a href="http://www.nydailynews.com/opinions/2011/01/19/2011-01-19_basics_for_black.html">Critics say that Black's joke</a> and Bloomberg's response are a result of Black's lack of education experience. "Black was not versed in the background and so could not meaningfully discuss the situation." Being chancellor of the largest district in the nation is a tough job. Perhaps it would be better to hire people who are well versed in the issues and can hit the ground running.</p><br/>