Articles
The birthplace of the Chicano art movement has a new home in the center of an emerging arts community in Boyle Heights.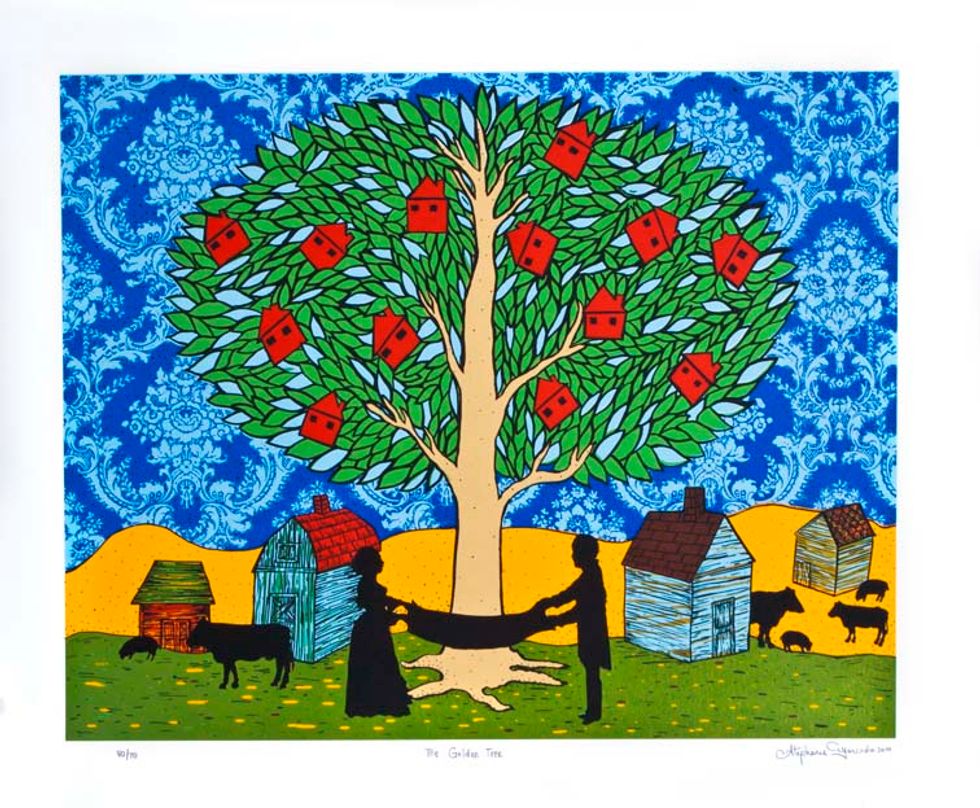 For four decades,
Self Help Graphics
has been an oasis of creativity in East Los Angeles, providing both a cultural resource and safe refuge for local Latino artists. It may be the only place in the city where you can see work from Chicano legends like Frank Romero and Diane Gamboa, prints by up-and-coming art stars like Shizu Saldamando and Vincent Valdez, and art by kids who are spending their afternoons pulling squeegies over screens instead of getting in trouble on the streets. This month, the hub of the Chicano art movement is celebrating a brand new home.
The move symbolizes a new era for Self Help Graphics. Their former headquarters, a 1927 bank building that was covered in mosaics by artist Eduardo Oropeza during the '80s, became iconic on the block of Cesar Chavez Boulevard that Self Help Graphics occupied for more than 40 years. But the building was also ridden with problems, both structural and financial, so it was time for a move that could showcase Self Help's physical growth and its growing influence in the art world. The new center in the emerging artist community of Boyle Heights will be able to host their expanding list of programs like mobile art studios, workshops, and events like their legendary Day of the Dead celebration.
<p> This Sunday is Self Help's <a href="http://www.facebook.com/event.php?eid=215667315122432">Annual Print Fair &amp; Exhibition</a>, which features prints by dozens of artists, plus music, food, and live art-making. Although the space is still physically transitioning, you'll be able to meet the artists and see the artwork that make Self Help what it is. Don't forget to stop into the studio to meet Jose Alpuche, Self Help's master printer and spiritual guide, whose expertise in creating serigraphs and monoprints has been encouraging local artists to get off their computers and into the world of screenprinting since 1979.</p><p> <em>Live in Los Angeles? <em style="font-style: italic; font-weight: normal; ">S<i style="font-style: italic; "><em style="font-style: italic; font-weight: normal; "><em style="font-style: italic; font-weight: normal; ">ign up for <a href="http://www.good.is/LA" style="color: rgb(0, 0, 0); text-decoration: underline; cursor: pointer; font-style: italic; ">GOOD LA</a> and we'll deposit exactly <a href="http://www.good.is/LA" style="color: rgb(0, 0, 0); text-decoration: underline; cursor: pointer; font-style: italic; ">one good L.A. thing in your inbox</a> each day. You can also follow GOOD LA on <a href="http://www.facebook.com/goodLA" style="color: rgb(0, 0, 0); text-decoration: underline; cursor: pointer; font-style: italic; ">Facebook</a> and <a href="http://www.twitter.com/goodlahq" style="color: rgb(0, 0, 0); text-decoration: underline; cursor: pointer; font-style: italic; ">Twitter</a>.</em></em></i></em></em></p><p> <em>Top image: The Golden Tree by Stephanie Mercado, produced at Self Help Graphics</em></p><br/>