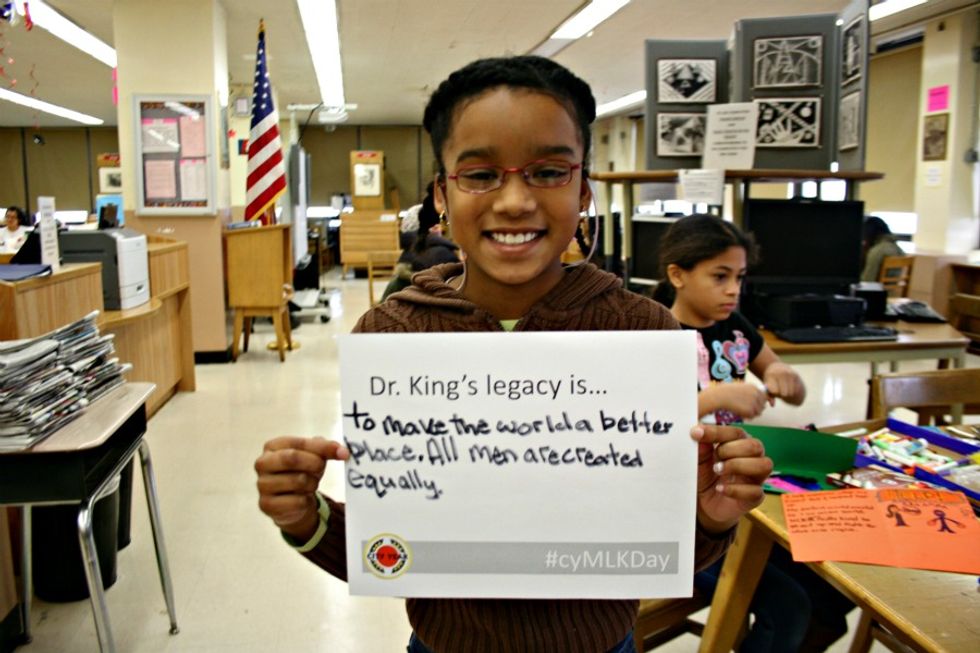 Through A City Education, City Year corps members share their experiences working as tutors and mentors in schools in hopes of closing the opportunity gap and ending the dropout crisis.
Across the country, during the month of February, students will be reading texts or glancing at posters celebrating inspiring black change makers, leaders and activists. But, reading text about black history isn't always enough to cultivate engagement in the subject or to understand the significance of the roles African American leaders have played in history—beyond Black History Month.
During my first year with City Year, when I initially asked some students, "Why do you think Black History Month is important?" I got a few responses such as: "I don't know...'cause of civil rights?" or "Martin Luther King Jr.?" It took me by surprise that while my school's student body was over 40 percent African American, and the students have been in school for over a decade, there was still a gap between the school curriculum and what they were retaining about our nation's past.
<p> Part of getting through to students in subjects outside of the core curriculum and having them understand the significance of black history is having them taking ownership of their learning and having hands-on and interactive experience. Many of our City Year partner schools incorporate different learning styles and promote this kind of student engagement. Here are five examples of their initiatives:</p><p> <strong>1. Arts and "Entertainment" Through Bringing Books to Life (BBL)<br/><br/> Why?<br/><br/></strong> Acting books out through reader's theater or plays help students connect to the stories. At PS 87 in Harlem, they just finished Bringing their Books to Life. They held an assembly for students in grades K through 5, and performed an entire program around the book, "March On."</p><p> <strong>How:</strong> The City Year team read of parts of the book, performed spoken word, showed short videos of Dr. King speaking, and had a student volunteer read off a speech about his own dream. They played a clip of "We Will Overcome," and had select corps members and students march into the front of the auditorium. They ended it with reading the last part of the book. The kids enjoyed it because it was fast-paced enough that they stay engaged and involved different elements.</p><p> The teachers then took lessons from the BBL and built lessons for their classes around it.</p><p> <strong>2. Student-Organized Monthly Black History Art Night<br/><br/> Why?<br/><br/></strong> Students who organize school events are invested because they are the ones who are planning and preparing for it.</p><p> <strong>How:</strong> It can incorporate spoken word, art, and essays by students that feature a different African-American leader every month. Students may encourage friends and family to come, and while attendance can be tough after hours, the people who do come are likely to be involved and interested in the event. To encourage more students to come, partnering with different departments and the administration on it can help. For example, my team and I planned an English language arts and math focused game night that had a huge turn-out because the English and Math department were involved, offering extra credit to students who came. And, the administration let students make-up hours through being invovled in the event.</p><p> <strong>3. Project Based Learning (PBL)<br/><br/> Why?<br/><br/></strong> Project Based Learning forces students to collaborate with others, use their critical thinking skills and problems solving.</p><p> <strong>How:</strong> After reading Richard Connell's, "The Most Dangerous Game," with my ninth graders last year, the teacher I helped support had the students collaboratively create an intricate game board based on the sequence of events in the story. It had requirements for the amount of events, game questions, and it had to actually be able to be played. It was a long project, but the students got invested in them and at the end, they were all able to play the games and learn in-depth about the story's plot and character development.</p><p> You can also incorporate social media. During our annual day of service, we had volunteers and students fill out prompts about what service and MLK's legacy meant to them, then we used an app called Flipgram to add music and make a slideshow. The same can be done to spark interest inside classrooms.</p><p> After a Black History Month lesson, have students interview students using a flipcam or phone to find out what their peers know about Black History, what it means to them and potentially discover the gap in their knowledge. For younger kids, they can use simple prompts and an app like Flipgram (up to 25 seconds of photos) to get students attention and it's something students can do themselves.</p><p> <strong>4. Field Trips<br/><br/> Why?<br/><br/></strong> Field trips can help the concepts students learned inside the classroom come alive and most students relish in the idea of getting out of school for a trip.</p><p> <strong>How:</strong> In New York City, there are a variety of exhibits dedicated to Black History Month and they can all be found on the New York City Go website (or through a quick Google search). Some of the ongoing exhibits include Harlem Tours and the New York Public Library's Schomburg Center for Research in Black Culture has different public programs and exhibits. And, the Weeksville Heritage Center in Brooklyn is dedicated to preserving 19th century African American History. Large group tours here have temporarily been suspended, but they still admit groups of six, which means that a few student leaders could go to this and then teach back to students what they've learned. Not in New York City? Check your local museums and cultural centers for ideas.</p><p> <strong>5. Service Learning<br/><br/> Why:<br/><br/></strong> Service learning is a way students can connect what they learn in class to community service. It can give them perspective of social issues and help collaborate with others.</p><p> <strong>How:</strong> Many school district websites list different organizations that offer community service opportunities. It can be taking a group of high schoolers to the local food bank or participating in an organization's service day. City Year also has service days throughout the year, so if you want to get involved with us, check with <a href="http://www.cityyear.org/home-Locations.aspx">a City Year site</a> close to you.</p><br/><br/><br/>