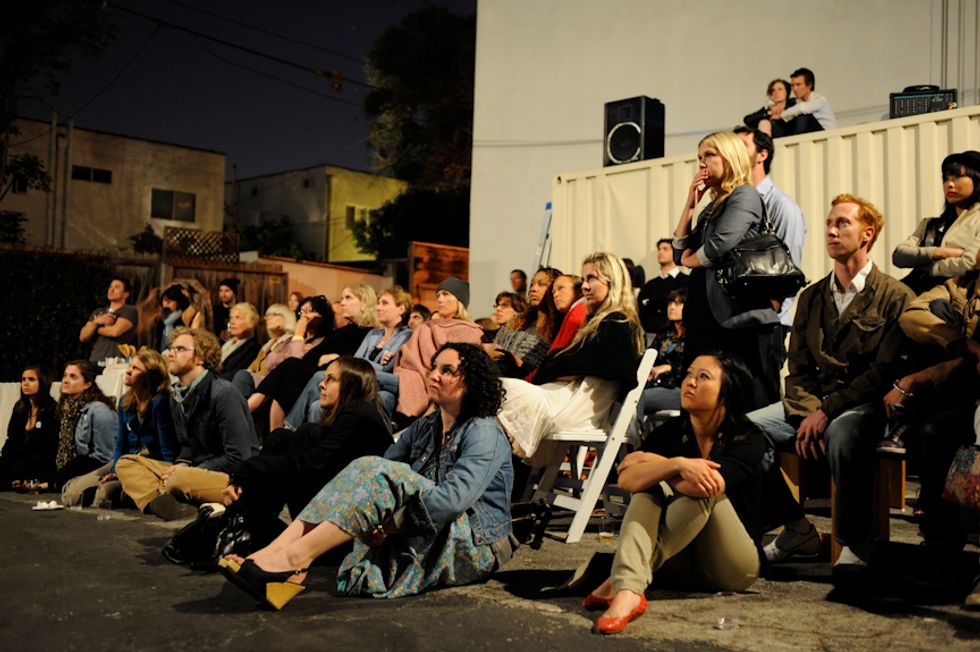 We've long been fans of
Casey Kelbaugh
's inventive and awe-inspiring
Slideluck Potshow
. Over the past decade, the traveling food and photography events have become a global phenomenon (we've even
hosted one
). The magic of SLPS—during which guests bring their favorite home-cooked dishes and gather to watch slideshows from novice and professional artists, documentarians, and photographers—is the way they turn the viewing of photography (and other media) into a event that you share with the people around you.
On Saturday, May 15, Slideluck Potshow teams up with the New York Photo Festival for its
15th event
in the city. In addition to the SLPS's trademark slideshow and potluck dinner, this event will feature food and drinks from a number of Brooklyn-based farms, restaurants, and organizations—enough to put it in the running for the Guinness World Record for largest potluck ever. Tickets are available
here
for $10.
While we're on the subject, we should mention that we recently had the pleasure of attending SLPS's Los Angeles event "
Women's Work
," which was put on with the help of the women's networking organization Ladies Lotto. The show's many series spoke to various aspects of the contemporary female experience, and did so with grace, humor, heartache, and beauty. Take a look at a few highlights (including the top photo, courtesy of Mr. Kelbaugh) below.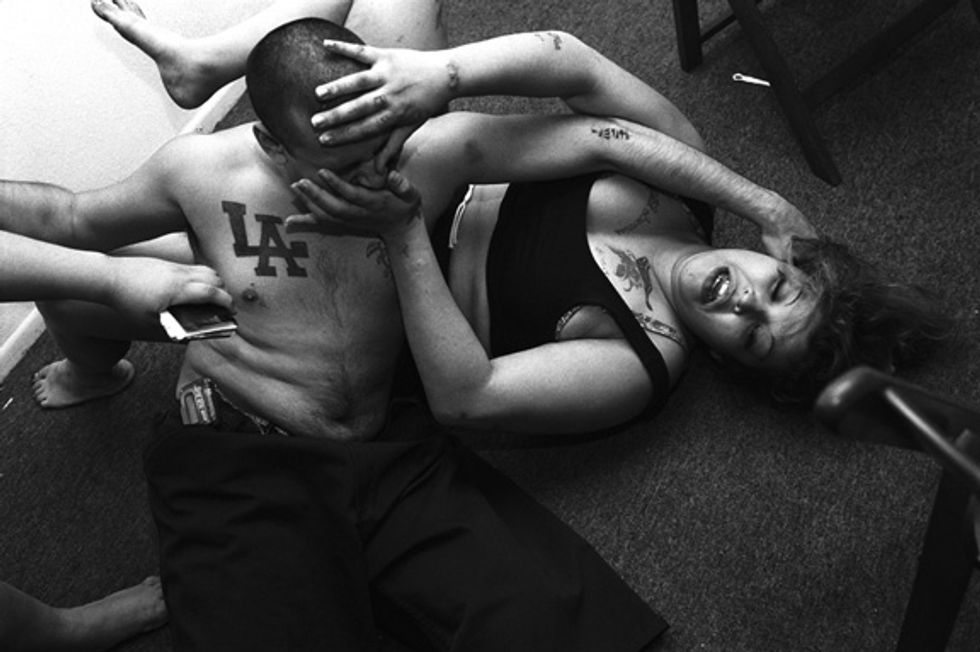 <br/><br/>Robert Yager's work focused on the interior life of a female gangmember.<p class="shortcode-media shortcode-media-rebelmouse-image"> <img class="rm-shortcode" data-rm-shortcode-id="2767aee67035cb429924eaf2da166d79" data-rm-shortcode-name="rebelmouse-image" id="1f336" type="lazy-image" data-runner-src="https://assets.rebelmouse.io/eyJhbGciOiJIUzI1NiIsInR5cCI6IkpXVCJ9.eyJpbWFnZSI6Imh0dHBzOi8vYXNzZXRzLnJibC5tcy8xOTg5MTAyNy9vcmlnaW4uanBnIiwiZXhwaXJlc19hdCI6MTYxODc1MjE0M30.ZvKHtxOc8L2sARlN6eoGOn3QVwYDuCIAoSaGaVve7So/img.jpg?width=980"/> <small class="image-media media-caption" placeholder="add caption..."></small> <small class="image-media media-photo-credit" placeholder="add photo credit..."></small> </p><br/><br/><br/><br/>In Jen Davis's deeply personal self-portraits, the artist (who is also the subject) confronts anxieties about body image and self-perception while questioning how she is perceived by others.<p class="shortcode-media shortcode-media-rebelmouse-image"> <img class="rm-shortcode" data-rm-shortcode-id="f5a00a6c85132e1682ab39cb82f9534c" data-rm-shortcode-name="rebelmouse-image" id="84b3e" type="lazy-image" data-runner-src="https://assets.rebelmouse.io/eyJhbGciOiJIUzI1NiIsInR5cCI6IkpXVCJ9.eyJpbWFnZSI6Imh0dHBzOi8vYXNzZXRzLnJibC5tcy8xOTg5MTAyMy9vcmlnaW4uanBnIiwiZXhwaXJlc19hdCI6MTYwNjQwNzkyMH0.tHcD6WXedcmys1xqSnIaSLC9JDsuChjQkWvlS5y26T8/img.jpg?width=980"/> <small class="image-media media-caption" placeholder="add caption..."></small> <small class="image-media media-photo-credit" placeholder="add photo credit..."></small> </p><br/><br/><br/><br/>The two women here were featured in Michael Horn's documentary "Breaking the Silence," which focused on issues of domestic abuse and the struggle to find solace from it.<p class="shortcode-media shortcode-media-rebelmouse-image"> <img class="rm-shortcode" data-rm-shortcode-id="db14258506bbda0bc3896dcc485b1ef9" data-rm-shortcode-name="rebelmouse-image" id="8c774" type="lazy-image" data-runner-src="https://assets.rebelmouse.io/eyJhbGciOiJIUzI1NiIsInR5cCI6IkpXVCJ9.eyJpbWFnZSI6Imh0dHBzOi8vYXNzZXRzLnJibC5tcy8xOTg5MTAxOC9vcmlnaW4uanBnIiwiZXhwaXJlc19hdCI6MTYyMDQ2OTA0MH0.ZUUakDVdK7AqVphbgh3R7aZjE_aVzjZEAZAhaQF_2rc/img.jpg?width=980"/> <small class="image-media media-caption" placeholder="add caption..."></small> <small class="image-media media-photo-credit" placeholder="add photo credit..."></small> </p><br/><br/><br/><br/>New York Photo Festival founder and co-chair Frank Evers and contributors Jennifer Osborne (flew in from Vancouver), Sari Wynne (who flew in from New York), and Lauren Greenfield (of Los Angeles) were on hand to celebrate the work.<p class="shortcode-media shortcode-media-rebelmouse-image"> <img class="rm-shortcode" data-rm-shortcode-id="b67be9465298e269102212d8cbbc145c" data-rm-shortcode-name="rebelmouse-image" id="1273e" type="lazy-image" data-runner-src="https://assets.rebelmouse.io/eyJhbGciOiJIUzI1NiIsInR5cCI6IkpXVCJ9.eyJpbWFnZSI6Imh0dHBzOi8vYXNzZXRzLnJibC5tcy8xOTg5MTAyOS9vcmlnaW4uanBnIiwiZXhwaXJlc19hdCI6MTYxOTA4NTk2OX0.WjtXpPp6-YSESwk64BKmAPOjg9sRBNEJCvBo1xpRFWs/img.jpg?width=980"/> <small class="image-media media-caption" placeholder="add caption..."></small> <small class="image-media media-photo-credit" placeholder="add photo credit..."></small> </p><br/><br/><br/><br/>Casey Kelbaugh brought his famed "Afternoon Delight" dish to the potluck.<p class="shortcode-media shortcode-media-rebelmouse-image"> <img class="rm-shortcode" data-rm-shortcode-id="d5b0f24a435296c80fb8d5a3f8aa52f7" data-rm-shortcode-name="rebelmouse-image" id="0c922" type="lazy-image" data-runner-src="https://assets.rebelmouse.io/eyJhbGciOiJIUzI1NiIsInR5cCI6IkpXVCJ9.eyJpbWFnZSI6Imh0dHBzOi8vYXNzZXRzLnJibC5tcy8xOTg5MTAzMi9vcmlnaW4uanBnIiwiZXhwaXJlc19hdCI6MTY0NDU5NTk5NH0.fD-PeOahSCj7cNR0XKk00O2XqfG1YykqHqE3UpLv7uY/img.jpg?width=980"/> <small class="image-media media-caption" placeholder="add caption..."></small> <small class="image-media media-photo-credit" placeholder="add photo credit..."></small> </p><br/><br/><br/><br/>All the attendees signed in and had portraits taken.<br/><br/><em>Photos courtesy of Casey Kelbaugh</em><br/><br/><br/><br/><br/><br/><br/><br/><br/><br/><br/><br/><br/><br/><br/><br/><br/><br/><br/><br/><br/><br/><br/><br/><br/><br/><br/><br/><br/><br/><br/><br/>