Articles
After a series of mosque arson attacks, Swedes show up to protest Islamophobia.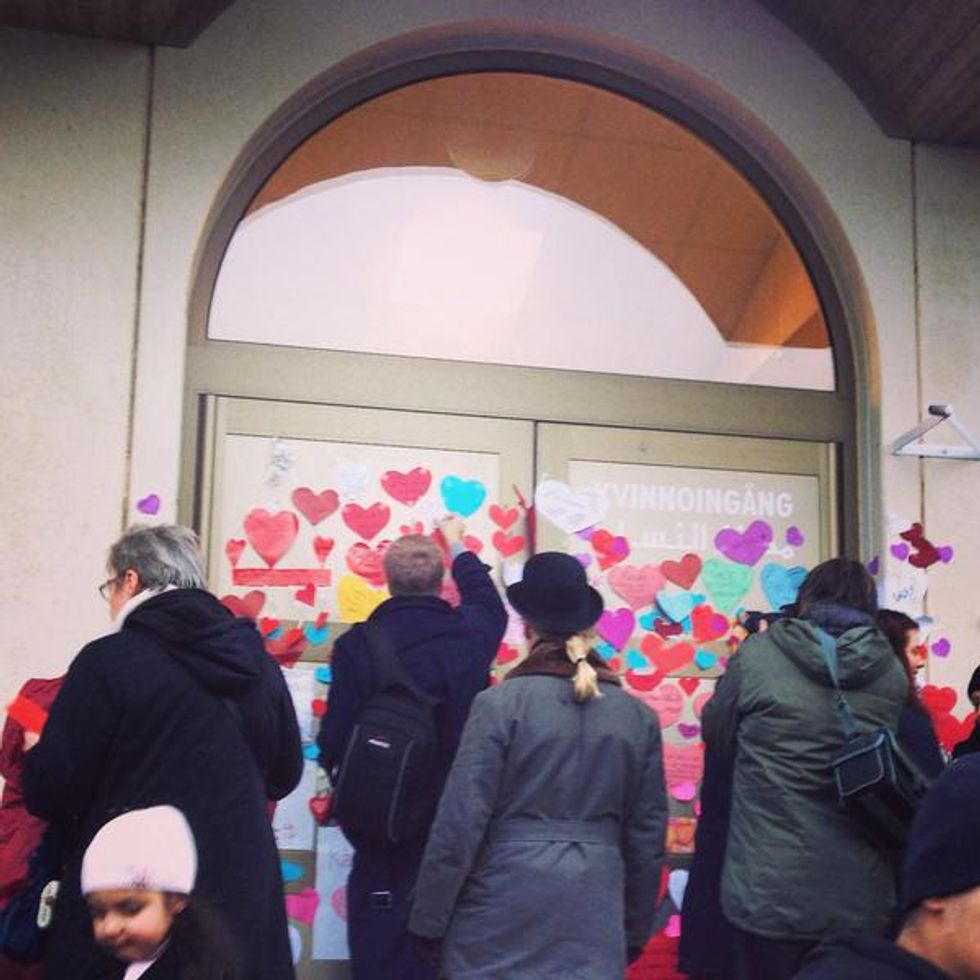 Image via Twitter user Stina Flink (@StinaFlink)
In a slew of Islamophobic attacks, arsonists targeted three mosques in Sweden using Molotov cocktails. In response, hundreds of anti-racist demonstrators and Muslim Swedes gathered for rallies in the city of Uppsala to "love-bomb" a mosque with paper hearts bearing messages of goodwill covering up graffiti that read "Go Home, You Muslim Shit." Swedish Muslims also carried a banner that said "Don't Touch My Mosque." Sweden has been experiencing increasngly violent bouts of anti-Muslim and anti-immigrant hate—in the past year, 14 mosques have been attacked.
<p class="shortcode-media shortcode-media-rebelmouse-image"> <img class="rm-shortcode" data-rm-shortcode-id="b1e58342dcad404fe390e930fc7ee8f8" data-rm-shortcode-name="rebelmouse-image" id="d4333" type="lazy-image" data-runner-src="https://assets.rebelmouse.io/eyJhbGciOiJIUzI1NiIsInR5cCI6IkpXVCJ9.eyJpbWFnZSI6Imh0dHBzOi8vYXNzZXRzLnJibC5tcy8xOTgzNTA3NS9vcmlnaW4uanBnIiwiZXhwaXJlc19hdCI6MTYxMDM2NTc3Mn0.EaEITWJ26y49JZZ0k547TDF2gwPFHKA48_1T853iwwE/img.jpg?width=980"/> <small class="image-media media-caption" placeholder="add caption..."></small> <small class="image-media media-photo-credit" placeholder="add photo credit...">Image via Twitter user Matilda Brostrom (@MMBrostrom)</small> </p><p>The displays of solidarity have been happening all around the world with more frequency as the actions of Muslim religious extremists—namely, ISIS—in Iraq, Syria, and elsewhere in the Middle East fuel Islamophobia in Western states. In Germany, where anti-Muslim marches by a grassroots group have been happening weekly, the Cologne Cathedral, a famous Catholic church, will <a href="http://www.theguardian.com/world/2015/jan/02/cologne-cathedral-switch-off-lights-protest-march-pegida">shut off its lights</a> in solidarity with Muslim Germans for this Monday's planned march. The Semperoper opera house in Dresden also went dark the day anti-Muslim demonstrators passed through. In mid-December, when a Muslim man took patrons of a chocolate shop in Sydney hostage, Australians <a href="http://magazine.good.is/articles/illridewithyou-sydney-siege-muslims">all over the country</a> pledged to accompany Muslims on their public commutes and protect them from reactionary Islamophobic attacks. </p>