Articles
Revolutionizing teacher talent It helps to correct misperceptions and convey the true value proposition being an educator has to offer.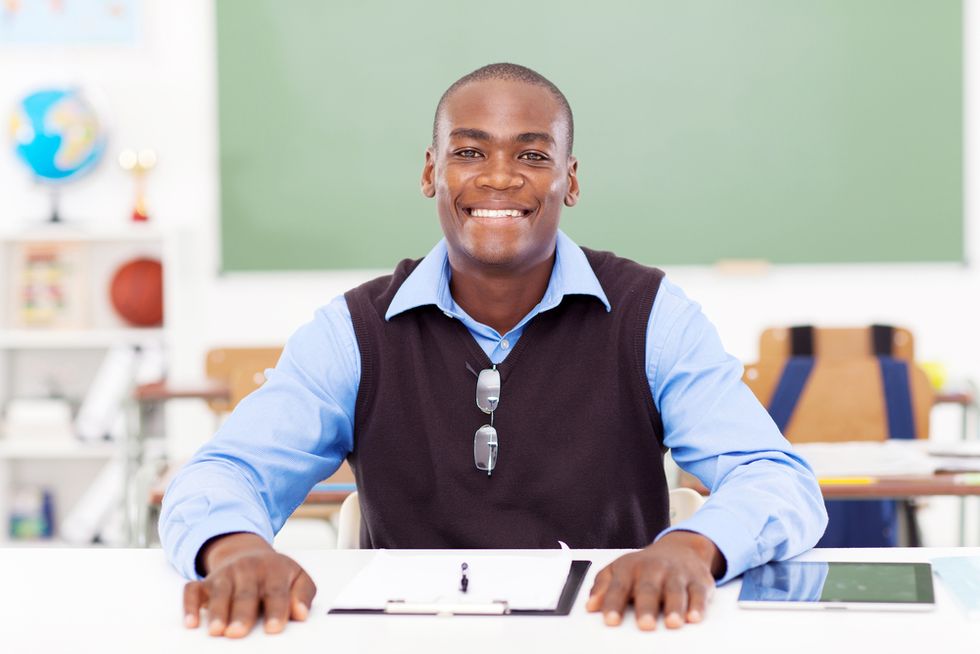 In the United States only 24 percent of all new teachers come from the top third of the class, whereas in countries with the best school systems (Finland, Korea, Singapore), 100 percent of new teachers come from the top third. According to the President's Council of Advisors on Science and Technology, (
PDF
) the U.S. needs more great teachers, and especially more great math and science teachers, if we are going to remain economically competitive,
There are four important things we as a country and education sector are not doing enough of—that we could and should be doing—to attract more talented college students into the teaching profession.
<p> First, the U.S. does not seriously invest in systematic recruitment for teachers. Look at how much money, manpower, and machinery the U.S. Army puts into recruitment—to the tune of almost $1 billion per year—and you get an idea what a serious, systematic effort looks like.</p><div id="upworthyFreeStarVideoAdContainer"><div id="freestar-video-parent"><div id="freestar-video-child"></div></div></div><p> Second, we don't thoroughly understand our target audience. Do we know what college students already think about teaching and what they care about in a job? Unless you can answer the top six attributes your target audience values in a job and how teaching speaks to those dimensions, the answer is no. We tend to promote teaching in a unidimensional way (making a difference), which is relevant but not enough.</p><p> Third, and related to the second point, we don't try to <a href="http://bit.ly/16NAxwj">correct misperceptions</a> that are deterring today's students from choosing to enter the teaching perception. For instance, 75 percent of undergraduates surveyed underestimated teachers' salaries, and 43 percent did not rate teaching as "challenging in a stimulating way," according to McKinsey's report <a href="https://mckinseyonsociety.com/closing-the-talent-gap/">Closing the Talent Gap</a>.</p><p> Fourth, we don't allow undergraduates to be in contact with exemplary teachers, so they can update their perceptions. We've got many true rockstars in the classroom—teachers who blow you away with their knowledge, skills, abilities, and contagious enthusiasm for their job. They are incredibly compelling role models and spokespeople for the profession, but they do not naturally come into contact with college students and it takes a bit of organizing to bridge this divide.</p><p> So how do we fix this? <a href="http://bit.ly/14aC41K">ElevatED</a>, a new nonprofit I started this year, is working to revolutionize teacher talent by addressing all four of these gaps.</p><p> We spend a great deal of time talking to college students, particularly those majoring in science technology, engineering, and math fields, to understand their career values and perceptions of teaching. We communicate about teaching in a way that corrects misperceptions and conveys the true value proposition it has to offer. We identify talented, driven, passionate teachers to be "<a href="http://bit.ly/14aC41K">Ambassadors</a>" of the profession and connect them with college students.</p><p> And we realize that experiences and exposures are the most powerful way to update college students' perceptions and get them excited about teaching. So we provide those in the form of an undergraduate elective seminar, an alternative spring break trip, a week long end-of-summer opportunity for undergrads to TA for and job shadow an exemplary teacher, career panels, and counseling. These opportunities are designed to fit into college students' schedules and create a meaningful impression.</p><p> The level of talent going into the teaching profession is too important not to invest in making these connections and a systematic recruiting effort. In the next year, ElevatED will run these programs at USC and Stanford, reaching about 100 STEM majors. After that, we expand to other campuses. At every campus, we intend to double the share of STEM majors going into teaching within five years. That's how to create a talent revolution in education.</p><p> <em>Zach Levine is founder of ElevatED and Director of Human Capital at Green Dot Public Schools</em></p><p> <em><a href="http://www.good.is/posts/tell-the-truth-about-teaching-to-create-a-talent-revolution">Click here</a> to add creating a talent revolution by supporting ElevatED's Indiegogo campaign to your GOOD "to-do" list.</em></p><p> <em>Male teacher sitting in classroom image via <a href="http://www.shutterstock.com/cat.mhtml?lang=en&amp;search_source=search_form&amp;search_tracking_id=wt28TZ0iVlQLBYZYL4ChHQ&amp;version=llv1&amp;anyorall=all&amp;safesearch=1&amp;searchterm=male+teacher&amp;photos=on&amp;search_group=&amp;horizontal=on&amp;orient=&amp;search_cat=&amp;searchtermx=&amp;photographer_name=&amp;people_gender=&amp;people_age=&amp;people_ethnicity=&amp;people_number=&amp;commercial_ok=&amp;color=&amp;show_color_wheel=1#id=130754690&amp;src=e8fv2ZlD15u8C61RQ4UYjw-2-33">Shuttterstock</a></em></p><br/>