Articles
Featuring images of abuse, alcohol use, and self-harm, Abused Emoji offers children a means to express their complex realities.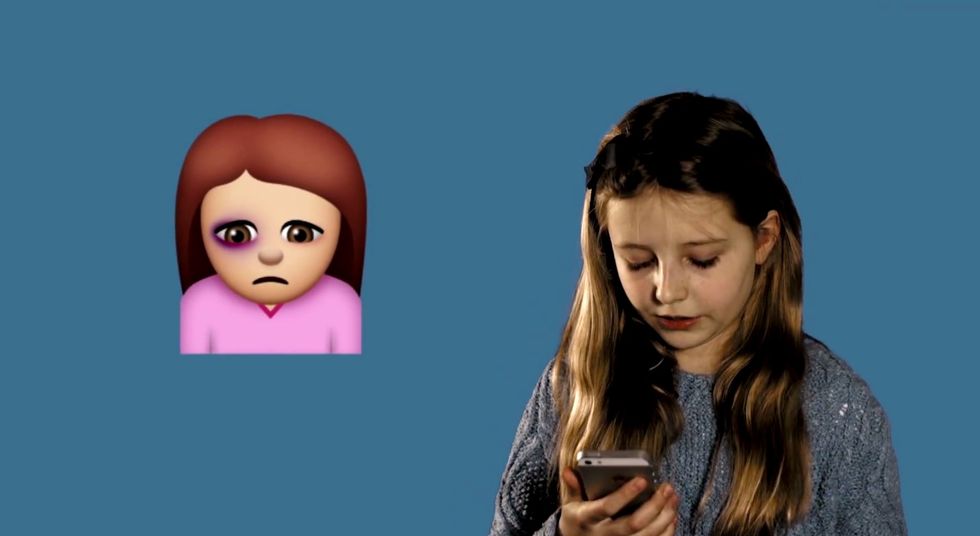 image via youtube screen capture
Love them or hate them, emojis have become one of the most widely used pseudo-languages of our smartphone-based world. From sex to racial diversity, emojis have grown and adapted to fit the needs of those digital natives for whom a picture might very well be worth a thousand words. And for some children, emojis may soon become a powerful tool to express ideas and emotions too complex and overwhelming to put into words.
<p>That, at least, is the goal of <a href="http://abusedemojis.com/about">Abused Emojis</a>—a new keyboard of emojis which aims to give children a more sophisticated visual palette with which to express their experiences. </p><p><span class="rm-shortcode" data-rm-shortcode-id="c69b13f121aefbe9f59a44230e972327" style="display:block;position:relative;padding-top:56.25%;"><iframe frameborder="0" height="auto" type="lazy-iframe" scrolling="no" data-runner-src="https://www.youtube.com/embed/JR-pLK7ntiQ?rel=0" style="position:absolute;top:0;left:0;width:100%;height:100%;" width="100%"></iframe></span></p><p class="shortcode-media shortcode-media-rebelmouse-image"> <img class="rm-shortcode" data-rm-shortcode-id="3808a6daef0c70baf27730161fc0beff" data-rm-shortcode-name="rebelmouse-image" id="61c54" type="lazy-image" data-runner-src="https://assets.rebelmouse.io/eyJhbGciOiJIUzI1NiIsInR5cCI6IkpXVCJ9.eyJpbWFnZSI6Imh0dHBzOi8vYXNzZXRzLnJibC5tcy8xOTg0MDM4NS9vcmlnaW4ucG5nIiwiZXhwaXJlc19hdCI6MTYzNDg2ODAwNX0.-jN4gAdKdx2lXrBNeBKMw0NpB7onzBPbwUl86jTVHJI/img.png?width=980"/> <small class="image-media media-caption" placeholder="add caption..."></small> <small class="image-media media-photo-credit" placeholder="add photo credit...">image via abused emojis</small> </p><p>The emojis were created by <a href="https://www.bris.se/?pageID=61">BRIS</a>, a Swedish NGO dedicated to children's rights and protections. The keyboard, which users can <a href="https://itunes.apple.com/us/app/abused-emojis/id979936630?ls=1&amp;mt=8">download</a> to their iPhones, features stylized, emojified images of abuse, alcohol use, self-harm, and more. The symbols represent vices that children may experience, but lack the means to adequately verbalize. As BRIS' dedicated Abused Emoji <a href="http://abusedemojis.com/">webpage</a> puts it: "A complex reality demands a complex set of symbols. The Abused Emojis makes it possible for kids and young people to talk about situations where they felt bad or wrongly treated without having to put words on the situation."</p><p>Silvia Ernhagen, a spokeswoman for BRIS told <a href="http://www.pbs.org/newshour/rundown/abuse-emojis/"><em>PBS Newshour</em></a> that the emoji: </p><div><blockquote><p>"...could be a way of starting to signal that you do need help, but you're too afraid maybe to put your own words on it because once you put words on it, it starts to get scary. Sometimes it's easier to express feelings with pictures or drawings."</p></blockquote><p>Having just been released this Spring, it's too soon to say whether the emoji set will actually encourage children to start discussing things like alcoholism, abuse, and negative emotions through this particular medium. That said, it's encouraging to know there are advocacy groups out there thinking creatively in an effort to give some of society's most vulnerable members the means to express themselves on their own terms. </p><p style="text-align: right;">[<em>via <a href="http://www.pbs.org/newshour/rundown/abuse-emojis/">PBS Newshour</a></em>]</p></div>