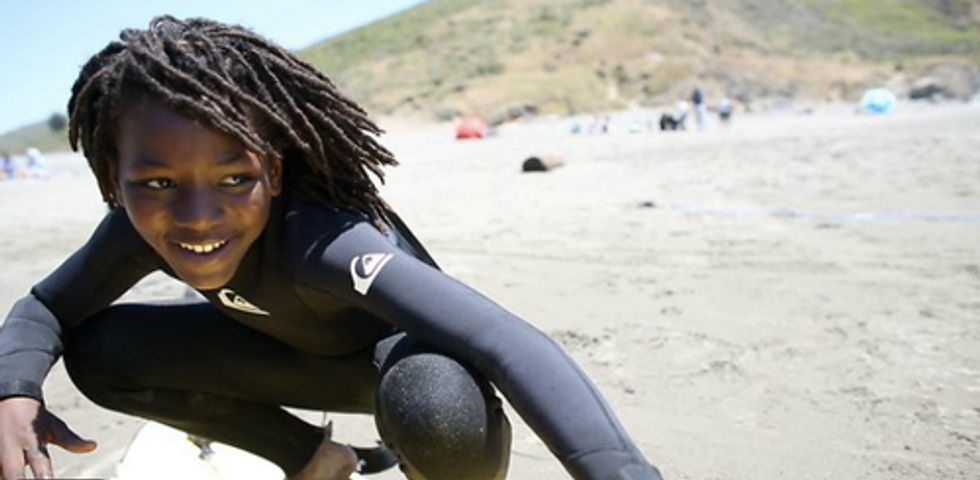 \n
Occasionally something amazing comes from a simple conversation between two surfers. One day earlier this year, Ian Glover, who runs a Bay Area surf camp, was chatting with longtime local board shaper Tim Gras, who also works as a community organizer in the largest housing project in San Francisco.
A simple idea hatched. Ian has the resources and people power to take lots of kids surfing in Marin and Tim has access to kids who could use a fun day at the beach, some of whom may have never seen the ocean—despite living a couple of miles from it. Together they arranged for a group of these kids to go surfing a few weeks later. The kids loved it and Ian and Tim started plotting the next trip. I heard about all the fun they were having and I had to get in on the action too. I'm a surf photographer and filmmaker and I pitched the idea to my company,
Micro Documentaries
, of doing a pro bono film about these special days.
And so we arrive at the present day. The little film is made. The kids are stoked. What lies next is somewhat unknown. We'd like people to donate to the cause. We can't hope to fix all of the problems of low-income neighborhoods, but we can at least try to make a bunch of kids laugh and smile for a day. </div> <div> The larger question here is: What good can I do with my talents? There are so many ways to volunteer and serve, but rarely do people think to look at their greatest asset—themselves. Here are three guys—a surf coach, a community organizer, and a filmmaker—who have donated their time and talents to doing something unique for kids who could use an injection of simple play. So, what are you good at? Share it with the world.</div>