Articles
March Madness has given way to a Final Four of Los Angeles tacos. Here's how to sample all four this weekend.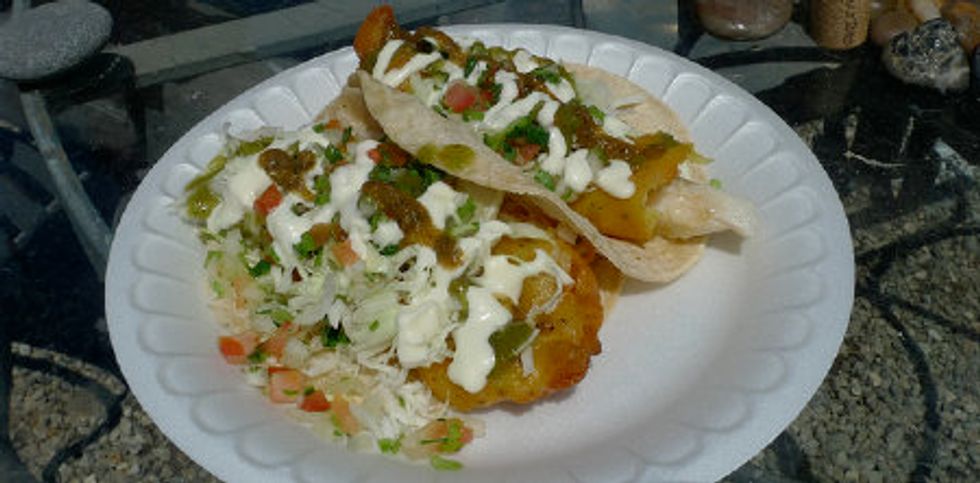 Asking an Angeleno about the best taco in L.A. is almost asking for trouble. But the blog
LA Taco
has gone there—and how!—creating a March Madness-style bracket pitting 32 local tacos against each other. Two salsa-strewn rounds later, the
Final Four of tacos
have been named, and it's about to get ugly. Voting closes April 4 at midnight, so why not spend this weekend sampling all four so you can make an informed choice? Here's how we would embark upon this trail of tacos.
Ricky's Fish Tacos: Start here since Ricky only operates his deep fryers during the day, slinging his Baja-style fish tacos in a hair salon parking lot in East Hollywood (seriously). Check his opening and closing times via Twitter—usually 12:00 p.m. to 5:00 p.m. Saturday and Sunday, or until he runs out—and prepare yourself for delicate, golden-battered deliciousness.
<p> <a href="http://www.urbanspoon.com/r/5/1583107/restaurant/East-Los-Angeles/Mariscos-Jalisco-LA"><strong>Mariscos Jalisco</strong></a>: This relative underdog has surpassed all expectations in the tournament, so you'd do well to head out to East L.A. to sample the unassuming truck (during the day, they're only open until about 5:00 p.m.). The specialty is seafood dishes from the Mexican state of Jalisco and the deep fried shrimp tacos smothered in fresh avocado are the thing.</p><p> <a href="http://www.urbanspoon.com/r/5/1462752/restaurant/Downtown/Mexicali-Taco-Co-LA"><strong>Mexicali Taco &amp; Co.</strong></a>: Next, head downtown to this stand in a parking lot in the shadow of the 110 freeway. Here, two brothers serve Mexicali-style carne asada tacos. If you think you've had carne asada before, <a href="http://www.streetgourmetla.com/2010/09/for-unlawful-carne-asada-knowledge.html">this is different</a>, with high-quality beef, cooked over a fire. They're open until midnight most weekend nights.</p><p> <a href="http://www.urbanspoon.com/r/5/69168/restaurant/Highland-Park/La-Estrella-LA"><strong>La Estrella</strong></a>: The Highland Park institution and <a href="http://www.lataco.com/taco/las-favorite-taco-of-2010-la-estrella">last year's winner</a> is the only finalist that has an actual brick-and-mortar restaurant (although they have a truck, too). Expect a wider menu at the Figueroa Boulevard restaurant, with specialties like <em>al pastor</em>. Plus it's open 24 hours, so it's perfect for the next time you find yourself in need of carnitas at 3:00 a.m.</p><p> If you've made it this far, why stop now? Urbanspoon has a directory of<a href="http://www.urbanspoon.com/t/5/26/LA/Taco-Madness-restaurants"> all 32 Taco Madness finalists</a>. Hope you're hungry.</p><p> <a href="http://www.lataco.com/taco-madness-2011">Vote in LA Taco's Taco Madness 2011</a></p><p> <a href="http://www.urbanspoon.com/t/5/26/LA/Taco-Madness-restaurants">View all 32 Taco Madness restaurants on Urbanspoon</a></p><p> <em style="font-style: italic; font-weight: normal;">Live in Los Angeles? <a href="http://www.good.is/newsletters/dailygood_la" style="color: rgb(0, 0, 0); text-decoration: underline; cursor: pointer; font-style: italic;">Join GOOD LA</a> and we'll introduce you to more people, places, projects, and events that are making Los Angeles work. Sign up <a href="http://www.good.is/newsletters/dailygood_la" style="color: rgb(0, 0, 0); text-decoration: underline; cursor: pointer; font-style: italic;">here</a>.</em></p><p> <em>Photo: The Baja-style contenders from Ricky's Fish Tacos</em></p><br/><br/>