Articles
Learning to improvise can be tough when the road to success seems like one big script.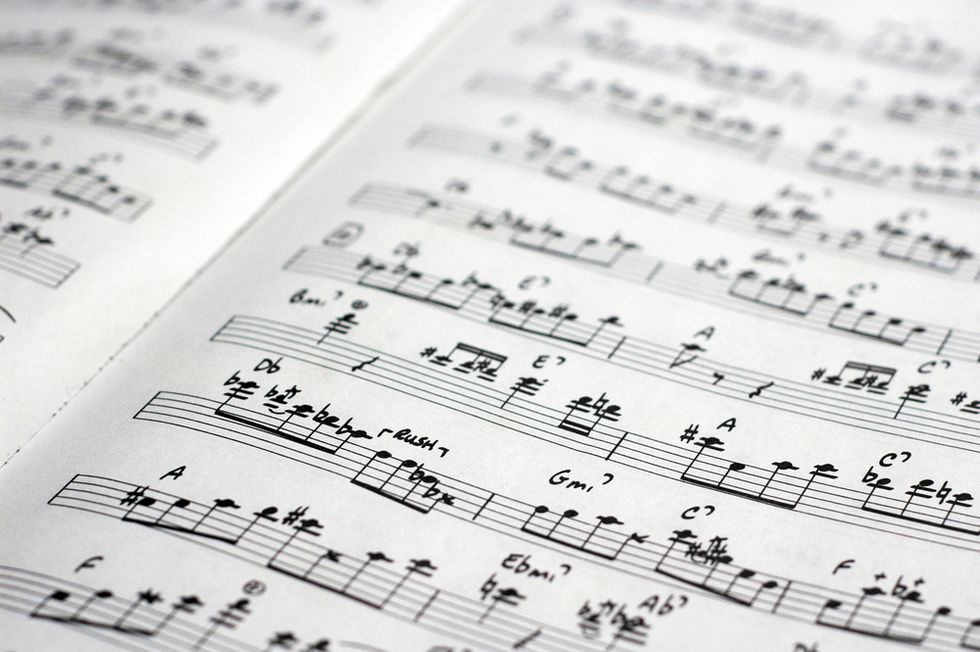 I have always wanted to play jazz. I found the rhythms difficult to master, and the unscripted improvisations made me uncomfortable. As a flute player, I kept firmly to classically scripted scores through my collegiate years. The most improvised thing that I did was switch to playing the sousaphone in college marching band. While it was challenging and different, I still played off of a scripted and memorized sheet of music. During one brief, brilliant moment living in Morocco, I played with a big band jazz pickup group—a virtual United Nations of musicians from all over the world. But even then, I must be honest, I hid my meek flute sound, afraid of being heard making mistakes.
I recently conducted a retrospective on my career to give a presentation for colleagues new to public service. When I looked back from college, through graduate school, to a career in public service and international relations, I have constantly looked for that compelling scripted score to follow.
<p dir="ltr"> That script has been elusive, of course, courtesy of turbulent world events and technological advances. As an undergraduate, I watched the dissolution of the Soviet Union confound my international relations teachers, who confessed they no longer knew what to teach us when it came to international politics. As I entered graduate student and later as new employee, I watched my affiliate organizations struggle to adapt to the World Wide Web. On the second day of my Foreign Service career, September 11, 2001, everything we thought we knew about the "post-cold war world" changed. My State Department trainers told us to hold on; policies and regulations would change more than they could predict during our orientation. There would have to be a lot of real-time learning in the field as a result. <br/></p><p class="shortcode-media shortcode-media-rebelmouse-image"> <img class="rm-shortcode" data-rm-shortcode-id="4ce60528e376fe76d60e6d421ade7958" data-rm-shortcode-name="rebelmouse-image" id="598be" type="lazy-image" data-runner-src="https://assets.rebelmouse.io/eyJhbGciOiJIUzI1NiIsInR5cCI6IkpXVCJ9.eyJpbWFnZSI6Imh0dHBzOi8vYXNzZXRzLnJibC5tcy8xOTkxOTM4NC9vcmlnaW4ucG5nIiwiZXhwaXJlc19hdCI6MTYyMTM2MTI2NH0.ajGGnvyx6DeNkwBA3fX4gQtxMPf_AP_PnoENwvin76o/img.png?width=980"/> <small class="image-media media-caption" placeholder="add caption..."></small> <small class="image-media media-photo-credit" placeholder="add photo credit..."></small> </p><p dir="ltr" id="docs-internal-guid-487302a9-e36d-96b0-a51d-a5d399a98db2"> While I served overseas, another shift started happening with the arrival of social media in 2004. The trends of <a href="http://en.wikipedia.org/wiki/Gov_2.0">government 2.0</a>, <a href="http://en.wikipedia.org/wiki/Enterprise_2.0">enterprise 2.0</a>, and <a href="http://blogs.wsj.com/management/2011/02/17/inventing-management-20/">management 2.0</a> emerged four years later, kicking off a new way of thinking inside of organizations as well as out. It also marked beginning of when I finally learned how to jump in and improvise.</p><p dir="ltr"> In 2009, then Secretary of State Clinton founded an employee idea generation forum to source ideas directly from employees. As I listened to her speech, I thought "I wonder who's going to run that? It sounds like what I've read about IBM Innovation Jams...." The opportunity to help shape the forum landed in my lap that afternoon, and I jumped at the chance. In reality, I knew only the first step: how to find the people with the talent to help. The State Department's <a href="http://www.state.gov/m/irm/ediplomacy/">Office of eDiplomacy</a> had been teaching me how to use blogs and wikis to further knowledge management. (You can read more about these programs in a <a href="http://www.brookings.edu/research/reports/2012/10/25-ediplomacy-hanson-km">Brookings report on eDiplomacy</a>).</p><p dir="ltr"> It's now 2013, and I've been the program manager for that employee idea generation program at the State Department for almost five years. I have learned a thing or two about the nature of ideas. Each idea is like a musical note. One idea, like one note or one molecule, is worth very little on its own. But in combination with others, you get rich music, rich material with which to make something happen. At first, it may only be learning that happens. And that can be about as frustrating as middle school band (whereas IBM Innovation Jams are more like the National Symphony Orchestra). But when you stick with it, you practice your way into art to collaboration design.</p><p dir="ltr"> In late 2012, I came across this provocation on the Facebook page of Insight Labs, a philanthropic think tank. "Online technology lends itself well to brainstorming. But that's not collaboration. It's just more input." To someone working with online collaboration forums, those were fighting words. Then I saw that the author, Frank Barrett wrote a book titled "Yes to the Mess: Surprising Leadership Lessons from Improvisational Jazz." Improvisational Jazz. My heart's desire and long-time creative nemesis. <br/></p><p class="shortcode-media shortcode-media-rebelmouse-image"> <img class="rm-shortcode" data-rm-shortcode-id="29da282af2d607b441e9e2e216c9cb10" data-rm-shortcode-name="rebelmouse-image" id="7f0d5" type="lazy-image" data-runner-src="https://assets.rebelmouse.io/eyJhbGciOiJIUzI1NiIsInR5cCI6IkpXVCJ9.eyJpbWFnZSI6Imh0dHBzOi8vYXNzZXRzLnJibC5tcy8xOTkxOTM4Ni9vcmlnaW4ucG5nIiwiZXhwaXJlc19hdCI6MTYzNDEzMjIwN30.PtccMWr9pN9KNJWtGcjq67WTyTlsqk_WyJfhLRM2BvU/img.png?width=980"/> <small class="image-media media-caption" placeholder="add caption..."></small> <small class="image-media media-photo-credit" placeholder="add photo credit..."></small> </p><p dir="ltr" id="docs-internal-guid-487302a9-e36f-818f-58ce-9f1b7c60af88"> Within the Insight Lab's <a href="http://www.theinsightlabs.org/research/jam-at-a-massive-scale/">write-up of an interview with Frank Barrett</a>, I found the ingredients to the script I had been working to create in my new role. Key elements in improvisational jazz hold a parallel in good collaboration design. For example: the key and jazz standard are minimal structures around which musicians know how to collaborate. The communities of practice are like jams where we practice with one another.</p><p dir="ltr"> While I soaked up inspiration from jazz to work on internal enterprise 2.0 initiatives, I looked around at what my colleagues were accomplishing in the field of international relations and saw a similar pattern. </p><ul class="ee-ul">\n<li dir="ltr"> Transcendent Goals and Communities of Practice: The <a href="http://www.opengovpartnership.org/">Open Government Partnership</a>, an international platform for domestic reformers committed to making their governments more open, accountable, and responsive to citizens, represents the dynamics of a transcendent goal that pulls government and civil society together. The partnership itself represents a community of practice for the countries who participate and provoke and support one another to take on challenges of importance to their citizens.<br/> <br/></li> <li dir="ltr"> Responsiveness and Communities of Practice: <a href="http://techcampglobal.org/learn-about-techcamp.php">Tech Camps</a> connect civil society organizations across the globe with new and emerging technology resources to solve real world challenges and build digital capacity. They represent a community of practice around a responsive and learning group of global citizens. You can find a retrospective of each Tech Camp on Storify.<br/> <br/></li> <li dir="ltr"> Minimal Structures and Modular Tasks: <a href="http://www.state.gov/t/avc/innovationcompetition/">The Innovation in Arms Control Challenge</a> seeks out non-traditional problem-solvers in the U.S. and asks them "What Information Technology Tools and Concepts Can Support Future Arms Control Inspections?" The use of challenges and prizes in government represents minimal structures and modular tasks that we craft so that all may participate in a for-us-by-us government.</li>\n</ul> <p class="shortcode-media shortcode-media-rebelmouse-image"> <img class="rm-shortcode" data-rm-shortcode-id="fd6f389c6763bf1fa2ff9a8d0fd354a9" data-rm-shortcode-name="rebelmouse-image" id="38040" type="lazy-image" data-runner-src="https://assets.rebelmouse.io/eyJhbGciOiJIUzI1NiIsInR5cCI6IkpXVCJ9.eyJpbWFnZSI6Imh0dHBzOi8vYXNzZXRzLnJibC5tcy8xOTkxOTM4OC9vcmlnaW4ucG5nIiwiZXhwaXJlc19hdCI6MTYwMDEzNDY0MX0.TPHqcnqoVE7XmI2C1OM2rw0vfPUtEF4PaWqnZ2D_0iA/img.png?width=980"/> <small class="image-media media-caption" placeholder="add caption..."></small> <small class="image-media media-photo-credit" placeholder="add photo credit..."></small> </p><p dir="ltr" id="docs-internal-guid-487302a9-e370-a75b-e6a8-18a18a296f41"> These programs have been designed to allow for generous listening and opportunities for serendipity, that we might all become empowered to jump in and solve critical problems that face the world. Improvisation is the script of the future. These programs are a start, but much more work needs to be done.</p><p dir="ltr"> Looking back at my original dream of playing improvisational jazz, I'm proud to say that despite my rigidity as a musician, I can consider myself an improvisational artist. The musical notes are ideas, and the instruments are the different disciplines and cognitive preferences of people. The collaboration methods are the jazz standards that will enable the future to be improvised.</p><p dir="ltr"> It's this conviction that improvisational thinking is essential to the future of public service that makes me so excited to be participating in ÜberLab 2013, an Insight Labs event that starts today. Frank Barrett will teach a masterclass where leaders from the public, private, and philanthropic sectors will explore how to apply this kind of thinking in their organizations. We'll also hone our skills in design thinking and the use of the strategic imagination.<br/><br/> Then, tomorrow, we'll team up with the folks at the Carnegie Endowment for International Peace to re-imagine how the United States should encourage the development of democracy abroad. The Labs and Carnegie are developing a new idea called "venture democracy," a model for encouraging democratic governance that borrows from the risk-and-reward models of Silicon Valley. To learn more, check out <a href="http://www.theinsightlabs.org/uberlab-2013/">Insight Labs</a>.<br/><br/><em>Jazz improvisation image via <a href="http://www.shutterstock.com/pic-8414479/stock-photo-close-up-of-sheet-music-of-a-transcription-of-a-jazz-improvisation.html?src=FLp_BFvIqw65WdPlI5eVKA-1-45">Shutterstock</a></em><br/><br/><br/><br/></p><br/>