Articles
To celebrate World Oceans Day, Google invites us to experience our planet's aquatic beauty firsthand.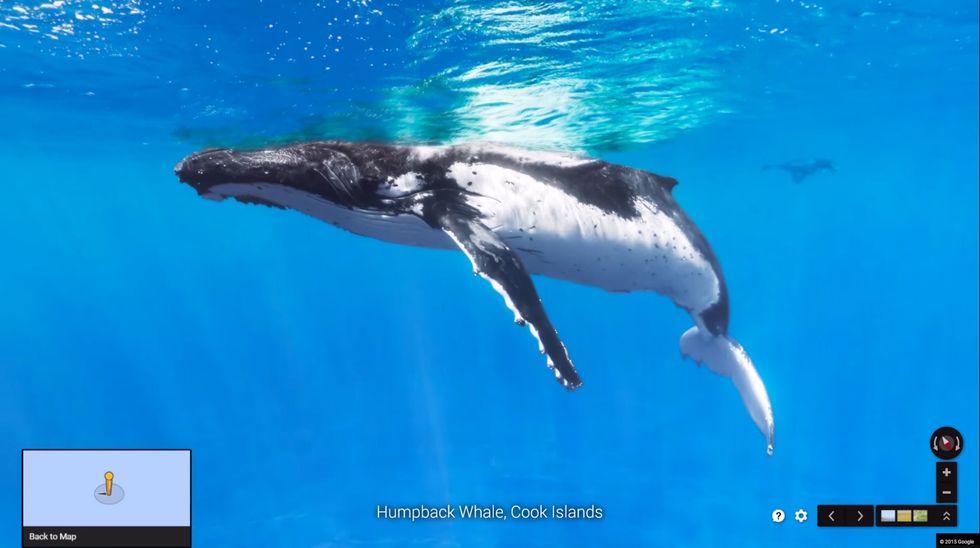 image via youtube screen capture
Despite their covering most of this planet's surface, and containing nearly all its water, we oftentimes take our oceans for granted. Sure, we admire them from afar, occasionally floating atop them on cruise ships or fishing boats. We might even dip a toe into their waters while spending a day at the beach. By and large, however, the vast majority of us have never strapped on scuba gear and actually spent time submerged in Earth's watery depths. Regardless of their sheer planetary magnitude, the oceans are, for many of us, a complete unknown.
<p>For this year's <a href="http://www.worldoceansday.org/">World Ocean Day</a>, which has fallen annually on June 8th <a href="http://www.un.org/depts/los/reference_files/oceansday2009.pdf">since 2009</a>, Google has expanded their already expansive Street View function to give us all the opportunity to explore our planet's oceanic splendor firsthand without even getting wet. In partnership with <a href="http://catlinseaviewsurvey.com/">XL Catlin Seaview Survey</a>, <a href="http://sanctuaries.noaa.gov/">NOAA's Office of National Marine Sanctuaries</a>, and the <a href="http://chagos-trust.org/">Chagos Conservation Trust</a>, Google's "<a href="https://www.google.com/maps/views/u/0/streetview/oceans?gl=us">Oceans</a>" collection offers web users the ability to fully submerge themselves in some of the most beautiful aquatic environments around. Like their land-based counterparts, these "Oceans" maps can be rotated, flipped, and traveled through, almost as if you were really there. </p><p style="text-align: center;"><iframe frameborder="0" height="450" src="https://www.google.com/maps/embed?pb=!1m0!3m2!1sen!2sus!4v1433777075806!6m8!1m7!1s2F9oyDH7G4QAAAQo8BVSfQ!2m2!1d-21.203982!2d-159.837009!3f347.91!4f-4.700000000000003!5f0.7820865974627469" style="border:0" width="600"></iframe></p><p style="text-align: center;"><iframe frameborder="0" height="450" src="https://www.google.com/maps/embed?pb=!1m0!3m2!1sen!2sus!4v1433777203037!6m8!1m7!1sCf5AJUX1sxsAAAQIuALnuA!2m2!1d-1.216466!2d-90.42215!3f332.02!4f7.739999999999995!5f0.7820865974627469" style="border:0" width="600"></iframe></p><p style="text-align: center;"><iframe frameborder="0" height="450" src="https://www.google.com/maps/embed?pb=!1m0!3m2!1sen!2sus!4v1433777266342!6m8!1m7!1sXZPZKMpNSHQAAAQY_zHM2Q!2m2!1d-3.816245!2d-32.388429!3f232.82!4f35.84!5f0.7820865974627469" style="border:0" width="600"></iframe></p><p>As Google <a href="http://google-latlong.blogspot.fr/2015/06/explore-life-beneath-waves-in-honor-of.html">explains</a> on the "Maps" blog, these underwater Street Views aren't simply pretty pictures, but are part of a larger conservation effort:</p><blockquote><p>Mapping the ocean is key to preserving it. Each image in Google Maps is a GPS-located digital record of these underwater and coastal environments, which can be used as a baseline to monitor change over time. This comprehensive record of coral reefs showcases the beauty of these ecosystems and highlights the threats they face, such as the impact of increasing storms in the Great Barrier Reef and of rising water temperatures, factors causing the reefs to bleach white. </p></blockquote><p><span class="rm-shortcode" data-rm-shortcode-id="885f6a68860245de90afbd5ea84981e9" style="display:block;position:relative;padding-top:56.25%;"><iframe frameborder="0" height="auto" type="lazy-iframe" scrolling="no" data-runner-src="https://www.youtube.com/embed/4C5EGXqgx8s?rel=0" style="position:absolute;top:0;left:0;width:100%;height:100%;" width="100%"></iframe></span></p><p>All told, Google and its partners mapped <a href="https://www.google.com/maps/views/u/0/streetview/oceans?gl=us">forty underwater locations</a> around the world, including Australia's Great Barrier Reef, Hawaii's Molokini Crater, and even the wreckage of the SS Antilla off the coast of Aruba. </p><p>While this <a href="http://9to5google.com/2012/09/25/google-streetview-goes-underwater-to-document-the-great-barrier-reef/">isn't the first time</a> Google has used its mapping feature for underwater exploration, this project represents a new scale of immersive aquatic imagery. And for those of us who haven't had the opportunity to experience some of our planet's most awe-inspiring natural resources, "Oceans" is not only the next best thing, but just might be enough of an inspiration to get us out from behind our computer screens, and into the water. </p><p style="text-align: right;">[<em>via <a href="http://www.konbini.com/en/inspiration/take-dip-ocean-google-fish-view/">konbini</a></em>]</p>