Articles
Will actor Zachary Quinto's low-key confession in New York magazine usher in a new era of casual coming-out moments?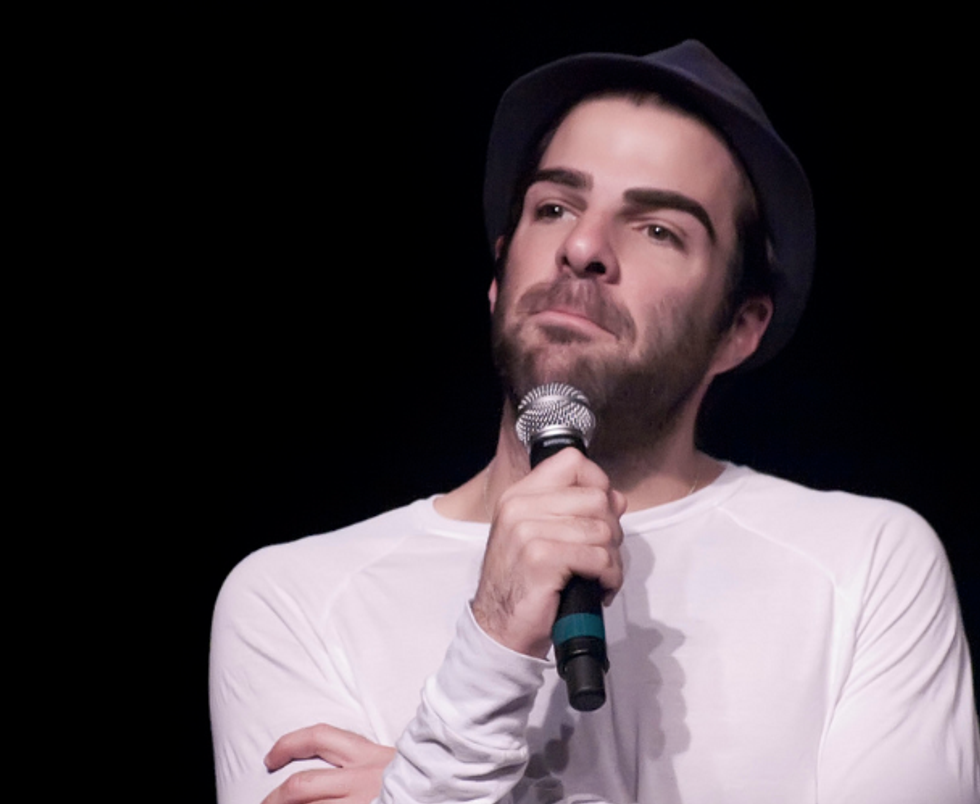 Actor Zachary Quinto just came out as gay—not via a proclamation on a magazine cover, not in a curated press statement, but by using one little phrase in an interview: "As a gay man..."
Yesterday, New York magazine ran a profile of the Heroes actor that included questions about Angels in America and his producer role in Margin Call, plus a casual confession of Quinto's sexuality, a qualifier as natural as where he was born or what color hair he has. Among the spate of celebrities who have come out in the last 20 years, this is an unusual course to take. Ellen DeGeneres famously came out on her own sitcom, in an episode that attracted more than 42 million viewers. Country singer Chely Wright staked out the cover of People to make her announcement, and followed that up with a tell-all memoir. After years of speculation, singer Ricky Martin wrote on his website that he was a "fortunate homosexual man."
<p> Quinto, on the other hand, took the plunge without fanfare. True, <em>New York</em> could have trumpeted the news on their cover, regardless of how Quinto framed the issue. But that was likely his strategy; he must have known that the relatively highbrow magazine would act more nonchalant than, say, <em>US Weekly</em>. This seems to be a deliberate move for Quinto, who has <a href="http://www.nytimes.com/2010/10/24/theater/24quinto.html?pagewanted=all">dodged</a> questions about his sexuality in the past. And it could be a model for the many celebrities who seem to feel <a href="http://www.good.is/post/the-most-important-gay-icon-of-all/">torn</a> between lying to the public and becoming the next gay poster child.</p><p> Of course, this strategy isn't new for other famous people who roll in circles that embrace gay culture. Adam Lambert, for instance, <a href="http://www.rollingstone.com/music/news/the-new-issue-of-rolling-stone-the-liberation-of-adam-lambert-20090609">discussed</a> his sexual orientation in a <em>Rolling Stone</em> interview, adding, "I don't think it should be a surprise for anyone to hear that I'm gay." (It wasn't.) But gay actors, especially male ones, have a special kind of conundrum: They fear that their heterosexual persona is key to scoring the major roles. Gay actor Rupert Everett has said bluntly that he regrets coming out back in the '90s, <a href="http://www.dailymail.co.uk/tvshowbiz/article-1232588/Rupert-Everett-Coming-gay-actor-ruined-career-Hollywood.html">claiming</a> it ruined his career. For actors, there's an enormous amount of pressure to preserve their image.</p><p> Maybe Quinto's admission is a sign that this is changing, especially since the actor has played both straight and gay characters onscreen. And it's already <a href="http://gawker.com/5850626/">inspired</a> at least one other TV personality to come out: Dan Kloeffler, the host of ABC's <em>World News Now, </em>who name-checked Quinto on the channel's website. Here's hoping that, eventually, a celebrity's sexual orientation won't be a factor at all.</p><p> <em><a href="http://www.flickr.com/photos/pixellle/3814249019/sizes/l/in/photostream/">Photo</a> via (<a href="http://creativecommons.org/licenses/by/2.0/">cc</a>) Flickr user <a href="http://www.flickr.com/photos/pixellle/">preloc and kanar</a></em></p><br/>