Articles
The fashion industry is ephemeral – but fashion photography makes a lasting impression, as photographers document every trend that endures or fades away.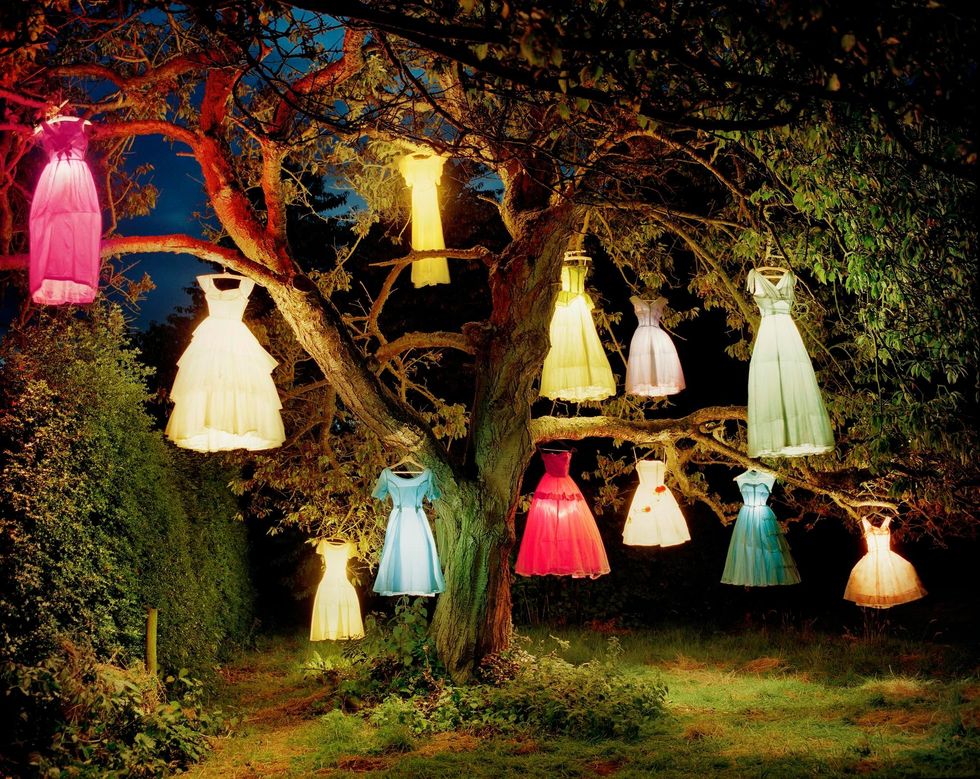 The Dress-Lamp Tree, England, 2002. Photo by Tim Walker, courtesy of Steven and Catherine Fink and the J. Paul Getty Museum.
Fashion is the art of fleeting moments.
<p>With each passing season, new styles emerge on the scene, sometimes pushing the boundaries of fashion's ever-entwined balance between form and function. It's an almost evolutionary process, as the lengths of hemlines and pant legs wax and wane over each rapidly passing year. </p><div id="upworthyFreeStarVideoAdContainer"><div id="freestar-video-parent"><div id="freestar-video-child"></div></div></div><p>By nature, the fashion industry is ephemeral. But fashion photography makes a lasting impression, as photographers document every trend that endures or fades away.</p><p>Fashion photography is a record of how we see and how we want to be seen. It's a art form and advertising. It's a bastion of consumerism and capitalism, the planned obsolescence that makes us buy new clothes whether we need them or not.</p><p>And most of all, fashion photography can be a mirror of cultural mores at the time.</p><p><a href="http://www.getty.edu/visit/cal/events/ev_2015.html">Icons of Style: A Century of Fashion Photography, 1911-2011</a>, a new exhibition at the Getty Museum in Los Angeles, presents a century of fashion photography and explores the cultural impact of these striking images. After all, fashion is a sign of the times: the austere practicality of the Great Depression and World War II; the glamorous golden age of fashion photography of the 1950s, when photographers like Richard Avedon captured the works of iconic designers Christian Dior and Cristóbal Balenciaga; the youth culture explosion of the 1960s. Then there's the cultural shift from the civil rights era and beyond, recalibrating beauty standards towards inclusivity and representation.</p><p>Today, fashion photography has been democratized, as the power of creation has been placed into the hands of everyone wielding a phone with a camera. For the Instagram-obsessed, everyday life has become an endless array of posed moments, but each selfie and snapshot is influenced by the intrepid fashion photographers who started it all.</p><p>Below, curator Paul Martineu shares some insights about some photographs from the collection that offered ground-breaking moments in fashion photography.</p><p class="shortcode-media shortcode-media-rebelmouse-image"> <img class="rm-shortcode" data-rm-shortcode-id="c4db57396b9ec5c9343f31b003afaf74" data-rm-shortcode-name="rebelmouse-image" id="e9225" type="lazy-image" data-runner-src="https://assets.rebelmouse.io/eyJhbGciOiJIUzI1NiIsInR5cCI6IkpXVCJ9.eyJpbWFnZSI6Imh0dHBzOi8vYXNzZXRzLnJibC5tcy8xOTg3MDQ5OC9vcmlnaW4uanBnIiwiZXhwaXJlc19hdCI6MTY0Nzg4Mjc1N30.iw2Eybak5ra6fG5ES2zqAHZMRFxyjYcmesB7_BJOL6k/img.jpg?width=980"/> <small class="image-media media-caption" placeholder="add caption..."></small> <small class="image-media media-photo-credit" placeholder="add photo credit...">Kate Moss in Times Square, 1994. Photo by Glen Luchford, courtesy of The J. Paul Getty Museum, Los Angeles, gift of Glen and Tanya Luchford.</small> </p><p><span style="-webkit-font-kerning: none;">"Created when Times Square was still a rather seedy and dangerous place, this photograph of the model Kate Moss presents her as a street tough."</span></p><p class="shortcode-media shortcode-media-rebelmouse-image"> <img class="rm-shortcode" data-rm-shortcode-id="d9b32fb663966ba400b566d9b44656cb" data-rm-shortcode-name="rebelmouse-image" id="71933" type="lazy-image" data-runner-src="https://assets.rebelmouse.io/eyJhbGciOiJIUzI1NiIsInR5cCI6IkpXVCJ9.eyJpbWFnZSI6Imh0dHBzOi8vYXNzZXRzLnJibC5tcy8xOTg3MDQ5OS9vcmlnaW4uanBnIiwiZXhwaXJlc19hdCI6MTY3MDQxNTk3OH0.BVfq2mY_cOG870UdKhCw1QIAAJJm7rA4DQcc4pXtohQ/img.jpg?width=980"/> <small class="image-media media-caption" placeholder="add caption..."></small> <small class="image-media media-photo-credit" placeholder="add photo credit...">Sveta for Hussein Chalayan, 2000.</small> </p><p><span style="-webkit-font-kerning: none;">"This contemporary photograph is rooted in the art of 19th-century France. It is reminiscent of Edgar Degas' pastels of ballet dancers in terms of its composition and color."</span></p><p class="shortcode-media shortcode-media-rebelmouse-image"> <img class="rm-shortcode" data-rm-shortcode-id="e00fc819960a50e7a68f163e0e22a20b" data-rm-shortcode-name="rebelmouse-image" id="cd6fe" type="lazy-image" data-runner-src="https://assets.rebelmouse.io/eyJhbGciOiJIUzI1NiIsInR5cCI6IkpXVCJ9.eyJpbWFnZSI6Imh0dHBzOi8vYXNzZXRzLnJibC5tcy8xOTg3MDUwMS9vcmlnaW4uanBnIiwiZXhwaXJlc19hdCI6MTY2Njk0ODEwNn0.0H0e-FE-UF9VaRnDfBb47I11h8D5RqsAkxe2ANns1qY/img.jpg?width=980"/> <small class="image-media media-caption" placeholder="add caption..."></small> <small class="image-media media-photo-credit" placeholder="add photo credit...">(Left)Woman Examining Man, Saint-Tropez, 1975.(Right) Woman into Man, Paris, 1979. Photos by Helmut Newton, courtesy of The J. Paul Getty Museum, Los Angeles, gift of the Helmut Newton Foundation.</small> </p><p><span style="-webkit-font-kerning: none;">"Designer Yves Saint Laurent put women in men's clothes during the 1960s — think of <a href="https://www.whowhatwear.com/yves-saint-laurent-le-smoking-suit">Le Smoking</a> and <a href="https://www.nytimes.com/2017/02/17/t-magazine/fashion/ten-looks-that-defined-yves-saint-laurent.html">the Safari Look</a>. Newton picked up on this and incorporated gender role reversal into some of his most iconic compositions."</span></p><p class="shortcode-media shortcode-media-rebelmouse-image"> <img class="rm-shortcode" data-rm-shortcode-id="576dfde612a9c3df52978f574b0b78e5" data-rm-shortcode-name="rebelmouse-image" id="4c33f" type="lazy-image" data-runner-src="https://assets.rebelmouse.io/eyJhbGciOiJIUzI1NiIsInR5cCI6IkpXVCJ9.eyJpbWFnZSI6Imh0dHBzOi8vYXNzZXRzLnJibC5tcy8xOTg3MDUwMi9vcmlnaW4uanBnIiwiZXhwaXJlc19hdCI6MTYxNDI4Mjc0Nn0.rv_HdhFzNa2vuPdcYnv_YH2s7IjbTRojUVYwkrb_V90/img.jpg?width=980"/> <small class="image-media media-caption" placeholder="add caption..."></small> <small class="image-media media-photo-credit" placeholder="add photo credit...">Veruschka in Yves Saint Laurent Safari Jacket, 1968. Photo by Franco Rubartelli, courtesy of Danziger Gallery, and the J. Paul Getty Museum, Los Angeles.</small> </p><p><span style="-webkit-font-kerning: none;">"During a six-year stint at Vogue, Rubartelli visited far-flung locales and created some of the most memorable images of the period."</span></p><p class="shortcode-media shortcode-media-rebelmouse-image"> <img class="rm-shortcode" data-rm-shortcode-id="337f8157fb6397b7bd3d52e1d64ef452" data-rm-shortcode-name="rebelmouse-image" id="48c6f" type="lazy-image" data-runner-src="https://assets.rebelmouse.io/eyJhbGciOiJIUzI1NiIsInR5cCI6IkpXVCJ9.eyJpbWFnZSI6Imh0dHBzOi8vYXNzZXRzLnJibC5tcy8xOTg3MDUxMC9vcmlnaW4uanBnIiwiZXhwaXJlc19hdCI6MTYzNTY0MTU2OH0.TxRcTem9XK7QjWSi10oJF-61oiTtIu4LS-1p95RA-ls/img.jpg?width=980"/> <small class="image-media media-caption" placeholder="add caption..."></small> <small class="image-media media-photo-credit" placeholder="add photo credit...">(Left) Dapper, 1980. (Right) The Latin Connection, 1982. Photos by Jamel Shabazz, courtesy of Jamel Shabazz, and the J. Paul Getty Museum, Los Angeles.</small> </p><p><span style="-webkit-font-kerning: none;">"Shabazz's urban street photographs captured and preserved early hip-hop fashions before the distinctive style was fully commodified and gained worldwide prominence."</span></p><p class="shortcode-media shortcode-media-rebelmouse-image"> <img class="rm-shortcode" data-rm-shortcode-id="da427fce64743174daf38b10e11394ea" data-rm-shortcode-name="rebelmouse-image" id="1d01f" type="lazy-image" data-runner-src="https://assets.rebelmouse.io/eyJhbGciOiJIUzI1NiIsInR5cCI6IkpXVCJ9.eyJpbWFnZSI6Imh0dHBzOi8vYXNzZXRzLnJibC5tcy8xOTg3MDUwNi9vcmlnaW4uanBnIiwiZXhwaXJlc19hdCI6MTYzMDkzMTA3N30.uqbu7g9vRuxKCkSl37McV6EKlsOAchRwE5_DxDHQCS0/img.jpg?width=980"/> <small class="image-media media-caption" placeholder="add caption..."></small> <small class="image-media media-photo-credit" placeholder="add photo credit...">Fred with Tires, Hollywood, 1984. Photo by Herb Ritts, courtesy of The J. Paul Getty Museum, Los Angeles, gift of the Herb Ritts Foundation.</small> </p><p><span style="-webkit-font-kerning: none;">"During the 1980s, Ritts – along with his contemporaries Robert Mapplethorpe and Bruce Weber – provoked a radical change in the depiction of the male nude."</span></p><p class="shortcode-media shortcode-media-rebelmouse-image"> <img class="rm-shortcode" data-rm-shortcode-id="abc2d022992642eb0ee67b18588145fc" data-rm-shortcode-name="rebelmouse-image" id="4f0cd" type="lazy-image" data-runner-src="https://assets.rebelmouse.io/eyJhbGciOiJIUzI1NiIsInR5cCI6IkpXVCJ9.eyJpbWFnZSI6Imh0dHBzOi8vYXNzZXRzLnJibC5tcy8xOTg3MDUwNy9vcmlnaW4uanBnIiwiZXhwaXJlc19hdCI6MTYyNTAzNDk4Nn0.9u4qicdJ9N38Id5EBEDqZRGSkN5tVgXsgKdwrOFPTl0/img.jpg?width=980"/> <small class="image-media media-caption" placeholder="add caption..."></small> <small class="image-media media-photo-credit" placeholder="add photo credit...">Beverly Johnson, Vogue, August 1974. Photo by Francesco Scavullo and Vogue, courtesy of the Private Collection.</small> </p><p><span style="-webkit-font-kerning: none;">"In 1966, Donyale Luna became the first African-American model to grace the cover of British Vogue, breaking an important race barrier. Eight years later, Beverly Johnson was the first African-American model to be featured on the cover of American Vogue."</span></p><p class="shortcode-media shortcode-media-rebelmouse-image"> <img class="rm-shortcode" data-rm-shortcode-id="b2efd7b3c8b9f8e0ad817119771505e9" data-rm-shortcode-name="rebelmouse-image" id="3b06c" type="lazy-image" data-runner-src="https://assets.rebelmouse.io/eyJhbGciOiJIUzI1NiIsInR5cCI6IkpXVCJ9.eyJpbWFnZSI6Imh0dHBzOi8vYXNzZXRzLnJibC5tcy8xOTg3MDUxMS9vcmlnaW4uanBnIiwiZXhwaXJlc19hdCI6MTYyMjYyMDU1OX0.hGv0E0YMtFqGvoRkzIOkNA2k4aLN-WqpQb8_Ys4pFFw/img.jpg?width=980"/> <small class="image-media media-caption" placeholder="add caption..."></small> <small class="image-media media-photo-credit" placeholder="add photo credit...">(Left) Mercer Street, New York, August 25, 2011, 2011. (Right) Style Profile, Ni'ma Ford, December 22, 2011, 2011. Photos by Scott Schuman, courtesy of Danziger Gallery, and the J. Paul Getty Museum, Los Angeles.</small> </p><p><span style="-webkit-font-kerning: none;">"In 2005, Schuman launched <a href="http://www.thesartorialist.com/">The Sartorialist</a>, the first street style blog to capture the attention of the fashion world. He began by photographing industry editors as they headed in and out of fashion shows in London, Milan, Paris, and New York, and then posting the pictures on his blog."</span></p><p class="shortcode-media shortcode-media-rebelmouse-image"> <img class="rm-shortcode" data-rm-shortcode-id="2c967008aa9cb78c0a39a19bd5ff5f7f" data-rm-shortcode-name="rebelmouse-image" id="ecb3e" type="lazy-image" data-runner-src="https://assets.rebelmouse.io/eyJhbGciOiJIUzI1NiIsInR5cCI6IkpXVCJ9.eyJpbWFnZSI6Imh0dHBzOi8vYXNzZXRzLnJibC5tcy8xOTg3MDQ5Ny9vcmlnaW4uanBnIiwiZXhwaXJlc19hdCI6MTY0NDE3MTg5Mn0.jDc0WUKyXmLphV2vQvricWSvd-7rF4-gI2pVEmXBHz0/img.jpg?width=980"/> <small class="image-media media-caption" placeholder="add caption..."></small> <small class="image-media media-photo-credit" placeholder="add photo credit...">Rose in Golden Trousers, 1993. Photo by Corinne Day, courtesy of the Estate of Corinne Day and Gimpel Fils, and the J. Paul Getty Museum, Los Angeles.</small> </p><p>"In the early 1990s, Day helped popularize a new type of fashion image, one that featured unkempt models in shabby environments. Using harsh lighting, these photographs captured a gritty realism that flew in the face of the highly idealized imagery of the previous decade."</p>