Articles
This article is part of The GOOD (and ReadyMade) Guide to Slowing Down, from GOOD Issue 18. Read more of the guide...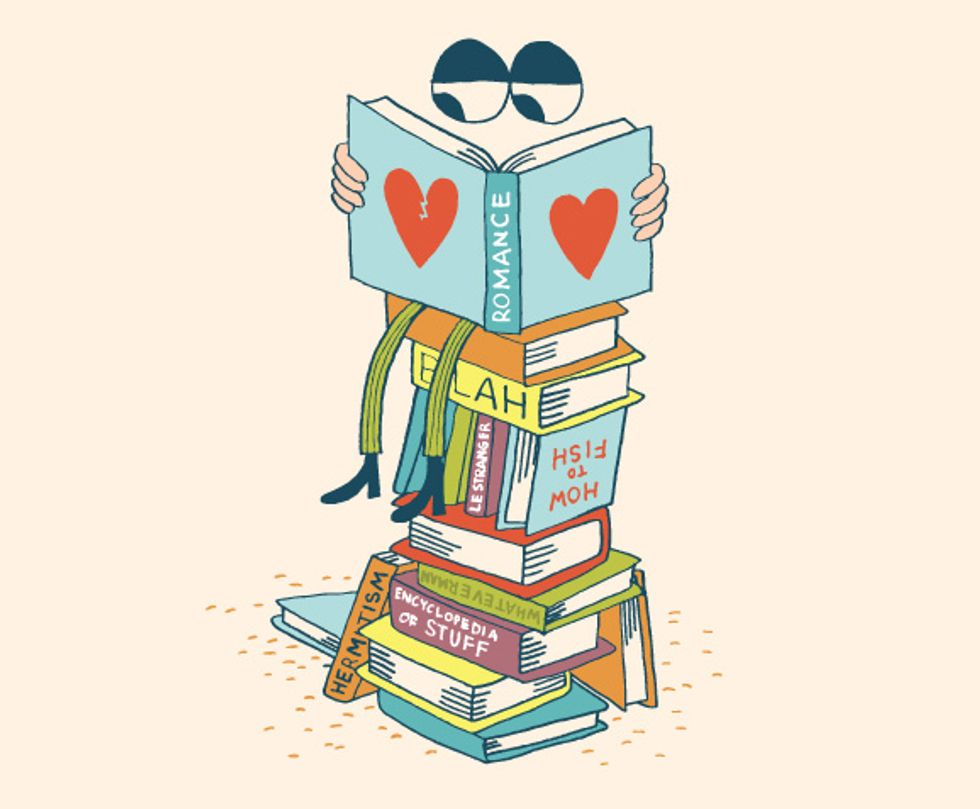 This article is part of The GOOD (and ReadyMade) Guide to Slowing Down, from GOOD Issue 18. Read more of the guide here.
Finally
, turn off your TV, computer, stereo, iPod, cell phone, Kindle, etc. and… read a book. Yes, that's right, go old school and pick up a printed piece of literature. Not only does reading a book take some time but-yes, we're biased-print just makes everything a little better. Here are 10 books that will help you slow down, relax, and reconsider your place in the world.
Possum Living: How to Live Well Without a Job and With (Almost) No Money, by Dolly Freed
A 1970s counterculture classic just rereleased by Tin House, written by an 18-year-old who lived outside of the "money economy" with her father for five years. With a new afterword by the author.
Growing Up Absurd: Problems of Youth in the Organized System, by Paul Goodman
First published in 1956, the book is a screed against the options open to young people in a world that the author saw becoming dominated by The Man in the Gray Flannel Suit–style conformity. Old-fashioned yet prescient.
Then We Came to the End, by Joshua Ferris
Engrossing and very funny novel about the absurdity of the modern workplace, told in first-person plural by a group of employees waiting for the other shoe to drop during the technology bust of the early 2000s.
Bicycle Diaries, by David Byrne
The world's great cities seem even more spectacular and provocative on bike, through the eyes of Talking Heads front man David Byrne. He raves, muses, and rides-only ranting when completely necessary. In one case he describes Southern California as "a residential theme park in what is essentially a desert." It's one for the ages.
Brave New World, by Aldous Huxley
In this new world, a hyper-controlled environment, society worships Henry Ford, the assembly-line system takes the place of natural reproduction and outcasts feel enormous pressure to fit in. Questions about the hive mind and individuality spark interesting conversations.
The Outlaw Bible of American Poetry, edited by Alan Kaufman and S.A. Griffin
Just from its sheer size, this one is impressive. Within the mass lie dozens of poets, musicians, artists, novelists, journalists, and other riffraff from the 20th-century poetic undercurrent. Definitely a book that you can pick up time and again and always find something new.
The Elements of Style Illustrated, by William Strunk, Jr., and E. B. White, illustrated by Maira Kalman
The ubiquitous journalism-school text got quite the makeover. With subtle humor and vivid colors, Kalman put brush to paper to show the many rules of the English language, illuminating proper word choices with whimsical pictures.
Great Peacemakers: True Stories from Around the World, by Ken Beller and Heather Chase
True stories of 20 influential people-from peace powerhouses and lesser-known advocates alike-are enough to bring out the activist in all of us. It's actually what comes after the book, the inspiration and subsequent discussion, that makes it so powerful.
Conquest of the Useless: Reflections from the Making of Fitzcarraldo, by Werner Herzog
Herzog delved deep into the rain forests of Ecuador and Peru in the late 1970s and early 1980s to make a movie about a rubber baron (Fitzcarraldo) who needs to haul a 320-ton steamship over a giant hill to access rich rubber resources. Things went disastrously wrong with the production, but still resulted in an amazing film. It's a compelling story on the big screen but maybe even more so on the printed page.
Rats: Observations on the History and Habitat of the City's Most Unwanted Inhabitants, by Robert Sullivan
Simply the best book ever written on vermin and, if you ask us, one of the best books ever written, period. Sullivan takes to the streets of America to study those most hated and feared critters. What could have been a tired and trite treatise on a rather disgusting subject is turned into a remarkably funny adventure through the real underworld.
Our Good Guide to Slowing Down was a unique collaboration with our friends at ReadyMade magazine. Check out their good work at ReadyMade.com, and follow them on Twitter at @ReadyMadeTweets.Illustration by Tim Lahan