Articles
Spruce up Your Home (at Least Once a Year)
This article is part of The GOOD (and ReadyMade) Guide to Slowing Down, from GOOD Issue 18. Read more of the guide here. A simple...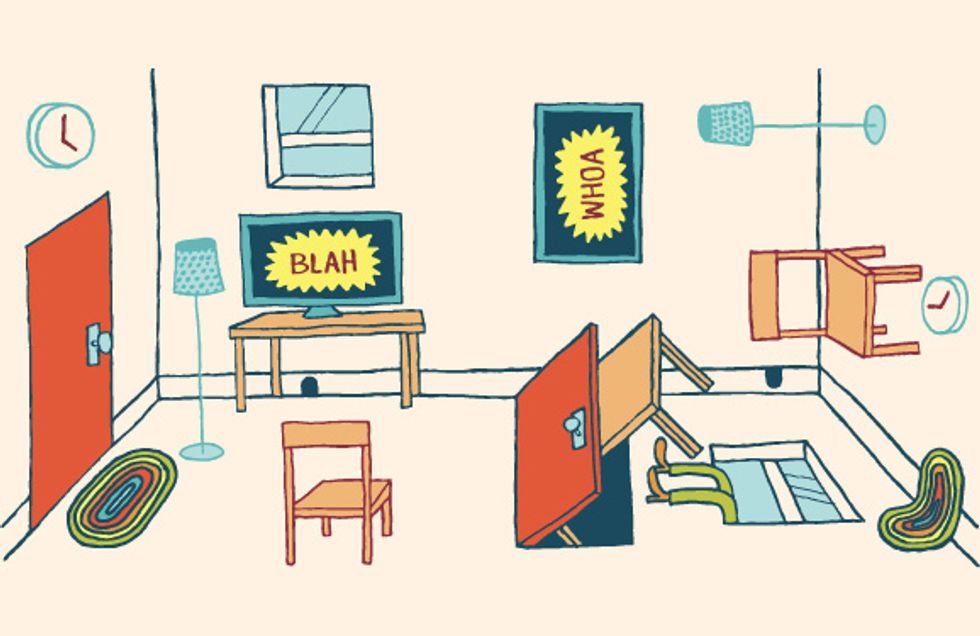 ---
This article is part of The GOOD (and ReadyMade) Guide to Slowing Down, from GOOD Issue 18. Read more of the guide here.
A simple rearranging
of your living space will not only make you slow down but will also brighten your mood, obviate the need to buy more crap, and bring you a whole new space on a budget of practically zero.
1. Try moving furniture to different rooms. Take that sleek chair from your bedroom, for instance. Wouldn't it look lovely next to your puffy couch instead of that comfortable recliner? Then move the recliner to a little nook facing a window—the perfect afternoon reading spot.
2. Troll Etsy for handmade art without gallery prices. Go with your gut: If something strikes you right off the bat, chances are you can find a place for it in your home. Look for smaller, cheaper pieces too, and form a cluster.
3. Not everything has to sit against a wall. Play with the proportions of a room, and don't get stuck always putting the couch flat against the wall. Think angles, intimate spaces, and flow. If the most popular room in your house is the kitchen, don't place the sofa facing away from it.
4. Have an awesome view of the changing leaves? Make that your focal point in the fall. The fireplace makes for a cozy focus in winter, then in the wet spring, you may want to swtich to DVD watching and switch it to the television. Just call it seasonal impression.
5. If dealing with the mess of painting or the anxiety of choosing the perfect color stresses you out, try panels of fabric instead. Hang them on one wall, floor to ceiling, for the greatest impact: instant texture, pattern, color, and personality.
6. Ugly carpet is the worst. Instead of replacing it, get a rug. Sure, they can be expensive, but if you get a display model, it'll save a lot of dough and cover a ton of surface area.
7. Make piles work for you. Magazines with no rack to hold them? Put a stack or two together and place a solid piece of material up top to form a table. Same is true for books: Secure a few bundles with large, industrial rubber bands to form a cube. Instant ottoman.
8. Anytime you come across fabric that speaks to you, snatch it up. You never know when those lumpy throw pillows will need a new cover, and you'll already have the beloved fabric on hand.
9. Plants breathe life into a space. Literally. If your room is stagnant, make a windowsill herb garden. Take an old loaf pan, add some sand and soil, and plant two or three of your favorite seedlings. Not only will it look charming, it will also bring fresh flavors straight to the kitchen.
Our Good Guide to Slowing Down was a unique collaboration with our friends at ReadyMade magazine. Check out their good work at ReadyMade.com, and follow them on Twitter at @ReadyMadeTweets.Illustration by Tim Lahan