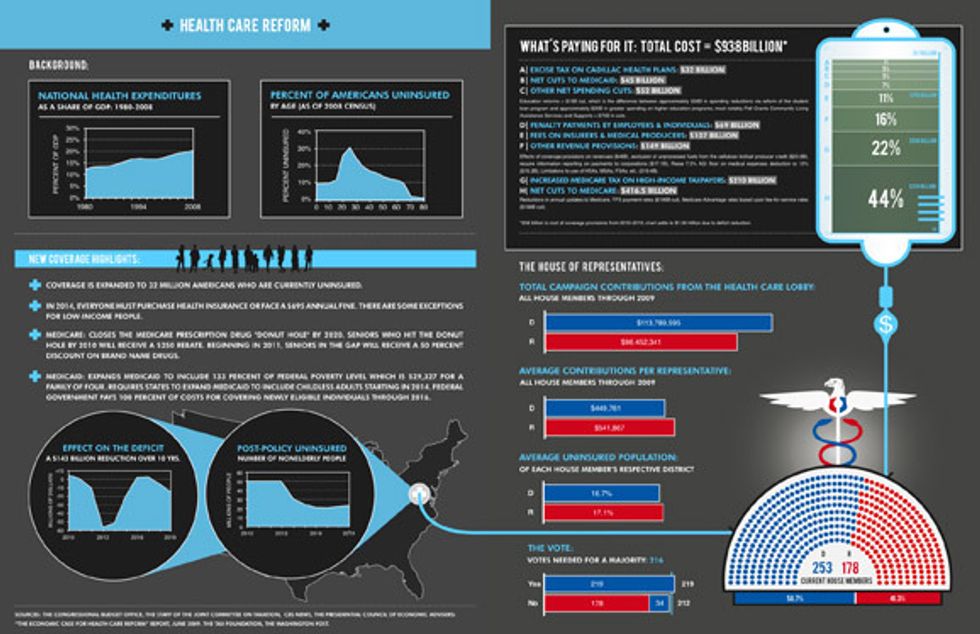 It's time to
announce the winner of our
latest infographic project
. This one was a hard one, both for you and for us to judge. The health-care bill is complicated and fraught and any parsing of it (or deciding on other people's parsing) was anything but easy. It was so hard, in fact, that we're unveiling a new way to award these contests. We'll be offering prizes in three categories: best information, best design, and best overall infographic. Every one of the three wins our prize package.
Best overall: Nate Clancy.
Clancy's piece (above) is an excellent primer on all aspects of the health-care bill, from its contents, to its budget, to the fight for its passage. Spend a few minutes with this piece, and you will have a much broader understanding of U.S health care going forward.
Click here for a full version
.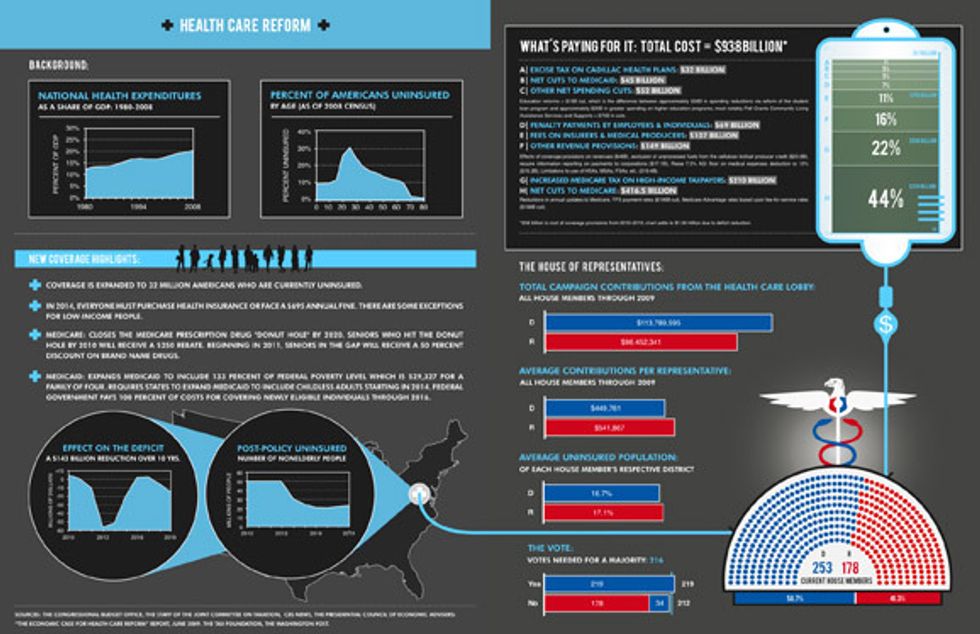 </a><br/><br/><br/><strong>Best information: Nicole Maria Rincon. </strong>Rincon's straight foward presentation of the facts of the bill lets you know exactly what we will be getting in terms of health-care reform over the next 10 years. The pros and cons are incredibly helpful, too. <a href="http://awesome.good.is/transparency/web/usersubmissions/healthcare/rincon/index.html">Click here for the full version</a>, it's much longer than the image above.<a href="http://awesome.good.is/transparency/web/usersubmissions/healthcare/giannini/index.html"><p class="shortcode-media shortcode-media-rebelmouse-image"> <img class="rm-shortcode" data-rm-shortcode-id="63d7203347a22a24d88eb69c814ee9be" data-rm-shortcode-name="rebelmouse-image" id="92ff7" type="lazy-image" data-runner-src="https://assets.rebelmouse.io/eyJhbGciOiJIUzI1NiIsInR5cCI6IkpXVCJ9.eyJpbWFnZSI6Imh0dHBzOi8vYXNzZXRzLnJibC5tcy8xOTkwNTUzNy9vcmlnaW4uanBnIiwiZXhwaXJlc19hdCI6MTYzOTU1NjUwNX0.P7iJr4H9_gA7XG8cAcqZyJPuFShNKbFTHQaXHCQHq8A/img.jpg?width=980"/> <small class="image-media media-caption" placeholder="add caption..."></small> <small class="image-media media-photo-credit" placeholder="add photo credit..."></small> </p></a><br/><br/><br/><strong>Best design: Marco Giannini</strong>. Giannin's visual concept, the health-care-bill-as-subway-map was excellent, and the icon work and various levels of information are also great. It's an infographic you're happy to lose yourself in for a long time. <a href="http://awesome.good.is/transparency/web/usersubmissions/healthcare/giannini/index.html">Click here for a full version.</a><br/><br/>You can see all the submissions <a href="http://www.good.is/post/create-an-infographic-about-the-new-health-care-bill-submissions/">here</a>. We would, as always, like to thank everyone who participated. This decision was incredibly hard. Check back soon for our next infographic project.<br/><br/><br/><br/><br/><br/><br/><br/><br/><br/><br/><br/><br/><br/><br/><br/><br/><br/><br/><br/><br/><br/>