Articles
"The Tree Church" is more than just a unique place of worship, it's a serene combination of form and function.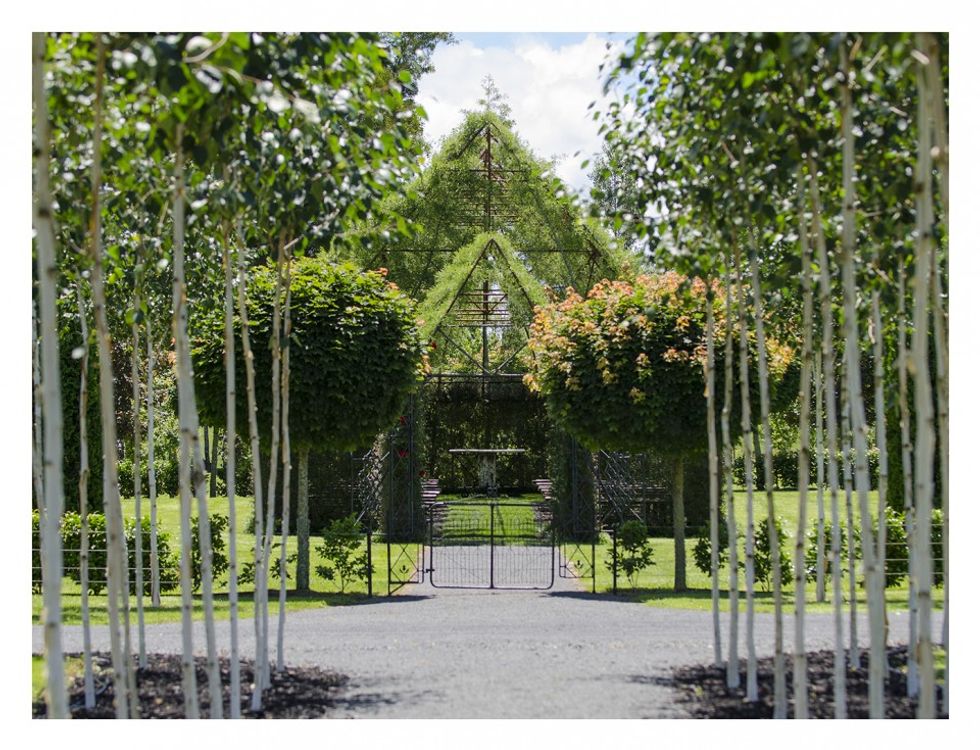 image via treechurch.co.nz
Tell someone that a building was built out of wood, and you're likely to get a blank "so what?" stare right back in your face. After all, a building made of lumber is hardly a new or noteworthy development in the thousands of years of human architectural progress. While lumber construction might not be so eyebrow-raising, living-tree construction is something altogether different.
<p>New Zealander Barry Cox is the arboreal brains behind "Tree Church," a stunningly beautiful structure created entirely out of living, growing trees. Cox, who owns a <a href="http://treelocations.co.nz/">tree-planting and relocation business</a>, created the structure from <a href="http://treechurch.co.nz/">five different types of planted trees</a>, each of which was guided into place using a temporarily constructed iron frame. The result is an expertly constructed, one hundred percent tree-based building that walks a fluid line between shelter from, and reveling in, nature. </p><p><span class="rm-shortcode" data-rm-shortcode-id="1a141c16f607925a3c04d3a2add52f58" style="display:block;position:relative;padding-top:56.25%;"><iframe frameborder="0" height="auto" type="lazy-iframe" scrolling="no" data-runner-src="https://www.youtube.com/embed/p_U80p5-o4s?rel=0" style="position:absolute;top:0;left:0;width:100%;height:100%;" width="100%"></iframe></span></p><p>As impressive as the structure itself is the fact that its construction took only four years from start to finish. To accomplish this feat, Cox used a specially built "tree spade" which is able to move and replant entire trees up to six meters tall. He <a href="http://www.stuff.co.nz/life-style/home-property/nz-gardener/69848179/the-man-who-grew-a-church-from-trees">explained</a> to <em>New Zealand Gardener:</em> </p><blockquote><p>"I walked out my back door one day and thought, 'That space needs a church' – and so it began. I cleared the area in April 2011 and made the iron frame, drawing on all the research I had done over the years of studying churches. I wanted the roof and the walls to be distinctly different, to highlight the proportions, just like masonry churches."</p></blockquote><p>Billed as a "welcomed retreat from society," the Tree Church officially opened this past winter. It seats one hundred at a time, and can be rented out for events, or simply visited by anyone looking to escape the concrete and fluorescent lights of city life by spending a little time with a wholly different kind of roof over their head. </p><p class="shortcode-media shortcode-media-rebelmouse-image"> <img class="rm-shortcode" data-rm-shortcode-id="d02cf0e0a6ec6d14fba7479e1d91c83a" data-rm-shortcode-name="rebelmouse-image" id="062c7" type="lazy-image" data-runner-src="https://assets.rebelmouse.io/eyJhbGciOiJIUzI1NiIsInR5cCI6IkpXVCJ9.eyJpbWFnZSI6Imh0dHBzOi8vYXNzZXRzLnJibC5tcy8xOTg0MTkyNS9vcmlnaW4uanBnIiwiZXhwaXJlc19hdCI6MTYxODE2ODMyOX0.v00fQgI6D_pcso_5qWOpVhgjRGL1_3diDgA0jyXVhYc/img.jpg?width=980"/> <small class="image-media media-caption" placeholder="add caption..."></small> <small class="image-media media-photo-credit" placeholder="add photo credit...">image via treechurch.co.nz</small> </p><p class="shortcode-media shortcode-media-rebelmouse-image"> <img class="rm-shortcode" data-rm-shortcode-id="71d4a56f995881fb3ddc4a4071df39da" data-rm-shortcode-name="rebelmouse-image" id="b8d62" type="lazy-image" data-runner-src="https://assets.rebelmouse.io/eyJhbGciOiJIUzI1NiIsInR5cCI6IkpXVCJ9.eyJpbWFnZSI6Imh0dHBzOi8vYXNzZXRzLnJibC5tcy8xOTg0MTkyNy9vcmlnaW4uanBnIiwiZXhwaXJlc19hdCI6MTY0NTczMDQ1NH0.EqpO8X_n693HUUkW7VPKDwr0G7-KORtlQqmxkVsbCGA/img.jpg?width=980"/> <small class="image-media media-caption" placeholder="add caption..."></small> <small class="image-media media-photo-credit" placeholder="add photo credit...">image via treechurch.co.nz</small> </p><p style="text-align: right;">[<em>via <a href="http://www.boredpanda.com/living-tree-church-nature-installation-barry-cox-new-zealand/">bored panda</a></em>]</p>