Articles
What new scientific breakthrough will they hatch next?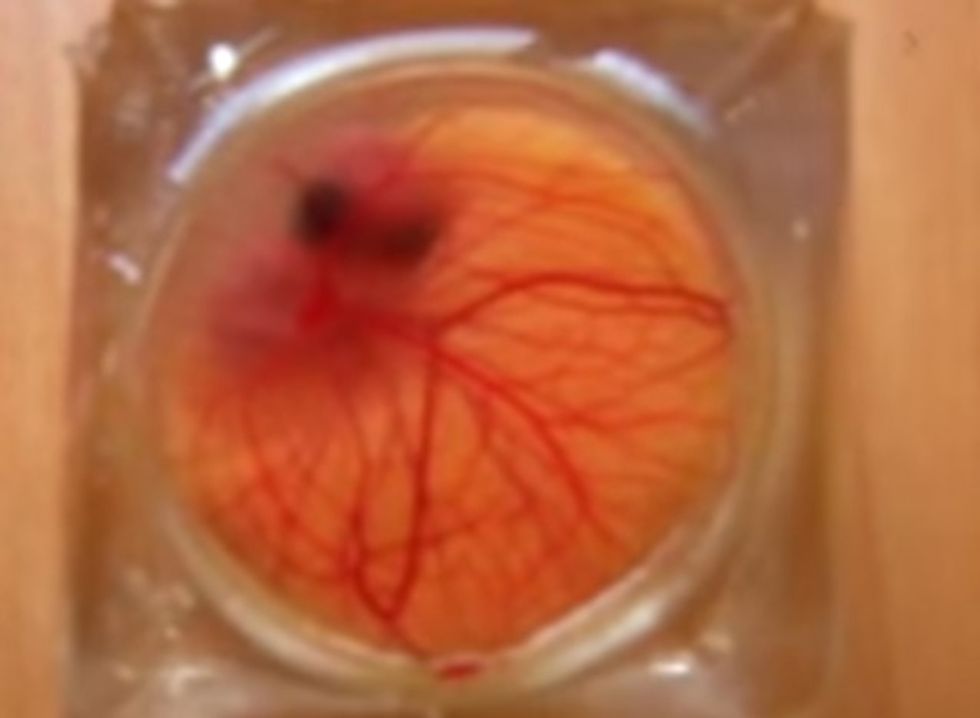 image via youtube screen capture
Ordinarily, to see how an embryo grows and develops inside an egg, researchers have largely relied on "windowing," a process in which a segment of shell is manually cut away to create a hole for observation. But thanks to a recent breakthrough by researchers from Bejing's Tsinghua University Department of Biomedical Engineering, it's now possible to monitor an embryo inside an egg through an artificially created, entirely-transparent shell – no broken eggs required.
<p>The Tsinghua University team has grown embryos inside their organic, silicone-based transparent shells for up to seventeen days – about three days short of a typical hatch-date. This has given them a unique window into their embryonic subjects, and will, the team hopes, allow for "blood and other types of organic fluids to be injected inside for early diagnosis, and rare gene variations to be cultured inside."</p><p>As <em>Science Alert</em> <a href="http://www.sciencealert.com/watch-scientists-have-created-a-see-through-eggshell-to-watch-embryo-development">explains</a>, the development of the transparent shell is part of the larger trend toward "<a href="http://www.sciencealert.com/body-on-a-chip-takes-the-guesswork-and-animals-out-of-drug-testing">on-a-chip</a>" technologies, which "use stem cells to build a miniature replica of a real-life human organ so you can observe its reactions to as many new drugs and treatments as you like." By creating such replicas, scientists can understand and predict how humans might react to any number of experimental treatments, without resorting to techniques such as animal testing.</p><p>Here's what the transparent shell looks like: </p><p><span class="rm-shortcode" data-rm-shortcode-id="fde82829d0706759227607cd66fdbef6" style="display:block;position:relative;padding-top:56.25%;"><iframe frameborder="0" height="auto" type="lazy-iframe" scrolling="no" data-runner-src="https://www.youtube.com/embed/QVrCI6sCNO8?rel=0" style="position:absolute;top:0;left:0;width:100%;height:100%;" width="100%"></iframe></span></p><p><a href="http://link.springer.com/article/10.1007%2Fs11431-014-5737-4">Writing</a> in the <em>Science China Technological Sciences</em> journal, the researchers explains that their "egg-on-a-chip" breakthrough:</p><blockquote><p>...not only provides an ideal transparent imaging platform for studying functional embryo development including life mystery, but also promises a future strategy for "lab-on-an-egg" technology which may be important in a wide variety of either fundamental or practical areas.</p></blockquote><p>In other words: Transparent eggs might be great for scientific research, but probably aren't going to hit your grocery store shelves anytime soon. </p>