Articles
Brad Pitt and Angelina Jolie can afford to buy the most ethical diamond ring on the market. The knockoff version isn't so innocent.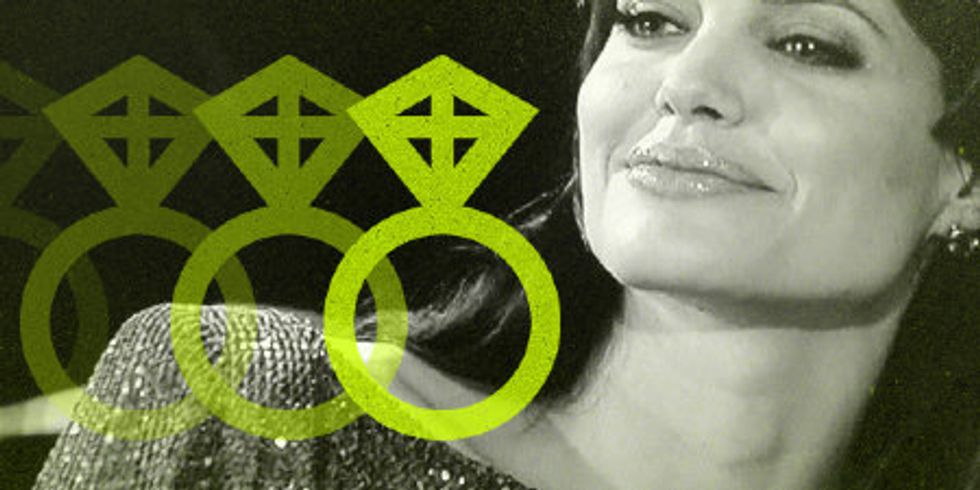 Angelina Jolie and Brad Pitt have built an image as Hollywood's most conscientious power couple—adopters of orphans, rebuilders of New Orleans, ambassadors to the U.N. So when the domestic partners announced their long-awaited engagement this month, I was a little surprised to learn that Pitt had gifted Jolie a new
diamond
ring. I assumed that a couple of their humanitarian pedigree would go for something a little less ethically ambiguous.
Pitt and Jolie can afford to buy the most conflict-free diamond ring on the market. Pitt is estimated to have spent a year—and $250,000—finalizing the design with jeweler-to-the-stars Robert Procop, who had previously partnered with Jolie herself to market charitable jewels to help fund a school in Afghanistan. But the origins of even the world's most closely watched diamond is not crystal clear.
<p> Jolie's ring was verified by the Kimberley Process, a scheme endorsed by the U.N. General Assembly that supposedly certifies the provenance of diamonds from conflict-free countries, requiring that a diamond be transported in a tamper-proof box along with a certificate attesting to its ethical sourcing. But a few months ago, Global Witness, an organization that helped initiate the Kimberley Process, <a href="http://www.bbc.co.uk/news/10307046">denounced it</a>. Global Witness claims the certifications themselves are dubious and that the process does not account for government human rights violations, or even corrupt governmental institutions that profit directly from the diamond industry's exploitation.</p><p> And no matter how carefully sourced the Jolie-Pitt ring is, the couple's conscientious consumerism will not be passed on to the thousands of Brangelina devotees who will spring for <a href="http://content.usatoday.com/communities/entertainment/post/2012/04/jeweler-offers-knockoff-ring-like-angelina-jolies/1#.T5Yy5VHl2lI">the knockoff version</a>. Online retailer Gemvara is selling a lookalike it calls the "Evelyn" for $1,195. The jeweler calls it a "statement piece" on an "indie budget" but the statement it's making certainly isn't a humanitarian one. Gemvara claims that it is "not always possible to tell where a gemstone originates after it has been cut and polished," but that it does its best "to assure that all the gemstones [it sells] are responsibly mined." Gemvara then lists itself as a member of the<a href="http://www.agta.org/about/mission.html"> American Gem Trade Association</a>, with its "high ethical standards"—but the organization is chiefly concerned with ensuring that jewels are colored naturally, not that they're ethically sourced.</p><p> Even if newly engaged couples aren't copying Jolie's ring right off her finger, they are otherwise following their lead. Jolie and Pitt are American royalty. And while they've used their spotlight to support countless positive causes, Jolie's big rock helps reinforce the narrative that the size of the diamond on a woman's ring finger is essential to her romantic worth. Pitt and Jolie's choice legitimizes the sinister advertising of diamond engagement rings—whether from Procop or Kay Jewelers—that stretches back to the 19th century.</p><p> Cecil John Rhodes formed the De Beers Mining Company in 1888. At the time, South Africa supplied 90 percent of the world's diamonds, and Rhodes systematically acquired control of all of it. Rhodes established two policies that have <a href="http://www.amazon.com/The-Heartless-Stone-Journey-Diamonds/dp/0312339690">haunted the diamond industry</a> ever since: He artificially inflated the price of diamonds by cutting production in half, then put a stranglehold on the gem's distribution, limiting it to a single cartel of London middlemen called "The Syndicate." These days, De Beers systematically stockpiles diamonds in its London headquarters to keep market supply low. No one knows what the actual market value of a diamond would be in a free economy because the De Beers group has controlled its price and supply for over 125 years.</p><p> But Rhodes couldn't have done it alone—it took some significant marketing collusion to make romantics believe a diamond was the ultimate expression of love and fidelity. In the 1930s, at the brink of World War II, De Beers employed a prominent ad firm to help cinch the American market. A female copywriter, Frances Gerety, <a href="http://www.msnbc.msn.com/id/15842529/ns/world_news/t/diamonds-journey-wheres-market">spearheaded the campaign </a>to transform the diamond's reputation as a "trinket of the rich" to a necessary token for everyday couples. Gerety coined the phrase, "A diamond is forever, " and her agency pushed the bauble to Hollywood. Marilyn Monroe cemented the diamond's reign when she sang "Diamonds Are a Girl's Best Friend" in <em>Gentlemen Prefer Blondes</em>. The paparazzi zoom lenses trained on Jolie's ring finger suggest the diamond marketing campaign is still alive and well.</p><p> But it doesn't have to be that way. Diamond companies <a href="http://www.reuters.com/article/2009/06/10/us-luxury-summit-ring-idUSTRE5591JF20090610">launched a similar advertising blitz</a> in Japan starting in the 1960s, and the gemstone stuck there, too. In 1966, fewer than 1 percent of engagement rings in the country contained diamonds. By 1981, the number had leapt to 61 percent. In the 1990s, more than 90 percent of Japanese women received diamonds upon getting engaged. But once the 1997 Asian financial crisis hit, the trend reversed. Couples reassessed their finances and decided to spend money on mortgages and savings funds instead of artificially marked-up jewels. Now, Japanese diamond engagement rings have downsized. A watch is an acceptable substitute.</p><p> Americans have yet to loosen the diamond's grip on their ring fingers. Many were momentarily appalled when the controversy surrounding <a href="http://www.amnestyusa.org/sites/default/files/pdfs/cd_dl_actionguide_feb2007.pdf">conflict diamonds</a>—and the millions of people they've killed or misplaced—first surfaced in the late '90s. De Beers came under fire for its ties to diamonds sourced from Angola and Sierra Leone, among other African conflict zones. The issue even circled all the way back to Hollywood in 2006's <em>Blood Diamond</em>. But Americans alone still buy more than $30 billion worth of diamonds a year.</p><p> The pressure to spring for a big rock to confirm your epic, Hollywood-style romance is strong, but engaged couples do have options. As with all fashion industry promises of more ethical production practices, making engagement rings more ethical and sustainable is a process. Plenty of other precious gemstones can fit the bill—just slip one onto your left ring finger, and the world will get the message. And some diamonds are better than others: Consider supporting privately-held and run companies like <a href="http://artisanweddingrings.com">Artisan Wedding Rings</a> and <a href="http://www.brilliantearth.com">Brilliant Earth</a>, which source their diamonds from Canada and Namibia, countries with more sustainable mining processes and stricter labor regulations than controversial locales like Zimbabwe or Angola. These diamonds tend to be more expensive than those from the jeweler at the local mall, but cheaper than the markup that comes from a prestige brand like Tiffany's.</p><p> Couples can also consider passing on an old diamond instead of mining for a new one. I never longed for a platinum diamond ring, but when I got engaged earlier this year, I received just that in the form of a 1940s family heirloom. I won't play into the engagement ring pissing contest by claiming that wearing a hand-me-down ring makes me a better person (after all, I'm still wearing a diamond). But this is a piece that I'll wear every day of my life. Knowing that it was sourced from Aunt Dorothea herself instead of newly-cut from a conflict zone or packaged in an exploitative blue box made it a little easier to slip onto my hand.</p><p> <em><a href="http://www.flickr.com/photos/cuttlefish/5392778975/">Photo</a> via (<a href="http://creativecommons.org/licenses/by/2.0/">cc</a>) Flickr user <a href="http://www.flickr.com/photos/cuttlefish/">cuttlefish</a></em></p><br/>