Articles
As our first full month at GOOD LA comes to a close, we look back on the big stories, the big parties, and the big updates that shaped May.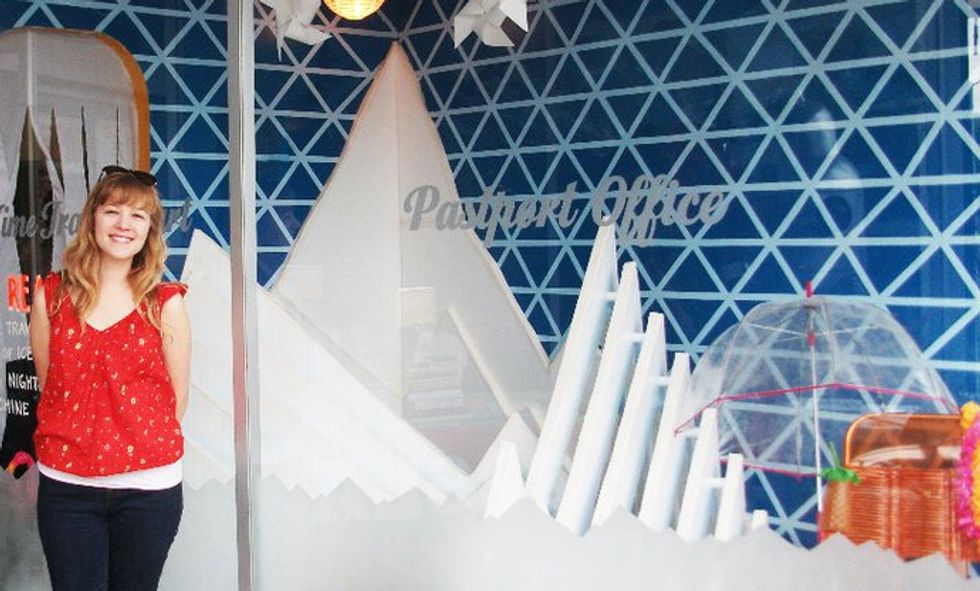 Today ends our first full month of
GOOD LA
, the first GOOD Local community for Los Angeles. To celebrate, here's a recap of our top stories, highlights from events, and a few updates from the field. Got something we should be covering next month? Email us at la[at]goodinc[dot]com See you in June!
We Got Back in Time: On May 14, we revealed the new window display of the Echo Park Time Travel Mart designed by Molly Burgess (photo at top). As neighbors strolled the Echo Park PDA Art Walk, 826LA unveiled the cool new window that lets anyone enjoy their summer reading in the icy environs of the Pleistocene Age. Check out the photos here.
<p> <strong>We Biked from Work to Beer</strong>: In partnership with the Los Angeles County Bicycle Coalition, we participated in Bike Week with a special <a href="http://www.good.is/post/happy-bike-week-l-a-bike-from-work-to-beer-on-thursday/">Bike <em>From</em> Work happy hour</a> at Angel City Brewing downtown. Friends traded stories of their two-wheeled commutes over craft beers as the <a href="http://www.twitter.com/benjerryswest">Ben &amp; Jerry's truck</a> handed out free ice cream. Check out photos <a href="http://www.facebook.com/media/set/?set=a.168868993172621.41862.112820538777467">here</a>.</p><p> <strong>We Saw the City All Jac'd Up</strong>: We <a href="http://www.good.is/post/project-angelenos-show-us-your-jacaranda-trees-in-bloom/">asked for your photos</a> of the "purple rain" that blankets Los Angeles streets every year, and we were absolutely floored by the response. Check out the <a href="http://www.good.is/post/submissions-angelenos-show-us-your-jacaranda-trees/">gorgeous slideshow of the jacaranda trees</a> that are still blooming all over L.A. And feel free to post more to our <a href="http://www.facebook.com/GOODLA">Facebook page</a>.</p><p> <strong>We Tried to Drive Less</strong>: Here at GOOD we initiated a <a href="http://www.good.is/post/the-good-challenge-stop-driving-so-damn-much/">drive-less challenge</a> for the month where we pledged to walk, bike, and ride transit more. Although we started the month out with good intentions, the challenge <a href="http://www.good.is/post/the-stop-driving-so-much-good-challenge-update/">didn't go so great</a> here at GOOD HQ, as everyone who had cars seemed to drive them. How'd you do?</p><p> <b><em style="font-style: italic; font-weight: normal;">Live in Los Angeles? <a href="http://www.good.is/LA" style="color: rgb(0, 0, 0); text-decoration: underline; cursor: pointer; font-style: italic;">Sign up for our one-good-L.A.-thing-a-day email</a> and become a member of <a href="http://www.good.is/newsletters/dailygood_la" style="color: rgb(0, 0, 0); text-decoration: underline; cursor: pointer; font-style: italic;">GOOD LA</a>. You can also follow GOOD LA on <a href="http://www.facebook.com/GOODLA" style="color: rgb(0, 0, 0); text-decoration: underline; cursor: pointer; font-style: italic;">Facebook</a> and <a href="http://www.twitter.com/goodlahq" style="color: rgb(0, 0, 0); text-decoration: underline; cursor: pointer; font-style: italic;">Twitter</a>.</em></b></p><br/><br/>