Articles
Meet 826LA's New Window Display (and Its Designer) This Saturday
The Echo Park Time Travel Mart will reveal its new window display this Saturday, May 14 during the Echo Park Public Display of Art walk.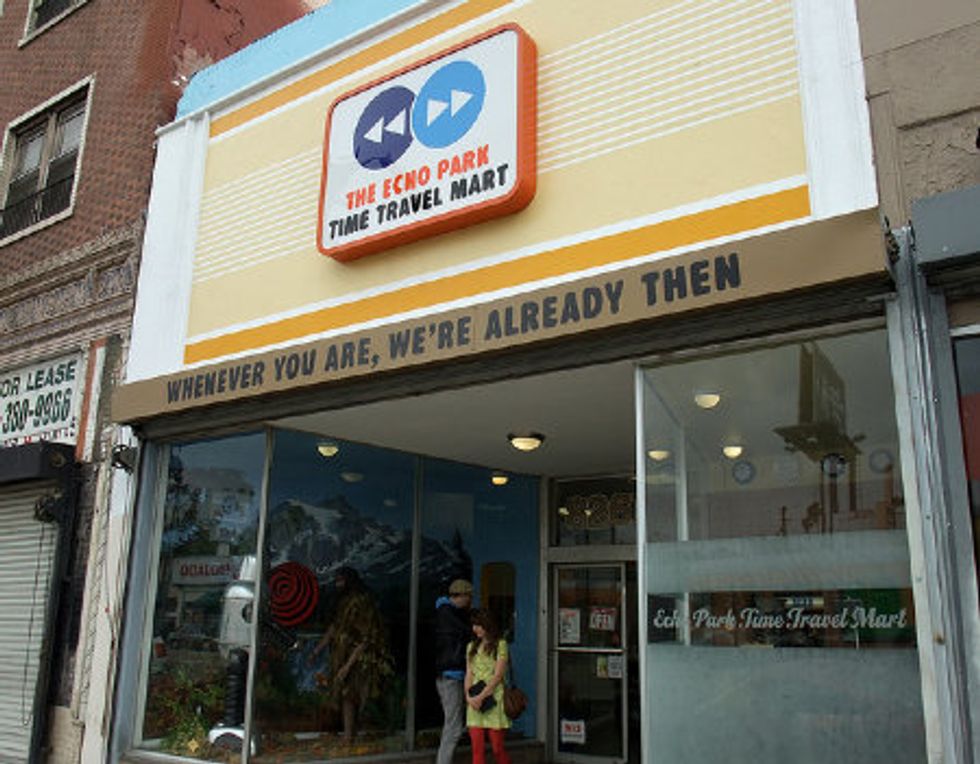 If you haven't been to the Echo Park Time Travel Mart in Los Angeles yet, there's no better time, past or the future, to visit than this Saturday. The store—which sells quirky time travel-themed products like "body humours" and Robot Toupées to raise money for 826LA's reading and writing center in back—will be welcoming a sharp new window display, thanks to a contest we helped organize last month. In choosing the inaugural designer for the new space, the judges were unanimously delighted by the idea of Molly Burgess. This local designer and illustrator managed to combine the seemingly disparate concepts of summer reading, the Pleistocene Era, the year 3022 A.D., and zero-gravity into one awesome window display. Don't worry, it will make sense when you see it.
---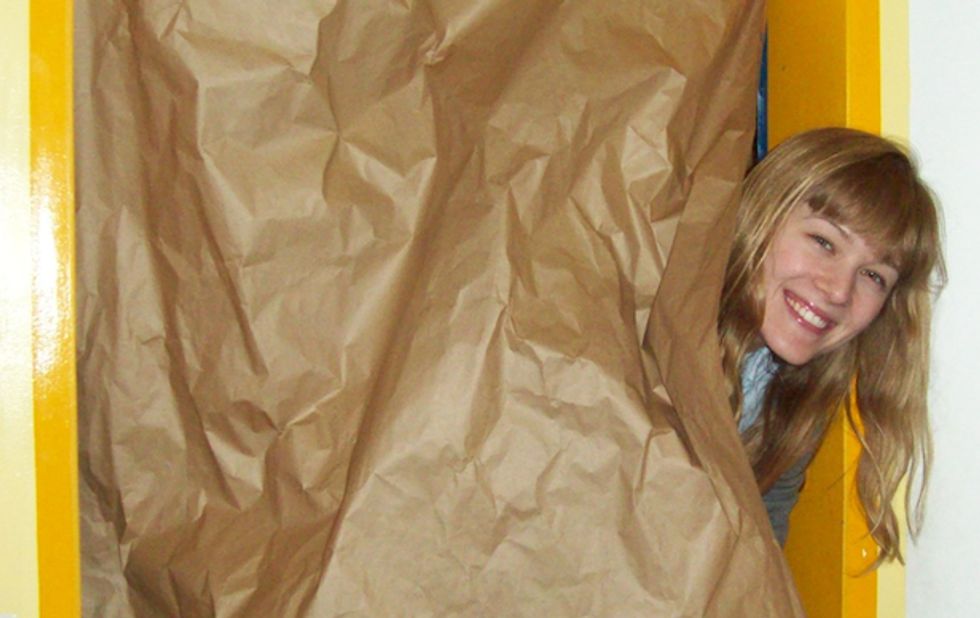 Burgess has spent the last two weeks "pulling out nails, moving furniture, painting, gluing, cutting, and stapling" to get the window in shape for its debut. She hopes that her concept will draw both kids and adults alike into the wildly-imaginative space. "I know that my creativity was fostered so much by having a space where I could feel free to explore and be encouraged in my ideas when I was younger," she says. "I really appreciate the programs that 826 organizes because it has the potential to lead more kids to understand that there is a real value to their words and ideas."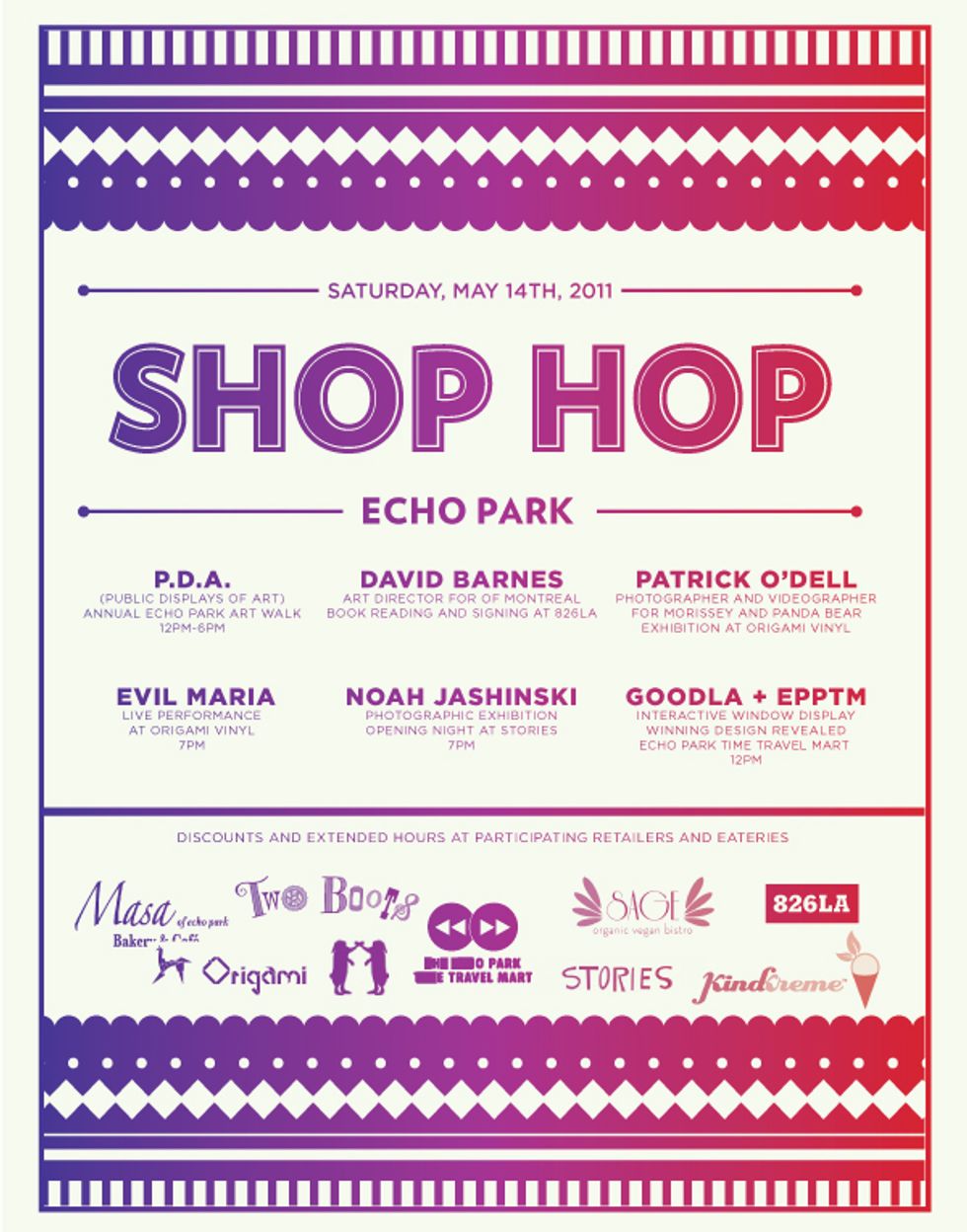 The Echo Park Time Travel Mart will debut the new window as part of Echo Park's Public Displays of Art (PDA) art walk. More than 40 stores, galleries, and restaurants will be open from 12:00 p.m. to 6:00 p.m. with plenty to see, eat, and buy. And on the strip of Sunset where 826LA is located, all the stores will be hosting a Shop Hop, with discounts and extended hours. David Barnes of Of Montreal will be doing a book reading and signing at 826LA at 4:00 p.m., and places like Origami Vinyl and Stories bookstore will be hosting their own music and art events as well.
So take a stroll through Echo Park this Saturday and soak up the creative vibes of this art-infused neighborhood. Stop by the Time Travel Mart at 1714 Sunset Boulevard from 12:00 p.m. to 6:00 p.m. to see the new window, and maybe pick up a few cases of leeches ("Nature's Doctor!") for the journey ahead.
Live in Los Angeles? Sign up for our one-good-L.A.-thing-a-day email and become a member of GOOD LA. You can also follow GOOD LA on Facebook and Twitter.
Photo via Flickr (cc) by Laughing Squid