Articles
The 57-year-old icon is striking back at his price-gouging record label this holiday season.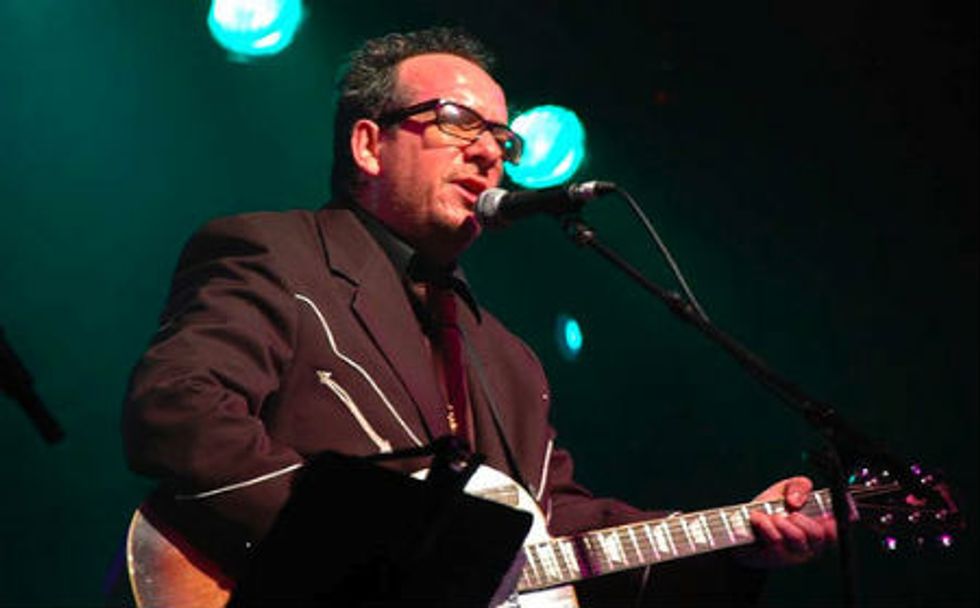 Aging rocker Elvis Costello may not be as popular as he once was, but that doesn't mean he doesn't have a lot of fight left in him when he gets angry. Just ask his record label.
Back in April, Costello and his band, the Imposters, recorded a live album and DVD in Los Angeles, which will be released next month as a box set titled The Return of the Spectacular Spinning Songbook. It's the perfect gift for any Costello completist looking to add to their canon, save for one problem: It costs more than $200 for one DVD, one CD, and one vinyl record. In short, it's a ripoff, especially for anyone who had been looking to buy the album while staying on a budget in this tight economy. Luckily for fans, Costello is equally displeased.
<p> In a message called "<a href="http://www.elviscostello.com/news/steal-this-record/254">Steal This Record</a>" posted to his website, Costello implores people <em>not</em> to buy <em>Songbook</em>, the hefty price of which he says must be "either a misprint or a satire." He adds that because his label, HIP-O, will not budge on the album's cost, fans should instead spend their money on <em>Ambassador of Jazz</em>, a new Louis Armstrong box set that contains 10 different CDs yet is more than $50 cheaper than <em>Songbook</em>. "Frankly," Costello adds, "the music is vastly superior."</p><p> Back in February, when ticket scalpers had effectively ruined LCD Soundsystem's final show, that band's frontman, James Murphy, <a href="http://www.good.is/post/people-are-awesome-lcd-soundsystem-thwarts-scalpers/">beat the scalpers by getting creative</a>. "Don't let the shitbags win," he told fans at the time. It looks like at least Elvis Costello was listening.</p><p> <em><a href="http://www.flickr.com/photos/jeffturner/480666268/sizes/z/in/photostream/">Photo</a> via (<a href="http://creativecommons.org/licenses/by/2.0/deed.en">cc</a>) Flickr user <a href="http://www.flickr.com/photos/jeffturner/">jeffturner</a></em></p><br/>