For People Who Give a Damn.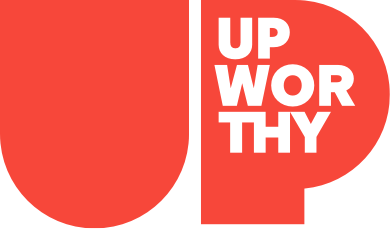 Stories Worth Sharing.
Sign up for the Good newsletter:
(c) GOOD Inc. All Rights Reserved.
PS. You are doing great. Keep it up :<)
This website uses cookies in order to enhance your experience. Please review our Privacy Policy to learn how we may use cookies and how you can change your browser settings to disable cookies. By continuing to use this website without changing your settings, you consent to our use of cookies.
THE DAILY GOOD
Start your day with
Yachting, brow lifts, and nights at the opera: We are the 99%.

Follow this handy guide and we guarantee you'll realize there is virtually no difference between an über-wealthy lifestyle and your wretched, student- loan-bedraggled existence! Leave your unpaid bills and untreated medical conditions far, far behind. All the adventures and accoutrements of the 1 percent are at your grubby, calloused fingertips.
Articles
Tiny is excited by the energy of the Occupy movement, but she is sure that for real change to happen, "the poorest of the poor" need to be heard.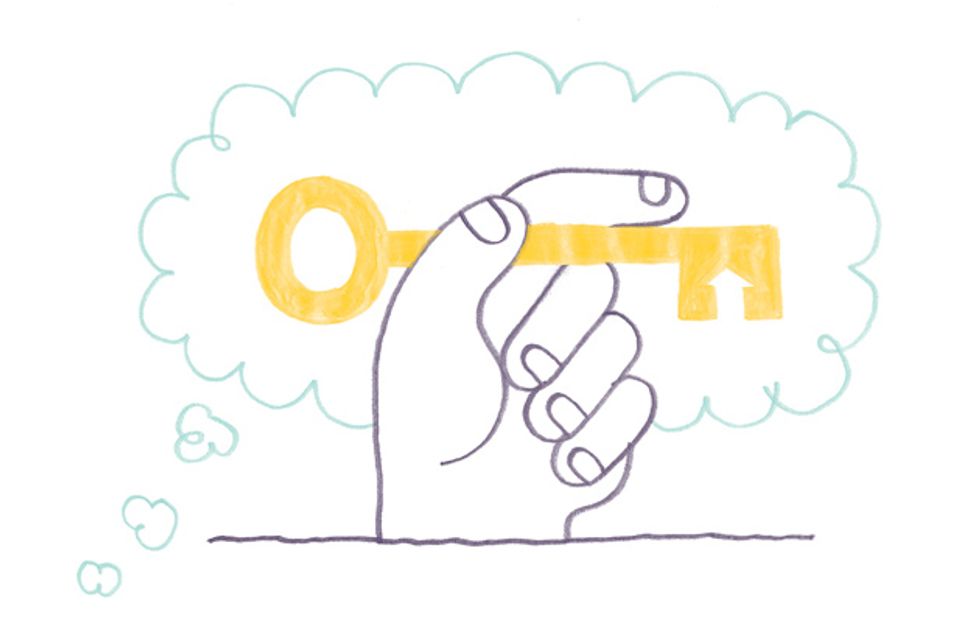 "Welfare
queeeeens
, super baby mamas!" a diverse group of women, holding hands, shouted in unison in front of an Oakland, California, welfare office, their voices overlapping as they weaved around each other on the sidewalk. The welfareQUEENS, a performance-poetry group composed of mothers who have survived and cared for their children through extreme poverty, were part of a series of actions staged by POOR, a 16-year-old arts-and-action nonprofit, on a sunny day last November, when POOR invited Occupy Oakland protesters to march out of their City Hall encampment to sites that "occupy" poor people throughout the Bay Area.
"Our lands and resources have been occupied for many years," says Lisa Gray-Garcia, better known as Tiny, the wiry 38-year-old cofounder of POOR. "More people are now feeling the pain. For us it was not like, 'Omigod, let's occupy!' It was like, 'More people are waking up to the torture and the tragedy that has hit poor and indigenous people forever—so how do we harness the power of this movement to support the work that's been going on for hundreds of years?"
The November day of action was one answer. POOR took occupiers to the housing authority to protest how Section 8 waiting lists have ballooned because of budget cuts. They also demonstrated in front of the San Francisco Immigration and Customs Enforcement office because, as Tiny explains, "If you don't have money for an attorney, you get picked up on a misdemeanor and suddenly you're in Mexico or Guatemala, even if you haven't been there since you were 1 year old." At the welfare office protest, the welfareQUEENS talked about imminent cuts to California's food-stamp program—"the last crumbs we had." And in front of an Oakland police station, speakers called prisons "the last form of public housing."
Tiny is excited by the energy of the Occupy movement, but she is sure that for real change to happen, "the poorest of the poor" need to be heard. "Survival itself through extreme poverty and crisis," she says, provides the best ideas for how to create a world where no one has to suffer lack of food, education, or safe shelter. Poor people "have the knowledge this movement needs."
Tiny—who's constantly running from one activity to the next, usually in tight jeans, hoop earrings, and a cap that says POBRE—likes to say she's got a Ph.D. from the School of Hard Knocks. When she was 11, her mother, Dee, lost her job. Dee was sick and overwhelmed by what Tiny describes as "a complex web of phobia, conflict, and poverty." Struggling with post-traumatic stress from a lifetime of abuse, Dee couldn't work and often couldn't leave the small apartment she and Tiny shared in Hollywood, which in the 1980s was more rough than glamorous. "People told me to put her in a home, go off to college, that I was a smart girl and I could do anything," Tiny says. "I was told from very early on that staying with my mom was the least positive thing I could do."
Instead, Tiny dropped out of sixth grade and started figuring out how to help their small family survive. If she'd told a social worker or teacher what was going on, she'd have been swiftly placed in foster care. But in Tiny's view, families struggling with poverty need to stick together. Over the next few decades, Dee and Tiny would manage not only to survive together through bouts of homelessness and incarceration, but also to create POOR Magazine, which is much more than a publication. Right now, POOR is publishing books; running PeopleSkooL, which allows people struggling in poverty to teach each other media skills; and creating a project called Homefulness, where formerly houseless people will be able to create their own permanent housing rather than hope for beds in a shelter or project designed and run by people who have no clue what it's like to be homeless.
* * *
At 12, Tiny created an alter ego named "Rent-starter," an ideal tenant no landlord could refuse even though she had no cash or credit. Rent-starter embodied what Tiny describes as an odd mix of "sincerity, strength, and extreme sycophantism." The performance worked many times: Landlords who might have turned away Dee, seeing a dark-skinned single mother (Dee was black and indigenous Puerto Rican, Irish, and Roma) as a bad tenant, believed that a white-looking 12-year-old Tiny (her dad, from whom she's estranged, is white) was "a 25-year-old making $65,000 a year." If Tiny couldn't come up with enough money to pay rent on an apartment or motel room, she and her mom lived in their car. When they were cited for the illegal act of sleeping in a vehicle, penalties they couldn't possibly pay piled up and turned into arrest warrants, which turned into stints in jail. Dee and Tiny learned that, when you're poor in the United States, many of the things you have to do to survive are illegal.
Articles
For my grandmother, teaching was a triumph. For my mother, it was a good job. For me, it could be a dead end.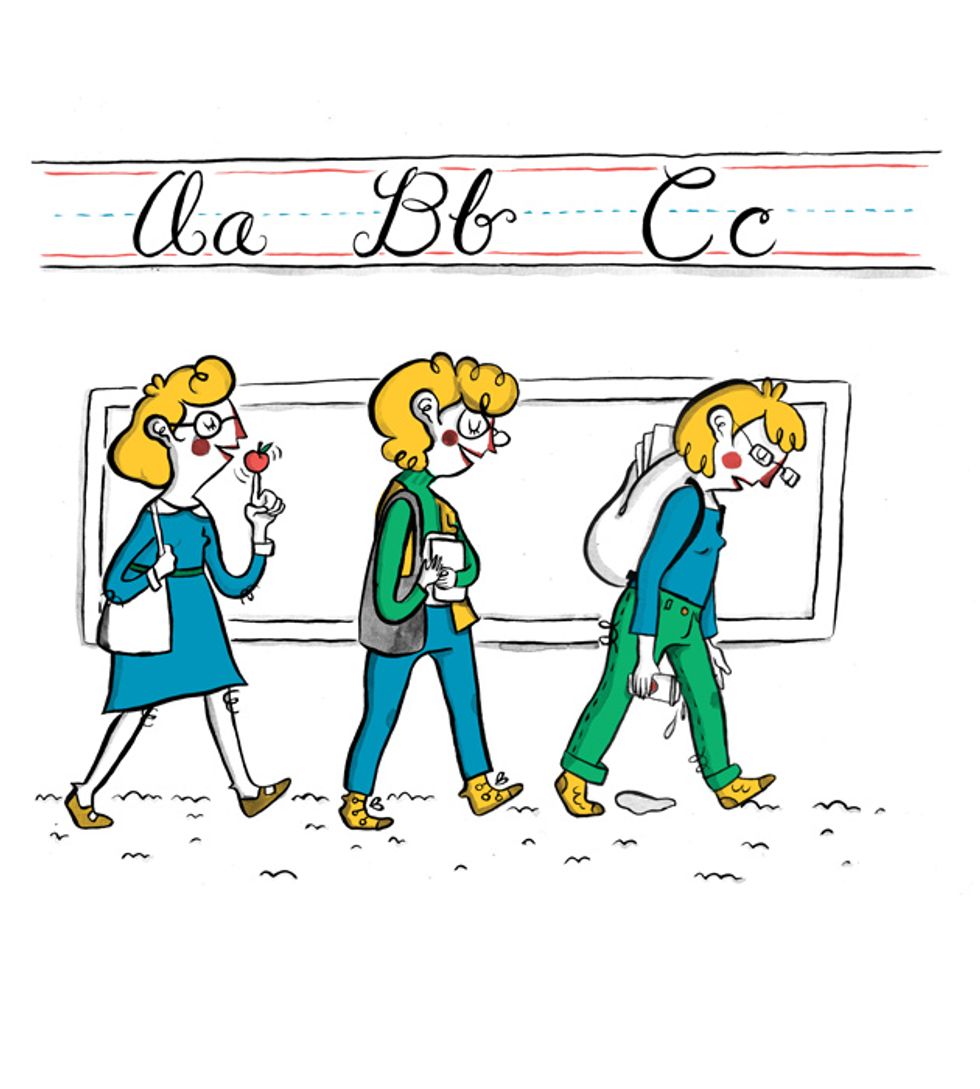 Whenever I visit my family in Los Angeles, my mother and I invariably gather around the backyard table at my grandmother's house to correct papers in the late-afternoon sun. As my mom makes her way through a pile of college blue books, I tackle a stack of freshman English papers. Sometimes my grandmother, now 90 years old, comes out to observe our work, admiring the way we scribble comments into the margins and scratch out split infinitives. The sight almost always functions as a cue, prompting her to recite the now-familiar tale of her long career as a teacher.
When she tells it, the story usually begins something like this: As a girl born in Warsaw, Poland, in 1921, she had only one dream—head to Hollywood, become an actress, and marry Errol Flynn. Even during World War II, when the smallest goals seemed unattainable and her time was spent planning her family's escape from the ghetto, she continued fantasizing about her debut on the silver screen.
She traveled a difficult road—first escaping the Holocaust, then suffering through a devastating divorce when she later lived in Chile—but her dream was still alive when she immigrated to Los Angeles in 1965. Upon arriving, she immediately applied for a slew of jobs that would allow her to afford the mortgage payments on the house she'd purchased, which was so close to LAX that it rattled whenever a plane took off. On a whim she filled out an application for a secretarial position at Universal Studios.
At this point in the narrative, she always makes sure to add, "You know, I spoke five languages and I was quite attractive at the time." Sometimes she has a photo on hand as evidence—a stunning portrait that shows off the best of her delicate, dark features, framed by a bleached-blonde Marilyn Monroe coif. At less than $500 a month, the job at Universal was all hers, they said, and she took it.
But it didn't take long for the veneer of Hollywood to wear dull. After three years, my grandmother was through. It was a lunch in 1968 with one of the only women in power at the studio that helped make her decision.
"How old are you, Christine?" the woman asked.
"Forty," my grandmother lied (she was actually 47).
"Time to get out while you still can," she said. "This business is only good to those who are young."
Options for a college-educated, single mother in 1960s America were limited. Women were still being groomed for secretarial work, nursing, home economics, and teaching. It wasn't so much that my grandmother yearned to be a teacher, but it was the most economically viable option. In 1968, being a teacher actually paid. According to the National Education Association, female teachers earned 12.7 percent more than college-educated females in other positions throughout the 1960s. And where the average salary was $5,571, the average teacher's salary was $7,423.
That same year, my grandmother enrolled in the master's program in education at the University of Southern California. Before she'd even finished her degree she secured a full-time teaching position in the Los Angeles Unified School District as an English teacher, developing special curricula for the district's new bilingual education program, which she helped build from scratch. My grandmother had found her niche. Soon, she was earning five times her secretary's salary doing a job she actually loved. I can't remember a single moment from my first 18 years when she wasn't talking about her students or preparing lesson plans. Whenever I'd go shopping with her, we'd have to pile the groceries under my legs and on my lap, because the backseat of her red 1980 Ford Mustang was so overrun with aniline purple ditto copies, overhead projector sheets, and mounds of dry erase pens. Her work was her vocation, a perfect fit for a woman who understood the power of language and the delicate situations of her students—new arrivals in a foreign land looking for better lives.
She worked for $30,000 a year, enough to provide her family a comfortable life, until she was 71, at which time the district was looking to cut costs and offered many of its older teachers—the best paid—early retirement deals. Little did she know that it was the beginning of the end. My grandmother says she didn't want to retire just yet, but the package was a good deal. On top of medical benefits, the district averaged her salary from her last three years of work and promised to match that, plus an annual cost-of-living increase, for the rest of her life. In exchange for taking care of Los Angeles' children, the city promised to take care of her. And it's always kept its promise.
At the end of the story, my mother and I always shake our heads in disbelief at my grandmother's good fortune. She got out just in time, we think, right as the slash in teachers' salaries was underway. By the 1970s, starting female teachers were already making 3.5 percent less than women in other fields. In 1984, the average public school teacher's salary was $22,400, forcing many to take second jobs to supplement their income. At least in the Los Angeles Unified School District, teachers could still look forward to a pension similar to the one my grandmother received—the same retirement deal given to members of Congress. But even that is changing. In February, L.A. Unified announced it was laying off 5,000 teachers on top of renegotiating their current pension plan, which is already riddled with hidden fees, taxes, and other costs.
As teachers in today's world, where public education budgets are constantly being cut and poorly paid adjunct positions have largely replaced full-time instructor positions at most universities, my grandmother's story taunts my mother and me with a quality of life and financial security that no longer exists for most teachers.
* * *
Unlike my grandmother, I entered the professional world in a time when women had many choices. "Follow your dreams and the money will come," my father always said. We were told, especially as girls, to aim high. We could be presidents of the United States, Nobel Prize–winning chemists, the next Great American Novelists—whatever our hearts desired.
Articles
When a pair of American college students were kidnapped by communist revolutionaries, the young rebels accidentally found their cause.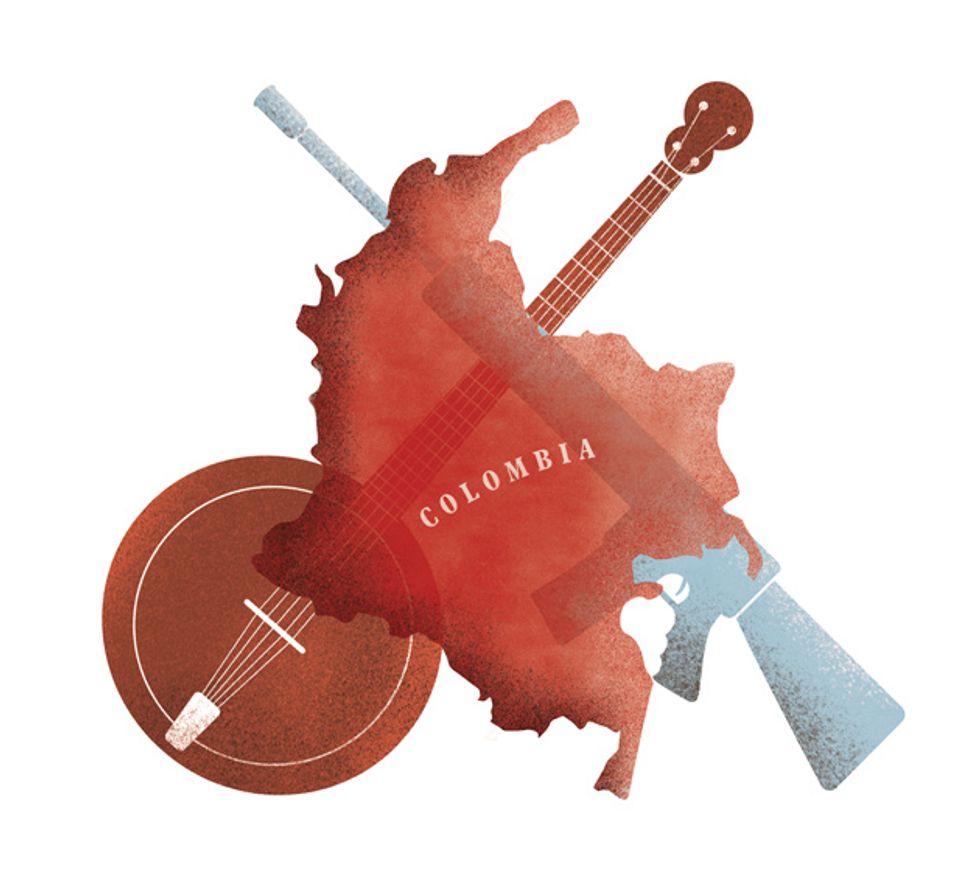 When Jay tucked into bed that humid night in 1988, he was a red-blooded American man in his early twenties, just malcontent enough to evoke James Dean, and about as beguiling. His classic athletic frame, blond hair slightly in need of a trim, and easy smile belied the disaffected snark of a coming-of-age-tale hero. He describes himself at the time as "rebellious" and "against society," but the truth is that he didn't have any idea how the world worked. By the time he woke up, though, he would find out.
Jay and his best pal, Stephan (not their real names), were adventuring in South America, temporarily escaping their college confines to pursue geography research. The pair had secured humble digs for the night, offered by a young local they believed was acting out of hospitality. Despite the accommodations, the exhausted travelers should have slept like kings.
But something disturbed Jay's slumber. "In the middle of the night, a flashlight went in my eye," he recalls. As he gained focus, an alternative version of his life came into view, one in which his rugged individualism marked him not as a hero but as a victim. By the time he was fully awake, he says, there were about 20 men gathered in the small room with "a porcupine of muzzles of various firearms pointed toward me."
The rebel was about to find his cause. Under the custody of the Revolutionary Armed Forces of Colombia (Fuerzas Armadas Revolucionarias de Colombia, or FARC), where he lived for a year, Jay was drawn into the bloody struggle between corporate imperialism and social justice on one hand, and between drug-running kidnappers and an international coalition of government forces on the other. Remaining clear-headed about right and wrong from the epicenter of an ideological and civil war, it turns out, was a whole new kind of rebellion.
The FARC is a Marxist-Leninist military guerrilla group in Colombia, founded in the 1960s as the armed wing of the Colombian Communist Party. The FARC established itself initially as the protector of the rural poor in opposition to the corrupt Colombian government. While government crackdowns have decimated FARC's numbers in recent years—the U.S. State Department estimates only 8,000 members (though their estimates are known to be low)—the group was about twice as large during its heyday. When Stephan and Jay showed up in the late
'80s, FARC was growing quickly.
At that time, as the struggle between the Colombian government and its rural citizens grew increasingly hostile, the FARC responded by moving into new territories, recruiting more members, and breaking into the drug trade—and were branded terrorists by the United States, Canada, European countries, and the Colombian government.
Around this time, Jay and Stephan developed this "kind of half-baked research idea," as Jay calls it. They were interested in soil fertility, and they wanted to take a boat trip down the Putumayo River, interviewing farmers about irrigation and fertilization systems along the waterway. The Putumayo borders Peru and Ecuador, and the soil deposits along its banks are notoriously poor. It's also, Jay can say now with authority, "one of the most dangerous places in the hemisphere." Malaria, dengue, and piranha are all common.
But Jay means something else.
The friends were naive, but they weren't stupid. They asked the Colombian authorities to review their route through the Amazon. "We went to the military and showed them maps of where we wanted to go, and said, 'Is this ok for us to go here?'"
The officer on duty said, "Sure."
Yet something was lost in translation. What the two had wanted to know was whether it was safe for two gringos to canoe down the Putumayo alone, Jay explains with the benefit of hindsight. "And they had heard, 'Is it legal for us to go here?'" The hapless duo climbed into their canoe and headed downriver. Cue banjo soundtrack.
It was fall on the equator, and it was gorgeous. Lush. Jay and Stephan were enchanted. They traipsed down the length of the Putumayo, picking up locals and dropping them wherever they needed to go. The two Americans were learning about global economic poverty and how to react when confronted with intense need. Their lessons were in the food, in the language barrier, and, as they were seeing, in the soil itself.
The travelers met Hernan in their own moment of need. The charming, dark-haired kid happened to be fishing nearby when Jay and Stephan realized their wallets had been stolen. They quickly decided to sell their canoe for some cash, and Hernan, just as quickly, agreed to buy it. He took them back to his uncle's house to borrow money for the exchange. It got late, and the two were invited to spend the night.
They didn't have much choice. They were in a rough part of the country, with few roads, where the coca industry had recently taken root. For locals in need of income—and most were—coca growing and processing was a prime gig. The other local employment option was with the military, guarding the border against the incipient drug traffickers from Bolivia and Peru, where most of the product still came from, en route to the United States.
Jay and Stephan could see that the coca industry was bound to catch on big here. The mineral deposits along this stretch of the Putumayo were good for very little, and coca was one of the few crops valuable enough to justify the cost involved in transporting it to points of sale. Twenty years later, much of the acreage would be deforested to make more room for the crops. "Now, if you look at a satellite image, you can see very little of the forest left in the places we were at," Jay says.
In the 1980s, the Colombian government was just beginning to crack down on the drug trade, under the watchful eye of the United States. The FARC, in its self-appointed role as defender of the people, took a more active role in trafficking coca as a means of economic survival. The poverty-stricken rural areas of Colombia, including the location where Hernan's uncle lived, made up their turf. "That whole part of the country," Jay explains, "was de facto under control of the FARC. But it wasn't like you would see them around."
At least, Jay and Stephan didn't see them around as they climbed into their sleeping bags.
* * *
Jay blinked into the glare of the flashlight and counted more guns than he had ever seen.
Stephan, however, wanted to keep sleeping. Fade jaunty banjo soundtrack into dark, foreboding chords. The kid didn't realize what was happening. "He just didn't want to get up," Jay says. "I was like, 'No, seriously. Get up.'" Two decades later, the memory still makes Jay laugh.
Later the two would speculate about who those 20 intruders might have been— whether it was Hernan's uncle, farmhands, or Hernan himself, they couldn't be sure—but it didn't matter at the time. The armed men demanded the two lay flat on the floor, but in a panic, Jay and Stephan instead stood up and raised their arms above their heads, shouting, "Don't shoot!"
One of the guerrillas put down his gun, lay on the floor, and looked up at them expectantly. "So we got on the floor," Jay says. "What else you gonna do?" He laughs again. "You do what the guy with the gun tells you to do."
I should mention that Jay has one of the sharpest comedic minds of anyone I've ever met (and I did time in the trenches of comedy writing). He spent his teen years in punk rock clubs, a time when he and his pals were just beginning to grasp that upper-middle-class mainstream culture was not for them. "I was," he admits with a chuckle, "a fuckup."
But teen angst had not prepared Jay and Stephan for what they'd just stumbled into. The gunmen tied their hands behind their backs and marched them down to the river. Then things got confusing. The two were blindfolded and shoved into the hull of a small speedboat. Their captors drove around, stopping sometimes, turning around. Were they lost or was this part of the plan? When the boat came to a halt, Jay and Stephan were hoisted out. Their blindfolds were removed. They were told to walk along the water, away from their captors, without turning around. They did what the guy with the gun was telling them to do.
It looked like the end. They muttered nonchalant but heartfelt goodbyes, aping a Western movie. "See ya later, buddy," Jay recalls saying. They were certain they were going to be killed. Then a voice barked a new order: "Ok. Turn around. You can come back." Once more, the two did as they were told. They were blindfolded again and put back in the boat.
"The thing about being kidnapped," Jay says, "is that you have to get used to the idea that you don't know what's going on. You don't know the rules, you don't know what the situation is. You can pay attention and try to figure stuff out, but the very hard thing is feeling ok with not knowing what the plan is, even though part of the plan might be you get killed really soon."
The small boat was docked on a beach, and Jay and Stephan were marched through a field into a wood. Unguarded for a moment, Stephan slipped a pocketknife out of his pants and cut the ropes around his wrists. That was as far as he got, but he was then considered an escape risk. He was tied to a tree overnight in a hugging position, whereas Jay was merely leashed to his tree. A guard watched them all night. In the morning, the local commander showed up and apologized for having tied them to trees. He also welcomed them, officially. Then they were tied back up. For four months.
"Every time we needed to take a dump, we would have to go like this"—Jay crouches to demonstrate, placing his hands close together as if tied up, and claps—"'Guardia! Necessito defecar!' And they would say, 'Hang on a second.' Then they would whistle, and go get a second guard to guard the other guy, and then they would take us on our leash to a little hole where we would defecar."
"It was good to get untied," he says, looking relieved even now. "Not everybody needs to be involved in that."
After a while, they got practical. An escape would have been dramatic, sure—a fitting ending to the movie version of this story. But how would two young Americans survive in the rainforest, alone? When a higher-up came by and asked them if they planned to escape, they said no. He had them untied. From then on, "it was a lot easier," Jay says. "You have more dignity when you're not leashed to a tree."
They still don't know why they were taken. Maybe Hernan thought they were with the CIA, or someone had tipped off the FARC, falsely. Or "it may very well have been that there were two gringos in a place that they shouldn't have been, and they considered asking for a ransom," Jays says. But none of their family members, nor anyone at their school, ever received a ransom demand. Back home, no one had any idea what had happened to them.
* * *
In the 1980s, the FARC expanded across the country in an effort to double troop strength. In the middle of the decade, moving away from communist orthodoxy, the FARC established a new political faction, which was quickly quashed by violence. Through the end of the '80s, kidnappings were selective and mostly used to put political pressure on the government. But shortly after Jay and Stephan's capture, as the Cold War petered out and funding from the Soviet Bloc disappeared, the FARC began relying more heavily on ransom as a source of financial support.
Articles
Will a generation of accidental career waiters hold out for "real" jobs—or fight for the ones they have now?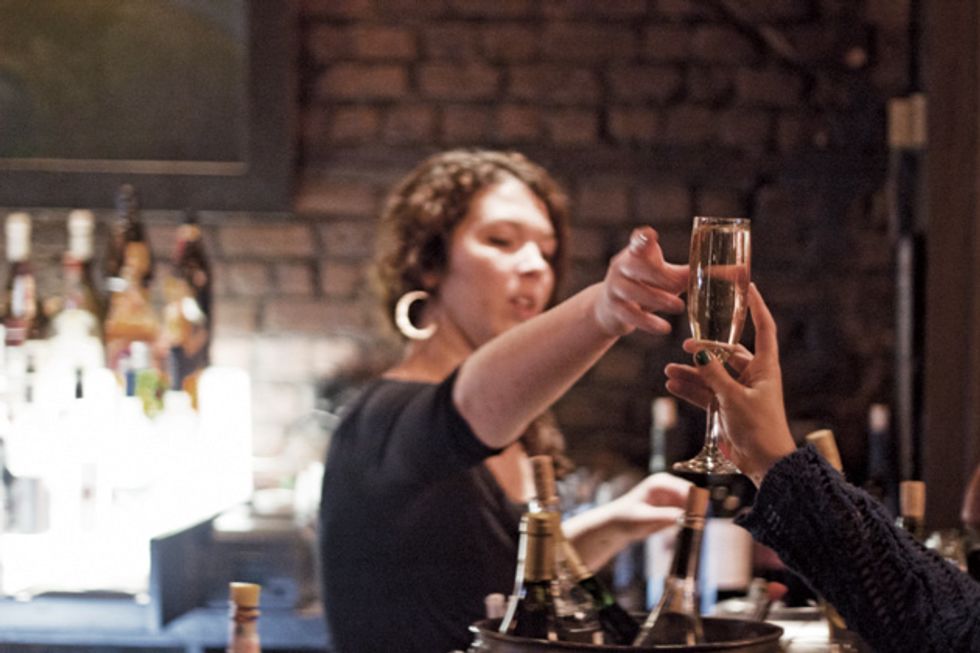 Behind the bar of a fancy New York restaurant, a 27-year-old bartender tidies her olive-and-cherry box. She attempts to look distracted while a middle-aged financial analyst holds her captive with small talk.
"So what else do you do?" he slurs, four Manhattans deep.
"Nothing," she says. "I just do this."
"Oh!" he answers. "That's cool. Did you go to college?"
"Yup. I went to NYU."
The man makes no attempt to hide his confusion. She leans forward and wipes away a few whiskey drops in front of him.
"I have loans," she says, with a touch of attitude. "Don't know what to tell you."
Emily Sanders has been a waitress or bartender, on and off, for almost a decade. She's made anywhere from minimum wage to around $1,000 a week, which is what she hauls in now. She has no health insurance, no 401(k), and a pathetic savings account. Most days, she gets to her first job at noon and leaves her second after midnight. If she's sick but a little short on cash, she downs some DayQuil and goes into work anyway.
We all know an Emily. Six years ago, I was an Emily. After college I waited tables at a now-closed restaurant where she and I met. I was a server for years, through internships, passion projects, and freelancing, until I landed a full-time job doing what I love. Emily hasn't been as lucky. Neither have a lot of my peers.
For kids who grew up middle-class, Emily is the embodiment of a cautionary tale: "You don't want to end up flipping burgers all your life." We internalized the message that service jobs aren't "real" jobs. We wanted to be writers, therapists, lawyers. We wanted to start our own businesses and send our own kids to college. We didn't want to spend our working lives reciting specials and making drinks. Even when these jobs drag on for years, we tell ourselves this isn't what we're really doing. It's ok for now. It's only temporary.
That was Emily's assumption. Her middle-class mom managed to send her to boarding school, where she got decent grades and ended up at NYU's artsy enclave, the Gallatin School. During the school year, student loans paid most of her bills, but she picked up restaurant jobs to fund her weekends and help cover her rent. Her first job in New York City was at Hale & Hearty Soups in 2002, when she was a college freshman. They started her at $6.50 an hour. She was the only white college girl behind the counter.
The summer before her senior year, Emily was broke and decided she wanted "one of those real waitressing jobs." No more getting tips out of a jar. She found a job on Craigslist as a server at a just-opened restaurant where she made $150 on a good night, but she still struggled to keep up with her bills. So, in December 2005, she got a more lucrative job at a busy, boozy tapas restaurant in the East Village—the same one I came to work at six months later.
Since then, Emily has worked in half a dozen restaurants, taught English in Italy, and had a short stint at an office. Right now, she's back to bartending. She rakes in more cash than most of her friends who work entry level 9-to-5s. Her coworkers are actors teetering over the hill, aspiring real estate agents, office drones moonlighting for extra cash, breadwinners, Mexican immigrants who want to go back and build a house in Oaxaca. They are waiting for their lives to start or trying desperately to maintain them.
Still, Emily is the "1 percent" of restaurant workers—she makes a lot more money than your average minimum-wage, chain-restaurant employee. But even cream-of-the-crop gigs offer no benefits, little chance for advancement, and no recourse if you're fired. Which could happen anytime, for any reason. Most of these jobs are pretty bad. And Emily considers herself lucky to have one.
Some depressing facts: Nearly half of people ages 16 to 29 do not have a job. A quarter of those who do work in hospitality—travel, leisure, and, of course, food service. A study of 4 million Facebook profiles found that, after the military, the top four employers listed by twentysomethings were Walmart, Starbucks, Target, and Best Buy. The restaurant industry in particular is booming; one in 10 employed Americans now work in food service—9.6 million of us. Those numbers are growing each year. Even though more and more laid-off, middle-aged Americans are turning to restaurant jobs, as of 2010 about two-thirds of food service workers are still under age 35. And the industry's workforce is more educated than it was just 10 years ago. In major U.S. cities, about 9 percent more food service workers have been to college.
Food and retail jobs usually don't pay a living wage—let alone enough to pay back student loans—and they're supplanting jobs that do. The average restaurant worker made $15,000 in 2009, compared to $74,000 for a manufacturing worker. Factory work, once the default employment choice for many newly minted adults, was backbreaking and monotonous. But, if unionized, it was also stable, full time, and decently paid.
None of these things are true of the modern service industry, and shockingly few people are working to change that. Only 2 percent of food-service workers are union members. When you subtract the ones who work at hotels, that number goes down to approximately zero. Big unions like the AFL-CIO and Service Employees International Union opt to organize health care workers and teachers instead of the folks behind America's bars and cash registers.
But the restaurant workforce is changing. Whereas in the 1970s you could visit a steel mill and declare all the metal pourers "working class," today philosophy majors from Brown are making lattes alongside folks who grew up poor and assumed they'd sling drinks for life. Most of the college grads are like Emily—they tell themselves they won't be here long. Others have a hunch they might be making minimum wage for a while.
And a few of them have decided to do something about it.
* * *
Erik Forman picks me up in a rusty blue Chevy pickup truck at the Minneapolis airport on the day after the 86-year-old Ford assembly plant across the Mississippi has officially shut its doors. Erik is 26 and earnest-looking. His fine blond hair is boyish, almost angelic. He's dressed in layers: hoodie, jeans, dirty Adidas. He's very excited to see me.
Articles
THE DAILY GOOD
Start your day with
THE DAILY GOOD
Start your day with something GOOD.