Articles
Six days, 48 writers—from space archaeologists to music bloggers, plus everything in between—and one topic: what makes food so interesting?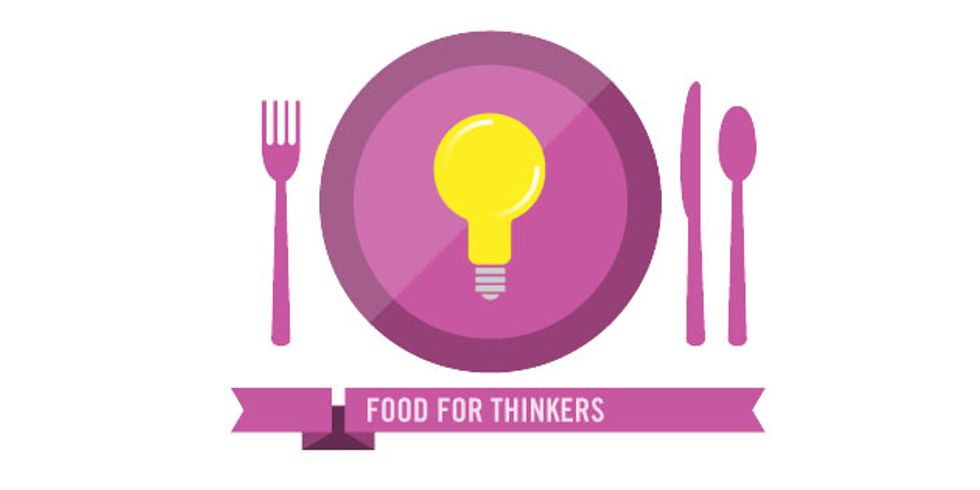 As promised, all this week
GOOD's new Food hub
will be hosting a blog festival—a multi-site online conversation looking at food writing from as broad and unusual a variety of perspectives as possible. Over the next six days, more than 40 of my favorite writers—from science bloggers and human rights reporters to design critics and food columnists—will be sharing their perspectives on what makes food so interesting.
We're calling it "Food For Thinkers," and although most of the participants will be posting on their own sites, you can keep up with the entire conversation here at GOOD Food HQ, where I'll be hosting links, adding my own responses, and asking for your comments. We'll also be using the Twitter hashtag #foodforthinkers on @GOODFoodHQ, if you prefer to follow along that way.
<p> In <a href="http://www.good.is/post/welcome-to-good-s-new-food-section/">last week's launch post</a>, welcoming you to GOOD's new Food hub, I said that one of the most important ideas behind the site is the belief that food is an incredibly useful lens through which to understand and re-imagine the world we live in. The other, connected idea that shapes the site's editorial direction is that we think food is too important a topic to restrict the conversation to self-identified foodies (ourselves included). My hope is that by the end of this week, after this amazing group of writers and researchers from very different fields take a look their own subject matter through the lens of food, we'll have a whole new set of answers to the question: <strong>What does—or could, or even should—it mean to write about food today?</strong></p><p> Put another way, I want to know what happens when a music blogger thinks about food. What does a space archaeologist or an architect want to read and say about food? What kinds of things interest a science writer in food, and why?</p><p> Another aspect of this is that food writers think about what they're doing and why it's important in profoundly different and interesting ways—and I want to question those assumptions, have a debate, and figure out, in the process, what isn't being covered yet. I want to ask why we food writers are excited about what we're doing, but also where we can turn for new inspiration—and why non-food writers might find inspiration in food, too.</p><p> And I want to provoke comments from readers—readers who read food writing and readers who don't, GOOD Food readers and tech blog readers—about why food matters to them.<br/><br/> And most of all, I want to get people excited about how many interesting ways there are to write and think about food, and feature links to the community of writers and thinkers who inspire me. Getting a bunch of those folks all together to talk about what's interesting about food and what's not is genuinely exciting to me, and I hope it will be to you, too.<br/><br/></p><p> So: Watch this space! We'll be hearing from Varick Shute (<a href="http://urbanomnibus.net/"><em>Urban Omnibus</em></a>) Alice Gorman (<a href="http://zoharesque.blogspot.com/"><em>Space Age Archaeology</em></a>), Evan Kleiman (<em><a href="http://blogs.kcrw.com/goodfood/">KCRW's Good Food</a></em>), Daniel Fernández Pascual (<a href="http://www.deconcrete.org/"><em>Deconcrete</em></a>), Zackery Denfield (<a href="http://www.genomicgastronomy.com/">Center for Genomic Gastronomy</a>), Rebecca Federman (<a href="http://cookedbooks.blogspot.com/"><em>Cooked Books</em></a>), Annie Wang (<em><a href="http://fritesandfries.com/">Frites and Fries</a></em>), Jonathan Bloom (<a href="http://www.wastedfood.com/"><em>Wasted Food</em></a>), Jeremy Cherfas (<a href="http://agro.biodiver.se/"><em>Agricultural Biodiversity Weblog</em></a>), James Casey (<a href="http://swallowmagazine.posterous.com/"><em>Swallow Magazine</em></a>), Lisa Bramen (<a href="http://blogs.smithsonianmag.com/food/"><em>Food &amp; Think</em></a>), <a href="http://davidgarciastudio.blogspot.com/">David A. Garcia</a>, <a href="http://www.rachellaudan.com/">Rachel Laudan</a>, Yen Ha &amp; Michi Yanagashita (<a href="http://lunchstudio.blogspot.com/"><em>Lunch with Front Studio</em></a>), Tom Nealon (<a href="http://www.cruditas.com/"><em>Cruditas</em></a>/<a href="http://hilobrow.com/"><em>Hilobrow</em></a>), Colleen Morgan (<a href="http://middlesavagery.wordpress.com/"><em>Middle Savagery</em></a>), Katherine Sutcliffe (<a href="http://boringhistorygirl.blogspot.com/"><em>Boring History Girl</em></a>), Bryan Finoki (<a href="http://subtopia.blogspot.com/"><em>Subtopia</em></a>), Maggie Schmitt (<a href="http://gazakitchens.wordpress.com/"><em>The Gaza Kitchen</em></a>), <a href="http://www.foodsafetynews.com/contributors/helena-bottemiller/">Helena Bottemiller</a>, Danielle Gould (<a href="http://www.foodandtechconnect.com/"><em>Food+Tech Connect</em></a>), John Thorne (<a href="http://www.outlawcook.com/"><em>Simple Cooking</em></a>), Aki Kamozawa (<a href="http://www.ideasinfood.com/"><em>Ideas in Food</em></a>), Steve Silberman (<a href="http://blogs.plos.org/neurotribes/"><em>NeuroTribes</em></a>), Geoff Manaugh (<a href="http://bldgblog.blogspot.com/"><em>BLDGBLOG</em></a>), Nicholas Jackson (<a href="http://www.theatlantic.com/technology/"><em>The Atlantic Tech</em></a>), Robin Sloan (<a href="http://www.snarkmarket.com/"><em>Snarkmarket</em></a>), Marion Nestle (<a href="http://www.foodpolitics.com/"><em>Food Politics</em></a>), Jessica Helfand (<a href="http://www.designobserver.com/"><em>Design Observer</em></a>), Alexandra Lange (<a href="http://observersroom.designobserver.com/"><em>Design Observer</em></a>), Dechen Pemba (<a href="http://www.highpeakspureearth.com/"><em>High Peaks Pure Earth</em></a>), Tim Maly (<a href="http://quietbabylon.com/"><em>Quiet Babylon</em></a>), Smudge Studio (<a href="http://www.friendsofthepleistocene.com/home.html"><em>Friends of the Pleistocene</em></a>), Alex Trevi (<a href="http://pruned.blogspot.com/"><em>Pruned</em></a>), <a href="http://www.kthread.com/kthread/">Kristen Taylor</a>, <a href="http://www.google.com/url?sa=t&amp;source=web&amp;cd=1&amp;ved=0CBQQFjAA&amp;url=http%3A%2F%2Fwww.drewtewksbury.com%2F&amp;rct=j&amp;q=drew%20tewksbury&amp;ei=A80rTZC9FZTAsAOohczcBg&amp;usg=AFQjCNGOFYJ4xCW-S0KduxydBmDwZAMIrQ&amp;cad=rja">Drew Tewksbury</a>, Laura Brunow Miner (<a href="http://www.pictorymag.com/"><em>Pictory</em></a>), Dan Pashman (<a href="http://www.thesporkful.com/"><em>The Sporkful</em></a>), James Reeves (<em><a href="http://bigamericannight.com/">Big American Night</a></em>), Jonah Campbell (<a href="http://stillcrapulent.wordpress.com/"><em>Still Crapulent</em></a>), <a href="../../../series/square-feat">Dan Maginn</a>, <a href="http://scott-geiger.com/">Scott Geiger</a>, and <a href="http://www.soundscrapers.com/">Nick Sowers</a>, as well as GOOD's own <a href="http://www.good.is/community/Morgan">Morgan Clendaniel</a>, <a href="http://www.good.is/community/AlissaMWalker">Alissa Walker</a>, <a href="http://www.good.is/community/andrewprice">Andrew Price</a>, <a href="http://www.good.is/community/peterandreysmith">Peter Smith</a>, and <a href="http://www.good.is/community/aarieff">Allison Arieff</a>.</p><p> And, I hope, we'll also be hearing from you, either in the comments, or perhaps on your own blog or Tumblr (if so, please email me at nicola[at]goodinc[dot]com with the link).</p><p> It's time to tie on our bibs, pop a Rolaid, and get ready to dive in to an all-you-can-read feast of new ideas and fresh perspectives—I can't wait.</p><br/>