Articles
It may be the "breadless" holiday, but you can still gaze at these faux-designer carb-themed bags.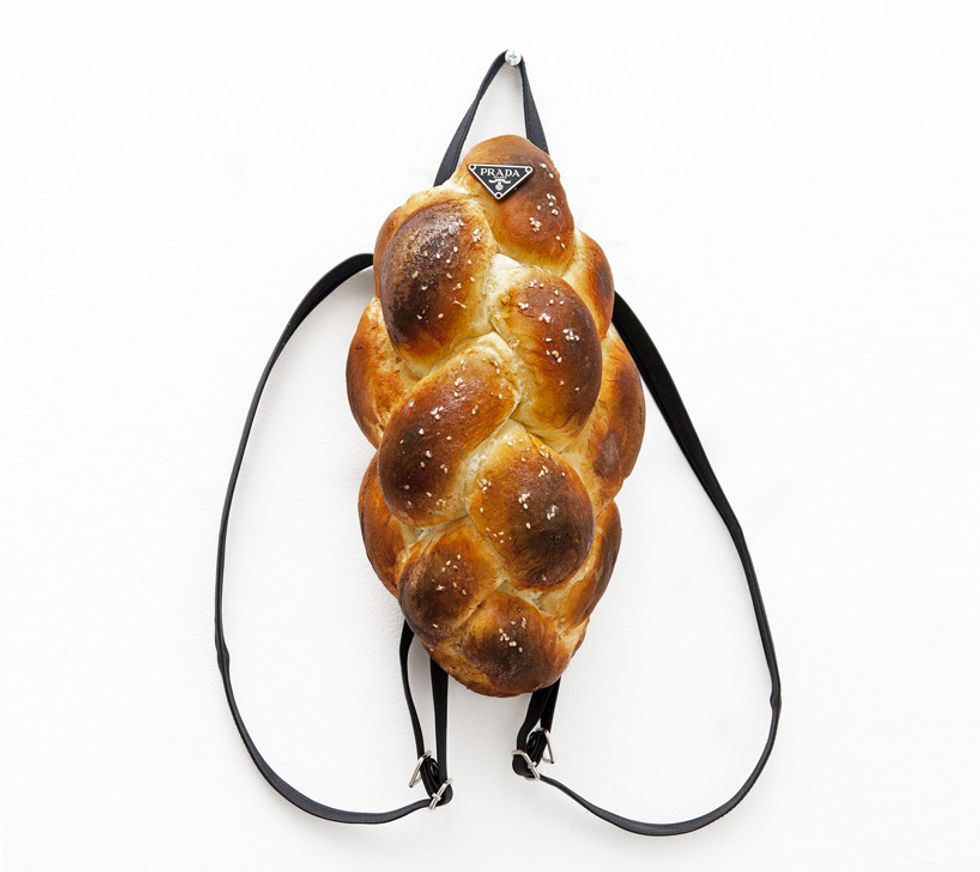 Ain't No Challah Back (pack) Girl – Prada, 2015
13″ × 7″ / oil paint, urethane, and hardware

Just in time for the holy holiday of forbidden carbs, why not get together with a loved one and covet a highly-attractive, highly-verboten challah bag? Canadian-American painter and sculptor Chloe Wise, known for her inventive takes on the themes of consumerism and mass production, recently created a series of "bread bags"—cheeky homages to disposable luxury and conspicuous consumption in modern society. Wise has cleverly created this faux-line of purses, totes, and backpacks to mimic actual wares by some of fashion's biggest names, including Prada, Chanel, and Louis Vuitton. In Wise's world, a dangling lox bagel becomes a coin purse, a PBJ sandwich is a pricey patchwork tote, and an English muffin transforms into a tasty handbag. Created from ordinary breads, the artist casts the forms in urethane before employing a hyperrealist, trompe l'oeil effect—painting the exteriors to create the illusion of fresh baked pastry. Below, check out some of our favorites from her 2015 Bread Bags collection.
<p class="shortcode-media shortcode-media-rebelmouse-image"> <img class="rm-shortcode" data-rm-shortcode-id="f2d2443f94a8914ac75c676de9664b00" data-rm-shortcode-name="rebelmouse-image" id="80b49" type="lazy-image" data-runner-src="https://assets.rebelmouse.io/eyJhbGciOiJIUzI1NiIsInR5cCI6IkpXVCJ9.eyJpbWFnZSI6Imh0dHBzOi8vYXNzZXRzLnJibC5tcy8xOTg4ODY4MS9vcmlnaW4uanBnIiwiZXhwaXJlc19hdCI6MTYyMzM4MjI3M30.i9Q_dGhai3j_9M69MejEcFa75RHCFUVXYYfl9fB-J30/img.jpg?width=980"/> <small class="image-media media-caption" placeholder="add caption..."></small> <small class="image-media media-photo-credit" placeholder="add photo credit..."><em>American Classic</em>, 2015, 8″ × 8″ / oil paint, urethane, and hardware, all images courtesy of chloe wise</small> </p><p class="shortcode-media shortcode-media-rebelmouse-image"> <img class="rm-shortcode" data-rm-shortcode-id="4ccbf8608dc25ffbd4493a3fbd27cf42" data-rm-shortcode-name="rebelmouse-image" id="b7e78" type="lazy-image" data-runner-src="https://assets.rebelmouse.io/eyJhbGciOiJIUzI1NiIsInR5cCI6IkpXVCJ9.eyJpbWFnZSI6Imh0dHBzOi8vYXNzZXRzLnJibC5tcy8xOTg4ODY4Mi9vcmlnaW4uanBnIiwiZXhwaXJlc19hdCI6MTY1NzcxMDgzM30.knCvAwShJAmQn98nU49gMGjZ5wvsGcQJsdBPT7JLYO0/img.jpg?width=980"/> <small class="image-media media-caption" placeholder="add caption..."></small> <small class="image-media media-photo-credit" placeholder="add photo credit..."><em>Moschino English Muffin</em>, 2015, 6″ × 4″ / oil paint, urethane, hardware, and leather</small> </p><p class="shortcode-media shortcode-media-rebelmouse-image"> <img class="rm-shortcode" data-rm-shortcode-id="c400bb58159c046a9ec90df6508b2ef2" data-rm-shortcode-name="rebelmouse-image" id="fe26f" type="lazy-image" data-runner-src="https://assets.rebelmouse.io/eyJhbGciOiJIUzI1NiIsInR5cCI6IkpXVCJ9.eyJpbWFnZSI6Imh0dHBzOi8vYXNzZXRzLnJibC5tcy8xOTgzODQ0Ny9vcmlnaW4uanBnIiwiZXhwaXJlc19hdCI6MTY1MzE2MzUzMH0.x-1xmy0fjJ_eAxiJfABalUI2QZCIxzk8Dd91-tkO4Gk/img.jpg?width=980"/> <small class="image-media media-caption" placeholder="add caption..."></small> <small class="image-media media-photo-credit" placeholder="add photo credit..."><em>Bagel no.5</em>, 2014, oil paint, urethane, sesame seeds and found hardware</small> </p><p class="shortcode-media shortcode-media-rebelmouse-image"> <img class="rm-shortcode" data-rm-shortcode-id="b588cdc2f86d5fcad24a90d8e1b03695" data-rm-shortcode-name="rebelmouse-image" id="06fb3" type="lazy-image" data-runner-src="https://assets.rebelmouse.io/eyJhbGciOiJIUzI1NiIsInR5cCI6IkpXVCJ9.eyJpbWFnZSI6Imh0dHBzOi8vYXNzZXRzLnJibC5tcy8xOTgzODQ0OC9vcmlnaW4uanBnIiwiZXhwaXJlc19hdCI6MTY0Njk0ODQ3NX0.uAwrcir4I9jvHk-NbX52jIlDu6OyWofh1OoIMLnp-Bc/img.jpg?width=980"/> <small class="image-media media-caption" placeholder="add caption..."></small> <small class="image-media media-photo-credit" placeholder="add photo credit..."><em>Ain't No Challah Back (pack) Girl</em> – <em>Chanel</em>, 2015, 13″ × 7″ / oil paint, urethane, and hardware</small> </p><p class="shortcode-media shortcode-media-rebelmouse-image"> <img class="rm-shortcode" data-rm-shortcode-id="f3d1f6b7920e84506d489c5c2926b623" data-rm-shortcode-name="rebelmouse-image" id="de3b1" type="lazy-image" data-runner-src="https://assets.rebelmouse.io/eyJhbGciOiJIUzI1NiIsInR5cCI6IkpXVCJ9.eyJpbWFnZSI6Imh0dHBzOi8vYXNzZXRzLnJibC5tcy8xOTgzODQ0OS9vcmlnaW4uanBnIiwiZXhwaXJlc19hdCI6MTYwNTI4ODIxMn0.J5n1LPSmYvIi1gYKs6_1w01uCZqOEuWPSHPSaXkS6EU/img.jpg?width=980"/> <small class="image-media media-caption" placeholder="add caption..."></small> <small class="image-media media-photo-credit" placeholder="add photo credit..."><em>PB &amp; J LV</em>, 2015, 6″ × 11″ / oil paint, urethane, and hardware</small> </p><p class="shortcode-media shortcode-media-rebelmouse-image"> <img class="rm-shortcode" data-rm-shortcode-id="328fbe52f38e28ced94d7f4ee2160bae" data-rm-shortcode-name="rebelmouse-image" id="6e8de" type="lazy-image" data-runner-src="https://assets.rebelmouse.io/eyJhbGciOiJIUzI1NiIsInR5cCI6IkpXVCJ9.eyJpbWFnZSI6Imh0dHBzOi8vYXNzZXRzLnJibC5tcy8xOTgzODQ1MC9vcmlnaW4uanBnIiwiZXhwaXJlc19hdCI6MTY2MzUwNzk2OH0.S6HcDTE9QXKNH7t9KozxLe5pjsrypJSNWB_Z9mmBt3U/img.jpg?width=980"/> <small class="image-media media-caption" placeholder="add caption..."></small> <small class="image-media media-photo-credit" placeholder="add photo credit..."><em>Bagel and Locks</em>, 2015, 5″ / oil paint, urethane, hardware, and fur</small> </p><p class="shortcode-media shortcode-media-rebelmouse-image"> <img class="rm-shortcode" data-rm-shortcode-id="621d8cff2c3077f824c2ae331be6e81e" data-rm-shortcode-name="rebelmouse-image" id="4b488" type="lazy-image" data-runner-src="https://assets.rebelmouse.io/eyJhbGciOiJIUzI1NiIsInR5cCI6IkpXVCJ9.eyJpbWFnZSI6Imh0dHBzOi8vYXNzZXRzLnJibC5tcy8xOTgzODQ1Mi9vcmlnaW4uanBnIiwiZXhwaXJlc19hdCI6MTY0NTM3NjkyN30.PbE9fBWN2JMZCxRSJ-4rZoSC4hAXPGlqDImMX_mDcns/img.jpg?width=980"/> <small class="image-media media-caption" placeholder="add caption..."></small> <small class="image-media media-photo-credit" placeholder="add photo credit...">In case you are feeling extra sinful this Pessach, a bacon Louis Vuitton plate/chain wallet combo.</small> </p><p>Wise's newest exhibit, <em>Chloe Wise: Pissing, schmoozing, and looking away,</em> is currently on view at the <a href="http://www.galeriedivision.com/">Division Gallery</a>, Montreal until May 2, 2015.</p>